Sometimes, we just gotta go back to the basics to maintain a healthy and radiant skin. Don't you agree with me? Recently, I just finished my usual skincare so I decided to try Byme Radiant Glow Skincare Set to maintain my skin condition. There are not much concern on my skin lately except from some dark spots so I would like to keep my skincare regime simple.
Byme Radiant Glow Skincare Set [Review]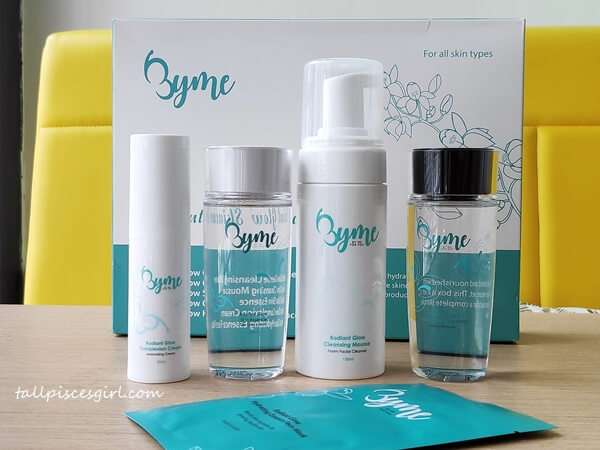 Ingredients play a big part in the efficacy of a product. To promote radiant and glowing complexion, these
star ingredients
were included in all Byme Radiant Glow skincare products.
Moist24
Moist 24 is an ingredient derived from the roots of Imperata Cylindrica, a species of wild grass native to Asia. It is a very adaptable plant that can thrive in dry deserts. Its amazing ability to retain water and high potassium content is the reason why it is a perfect ingredient to ensure your skin stay hydrated even in the driest conditions.
Purisoft
Moringa has been very popular for their health benefits but still relatively new in beauty industry. Purisoft is derived from the seeds of the miraculous plant, Moringa Oleifera. Peptides from the Moringa seeds help shield your skin from pollution and toxic elements.
Gulf Steam Seawater
Derived from the Brehat archipelago in France, Gulf Stream Seawater is 30x more concentrated in precious minerals that are beneficial to your skin. It helps to reduce skin irritation and activate your skin's co-enzymes to revitalize your skin.
Radiant Glow Gentle Cleansing Water
First step to great and healthy skin is proper cleansing. If I have my makeup on, I will start my skincare routine with the gentle Radiant Glow Gentle Cleansing Water to effectively remove all traces of makeup. My skin feels hydrated and fresh after using it. Leaving makeup on your pores will lead to breakout!
How to Use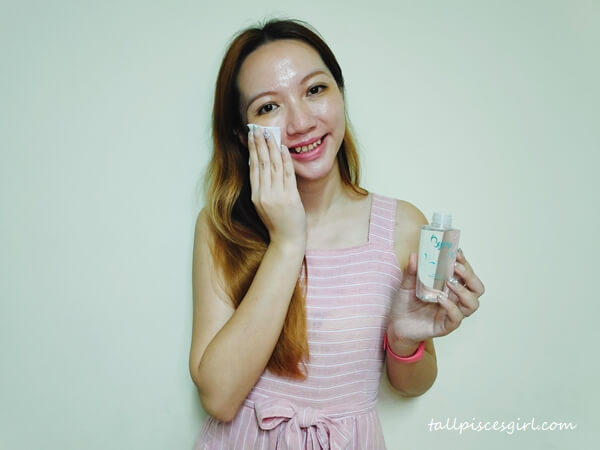 Pour a few drops of Radiant Glow Gentle Cleansing Water onto a cotton pad. Gently wipe onto the face to remove makeup. Repeat until the face is clear of makeup.
Price
: RM65 for 120ml
Radiant Glow Cleansing Mousse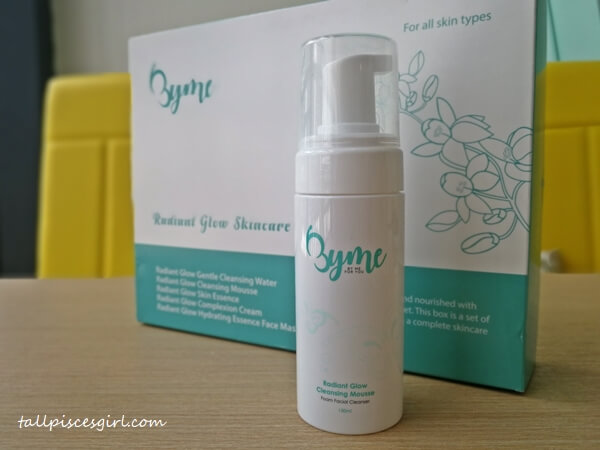 When we use cleanser, it's important that it doesn't leave your skin feeling too squeaky clean and tight because it means that your natural oil has been stripped off. With the soap-free Radiant Glow Cleansing Mousse, my skin felt fresh as the fluffy mousse gently cleansed the impurities off my pores without stripping off natural oils from it. For busy city people, it's note-worthy that this cleanser is easily rinsed off too. Plus, the fact that it is soap-free and made with natural ingredients makes it suitable for all skin types; including sensitive skin. Hence, I like to bring this cleanser along when I travel because I can share it with Clumsy Boy.
How to Use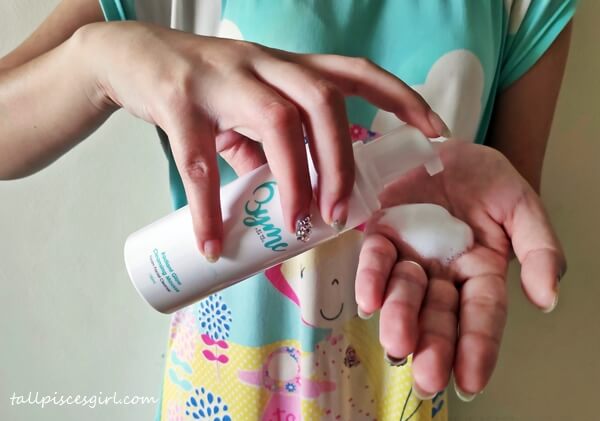 Lightly wet hands with clean water. Pump the cleanser once onto one of the wet palm, spread it onto both of the palms and lather onto the face. Gently massage face in a circular motion. Pay extra attention on the T-zone area (nose, forehead, chin). Rinse off with water for a refreshing finish.
Price
: RM99 for 150ml
Radiant Glow Skin Essence
Time saving is when your toner and serum is combined in one super-hydrating bottle of essence! The color is clear with slightly thick texture. While it is rich in all the nutrients your skin needs to nourish your skin and promote natural radiance, it doesn't leave a sticky after-feel and absorbed pretty quickly. With the help of Syricalm, a naturally-derived ingredient extracted from reed flowers and fu-ling China root, Radiant Glow Skin Essence can also help to reduce inflammation, rashes and breakouts.
How to Use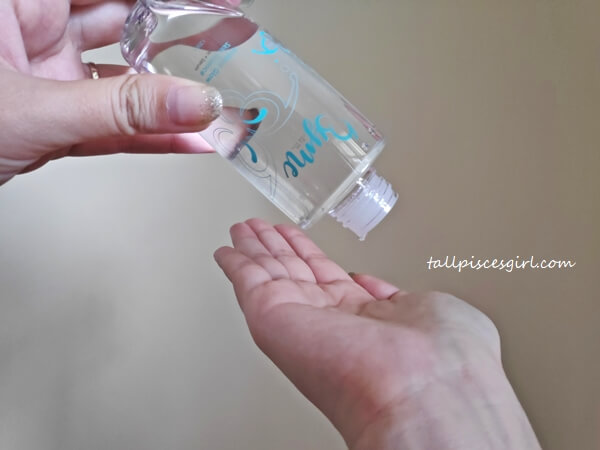 You can either apply it directly after pouring onto your palm or gently wipe using cotton pad. I prefer the former because I want all those awesome stuff to be absorbed into my skin rather than the cotton pad.
Price
: RM90 for 120ml
Radiant Glow Complexion Cream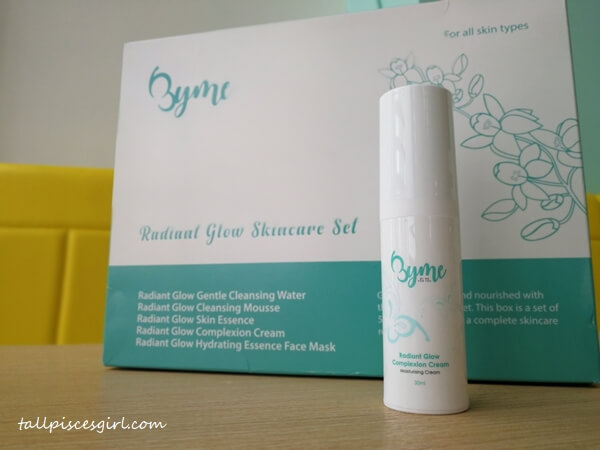 Don't let your skin dehydrated and achieve natural radiance with Radiant Glow Complexion Cream as daily moisturizer. This moisturizer has a 4-in-1 function:
Mild sun-blocking
Makeup primer
Brightening
Enhance hydration and rejuvenate cells for radiant complexion
How to Use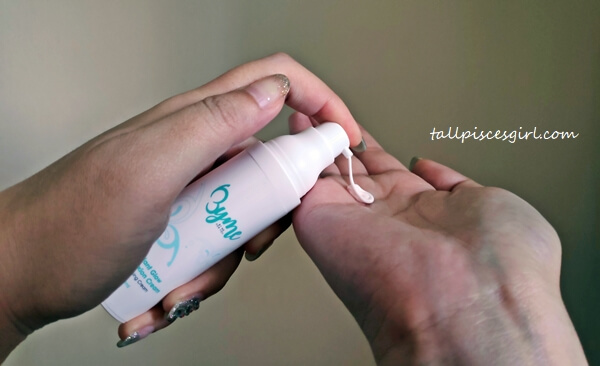 Gently pat the cream onto skin for better absorption and even application. Remember to apply on neck area as well to avoid two-tone color.
Price
: RM99 for 30ml
Radiant Glow Hydrating Essence Sheet Mask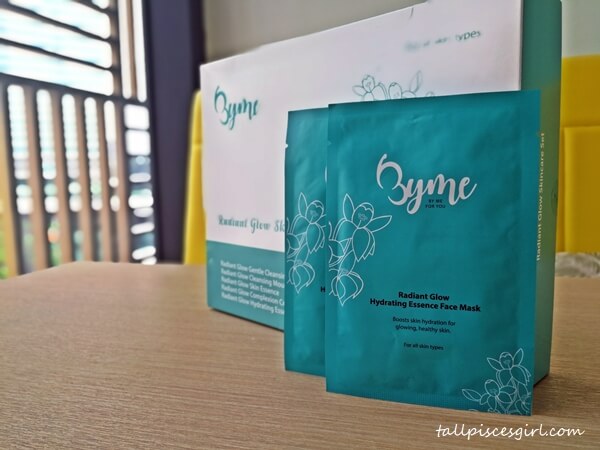 Radiant Glow Hydrating Essence Sheet Mask is a silky and translucent face mask that refreshes my skin with a boost of hydration. It is also said to be able to enhance skin's water retention ability for glowing, healthy skin. One plus point is, it can cover my whole face! Clinically-proven to be rich in minerals, Gulfstream Seawater and gold seaweed extract helps to repair and rejuvenate skin for a natural glow.
How to Use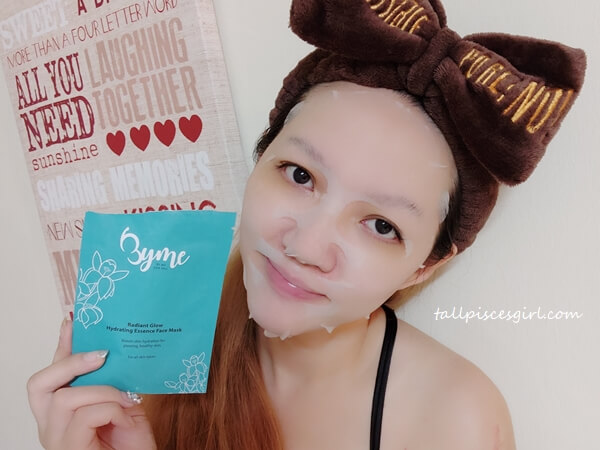 The mask has 3 layers. Peel off white protective layer. Apply transparent layer onto face. Gently peel away the blue layer and discard. Remove sheet mask after 30 minutes. Pat remaining essence onto face and neck.
Price
: RM62 for 5 pieces Great news! Get Radiant Glow Skincare Set to
SAVE MONEY
and receive all these amazing Byme products at RM289. This set consists of Radiant Glow Gentle Cleansing Water, Radiant Glow Cleansing Mousse, Radiant Glow Skin Essence, Radiant Glow Complexion Cream and Hydrating Essence Sheet Mask (2 pieces). Buy online:
https://bymeskincare.com/
To save more, use promo code
CHAR10 
for 10% off. Get free shipping when you purchase 2 items and above! Follow their
Facebook
and
Instagram
for more updates
♥
.