When you go to hotels and use the soap, do you know what happens to them after? 🤔 They usually end up in landfills, which is such a waste because they have only been used several times. I'm all for environmental friendly efforts.
Sunway Soapful Project
Sunway Hotels & Resorts has now found a more sustainable way to repurpose used soaps to help communities in need. To kick start the their social enterprise project, they have presented 1,000 bars of repurposed soap to Pertubuhan Kebajikan Anak Yatim Darul Ehsan Malaysia (PKAYDEM), under Yayasan Islam Darul Ehsan (YIDE). This meaningful project, called Sunway Soapful project is a collaboration between Sunway Hotels & Resorts with Ecolab Sdn Bhd, Kinder Soaps Sdn Bhd and the Selangor Youth Community (SAY).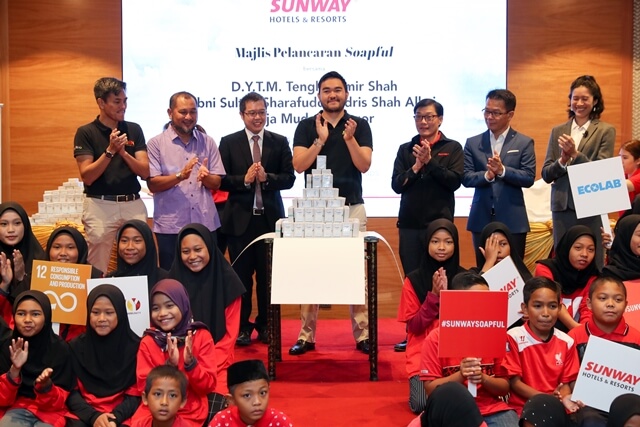 Sunway Resort Hotel & Spa has collected 100kg used soaps from 3 of their hotels in Sunway City – Sunway Resort Hotel & Spa, Sunway Pyramid Hotel and Sunway Clio Hotel, in the span of 5 months and repurposed them into 1,000 soap bars. In 2019, this project will include the other 5 hotels under Sunway group which includes Sunway Putra Hotel, Sunway Velocity Hotel, Sunway Hotel Georgetown, Sunway Hotel Seberang Jaya and The Banjaran Hotsprings Retreat. They are targeting to collect 720kgs of soap each year, which can be repurposed into 7,200 bars of 100g soaps to sustain the social enterprise project.
The collection of used soap bars from the hotels will be facilitated by Ecolab. Then, they will be delivered to Kinder Soaps' processing lab to be repurposed into new bars of soap, following stringent standard operating procedures that adhere to safety and environment standards. Kinder Soaps will also be teaching and guiding selected homes on the processes to repurpose used soaps so they will be able to produce their own repurposed soaps for personal use and to be sold as part of their social enterprise programmes at charity sales, community markets and other social platforms. To deliver long-term impact, it is important that to teach the children and youth how to fish and cultivate independence.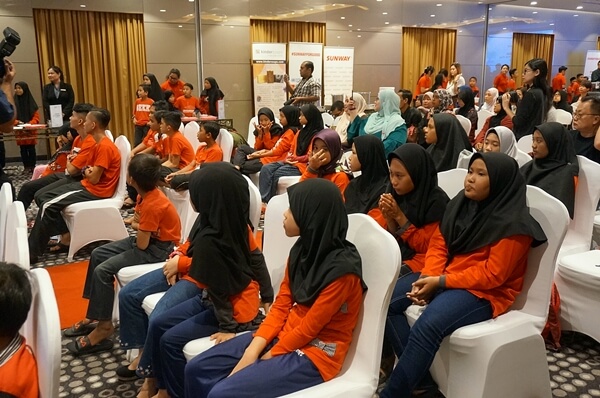 Sunway Hotels & Resorts will then be working with a new beneficiary selected by SAY. SAY is a long-term partner in this project who will continue to identify the subsequent beneficiaries of this project based on its capacity and to be included as part of their social enterprise programme. Sunway Hotels & Resorts' Regional Senior General Manager, Kelly Leong, explained that the Sunway Hotels & Resorts' #SunwayForGood #SunwaySoapful project was conceptualised to deliver benefits to the environment, society, and the economy in alignment with the hospitality group's commitment to the United Nations Sustainable Development Goals (SDG) which aims to drive sustainable progress that leaves no one behind.
4 Benefits of Sunway Soapful project
Benefits the environment by removing soap waste from the landfills
Helps the home reduce cost as the repurposed soap bars are also meant for their personal use
Helps the children cultivate meaningful business skills that will help them break the cycle of poverty
Besides utilizing the income for their daily needs, the children will use these life skills to start their own business and pursue social mobility, or even employ other youths in the future
DYTM Raja Muda Selangor Tengku Amir Shah Ibni Sultan Sharafuddin Idris Shah Alhaj, who graced the launch of Sunway Soapful, said SAY selected PKAYDEM as the first beneficiary orphanage for the project as it is one of the orphanages that is most in need of help in the state of Selangor.
To prepare the children for the second phase of the programme, Ecolab demonstrated the proper hand washing procedures during the event, which is an important step before starting the soap making process. This is to ensure no bacteria is passed on, making it safe for personal use. Kinder Soaps Founder, Michelle Ho, then taught PKAYDEM's children the five-step soap repurposing process in stations set within the Hotel.
Soap repurposing process
Previously, Sunway Hotels & Resorts' had implemented the #SunwayForGood #ZeroFoodWastage programme which saw the group of hotels collecting surplus food daily from its food and beverage establishments to feed the urban poor. The ongoing project is anticipated to serve 17,657 individuals from the B40 groups this year. The community programmes are in line with Sunway's pledge to create a positive and far-reaching impact on the nation under the banner of #SunwayForGood, aligned with Sunway's commitment to the United Nations Sustainable Development Goals. Kindly visit
https://www.sunwayforgood.com
for #SunwayForGood development news.