Trust me when I say that it's every girl's wish to have clear, blemish-free skin. At first, I thought that I'd have blemish-free skin too once puberty is over. However, it remained as just a wish. Adults can have acne too and it's aptly known as adult acne. For my case, comedones i.e. blackheads and whiteheads form easily due to enlarged pores. When it's the time of the month (menstruation period!), they will easily become inflamed and turn into huge zits. Ouch! So unsightly and embarrassing 🙁 Furthermore, I noticed that my skin is oilier after last few trips. This prompted me to try NUViT Anti-Acne Skincare Range. You can't do the same thing and expect different outcome, isn't it? Some change had to take place.
NUViT
The brand name, NUViT, comes from the combination of 'New' and 'Vitality'. Originated from Taiwan, NUViT's mission is to create products that are effective and safe with knowledge in science and natural plant extracts. To ensure safety, it's good to know that their products are free from harmful chemical ingredients, preservatives, genetically modified ingredients, fragrance, alcohol, and non-allergenic.
NUViT Anti-Acne Skincare Range
NUViT Anti-Acne Skincare Range is actually the brand's best seller! NUViT believes in 3 simple concepts to achieve acne control effect – Spot, Entire, Enhance.
AC-Pure
In order to improve oily skin condition which easily causes acne, NUViT's exclusive ingredient called AC-Pure is used to provide a total care for your skin. AC-Pure contains patented AC. Net, 2% Salicylic Acid, Witch Hazel Extract, Meadowsweet Extract and Tea Tree Oil. Among the functions of AC-Pure are:
Soothes inflammation
Improves keratinocytes metabolism
Anti-bacterial
Regulates sebum secretion
Shrinks pores
NUViT Anti-Acne Products
NUViT emphasizes the use of their 3 products to effectively banish acne, which are Acne Purifying Gel, Acne & Blemishes Prevention Concentrate, and Acne Corrector Purifying Fluid.
Sequence of usage
: Acne & Blemishes Prevention Concentrate > Acne Corrector Purifying Fluid > Acne Purifying Gel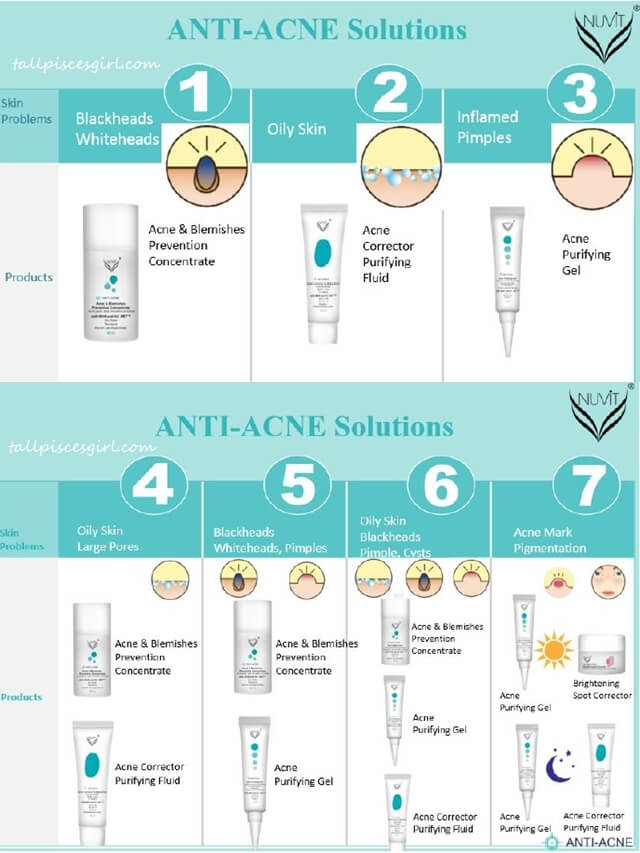 NUViT Acne & Blemishes Prevention Concentrate (30ml)
Acne & Blemishes Prevention Concentrate is the first product that you need to use. Acting like a toner, it contains zinc oxide and kaolin clay, an oil-absorbing mineral that can purify skin (eliminates blackhead and whitehead) and control sebum production for a matte finish. America Klamath Lake Algae Extract is also one of the key ingredients to provide intensive hydration and repairs the skin. My skin feels matte instantly after applying this. Texture and color wise, it's watery so it absorbs almost instantly and looks similar to rice water.
How to use
: Remember to shake well (up and down) before use. After thorough cleansing, pour a few drops onto your palm and dab gently onto skin. Repeat until affected areas are all covered. Use twice daily (morning and evening).
Price
: RM47.90
NUViT Acne Corrector Purifying Fluid (30ml)
Next, is Acne Corrector Purifying Fluid, which works like a moisturizer. It contains Hyaluronic acid to boost moisture level and sweet myrrh extract helps to soothe acne discomfort. Moisture is important because if your skin lacks moisture, it will encourage your face to produce more oil. Additionally, it also contains vitamin B3 which improve skin healing, and reduce formation of acne scar.
How to use
: Apply an appropriate amount onto the whole face by massaging gently. Use twice daily (morning and evening).
Price
: RM36.90
NUViT Acne Purifying Gel (15ml)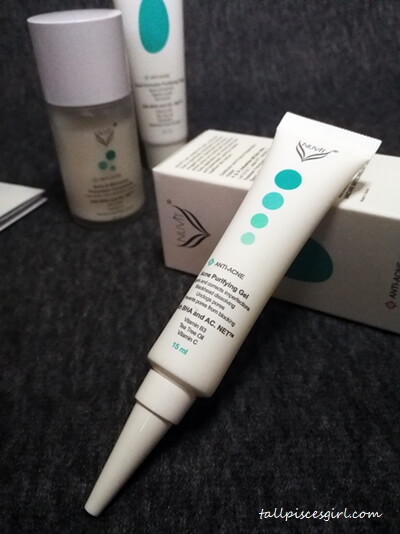 If you have annoying spots that need emergency attention, remember to use this! This Acne Purifying Gel is the
star product
in the Anti-Acne range which provides instant action on acne to reduce redness and inflammation as it is formulated with Aloe Vera, Peppermint Essential Oil and Witch Hazel extract. Thanks to the Peppermint Essential Oil, it has a minty sensation that can instantly calm your skin. Incorporated with 1% vitamin B3 and microencapsulated vitamin C, it also effectively prevents acne scar formation and reduces scars.
How to use
: Squeeze appropriate amount of Acne Purifying Gel and apply a thin layer on inflamed pimples. Use twice daily (morning and evening).
Price
: RM32.90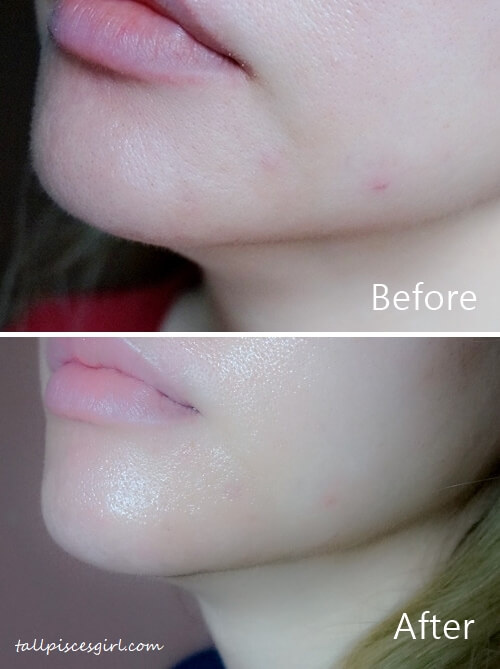 At the end of the day, NUViT Anti-Acne Skincare Range is effective when it comes to oil control (I can see immediate effect) and heal occasional pimples that pop up (clears up within 2-3 days). I'd say that even if you don't have serious acne problems, you can consider purchasing this range as a standby to use during the bad skin days. To get your hands on these amazing products and also further info, you can visit
NUViT Official Website
,
Instagram
, and
Facebook Page
.