Starbucks announced its first collaboration with Malaysian designer Rico Rinaldi to offer a curated collection of exclusive merchandise to celebrate Merdeka.
Rico Rinaldi is an award-winning fashion designer who was nominated for Best Bridal Gown in 1st International Bridal Awards 2017 by Elle Spose. The renowned bridal gown designer was crowned Best Lifestyle Designer 2008 by Limkokwing University of Creative Technology. On top of that, Rico Rinaldi was named the top three for the ASIA Young Designers to Watch in 2010 by Tongue in Chic Annual Styles Award.
Rico Rinaldi x Starbucks Designer Collection
Designed exclusively for Starbucks Malaysia and available only for a limited time, the 2018 Rico Rinaldi x Starbucks Designer Collection will be offered at Starbucks stores throughout Malaysia.
The merchandise draws inspiration from three endangered animals representing the elements of nature – Forest, Sea and Air in the form of a Harimau (Tiger), a Penyu (Turtle) and a Kenyalang (Hornbill). Bold colors that are reminiscent of Malaysia's heritage, flag and the diverse flora and fauna help round out the designs.
"Designing this collection, I was inspired by Malaysia's rich nature. I am thankful for Starbucks for this unique opportunity to commemorate our 61st National Day, and I hope my fans and Starbucks customers alike will enjoy the collection," says Rico Rinaldi, a well-known fashion designer in Malaysia for his nature-inspired collections and colorful floral prints.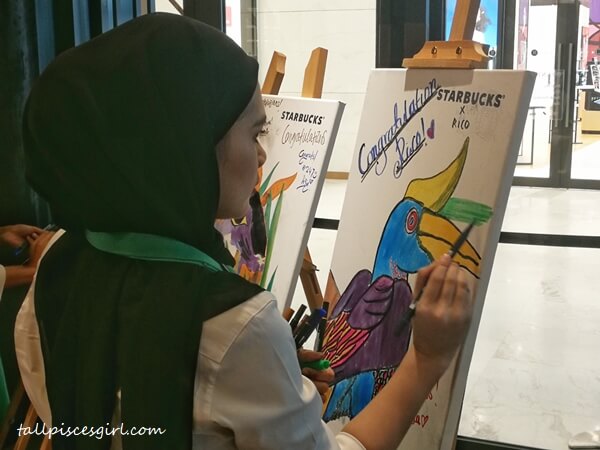 As design enthusiasts, Starbucks has a history of innovative partnerships with fashion's elite. Over the years, Starbucks has collaborated with Anna Sui, Vivienne Tam, Paul & Joe to bring designer products to customers in stores. However, the Rico Rinaldi + Starbucks collection is the first Malaysian collaboration and is exclusive to Malaysia. Through this exclusive designer collection, Starbucks hopes to bring the unique cultural experiences of Malaysia to its customers.
"We are excited to be introducing this collection, the first Starbucks partnership with a Malaysian designer to inspire and delight our customers as they express their love for Malaysia," said Sydney Quays, Chief Executive Officer of Berjaya Food Berhad and Managing Director of Starbucks Malaysia and Brunei. "The designs that Rico shared with us celebrates a very important part of Malaysia, and we are thrilled to be able to share that message through our merchandise for Merdeka this year."
The Rico Rinaldi x Starbucks collection includes the following pieces:
Rico Rinaldi x Starbucks Double Walled Mug (12 fl oz) – A ceramic mug with painted ceramic lid and gold detailing on the rim
Exclusive to Malaysia, the Rico Rinaldi + Starbucks collection includes a set of Double Walled Mugs and Thermos Tumblers in 3 different designs. The Double Walled Mugs are priced at RM150 each, while the Thermos Tumblers are priced at RM168 each. For those looking to own all 3 designs of the Double Walled Mugs, can purchase them in a bundle price of RM450 or RM480 for all 3 designs of the Thermos Tumblers.
This collection will be available from 31 August 2018 onwards at all Starbucks stores across Malaysia, while stocks last.
For more information, please visit the Starbucks Malaysia's website at www.starbucks.com.my.