Infinence, the fashion & lifestyle brand under Sahajidah Hai-O Marketing Sdn Bhd, collaborates with Kuala Lumpur Fashion Week 2018 (KLFW 2018) for the very first time as the Supporting Brand for the event and showcases 3 Ready-to-Wear Collections on the runway. This marks a new milestone for Infinence in taking a big leap in the industry.

Created by Founder Mr. K.K. Tan and inspired by international renowned fashion icon Professor Datuk Jimmy Choo, Infinence was launched at the end of 2016 – a luxury brand birthed out of Mr. Tan's desire to create a lifestyle that embodies the ideology of "Simplicity in Luxury".
Derived from the two words "Infinite Excellence", the name Infinence is the epitome of endless class, style,
possibilities, and excellence. It is a brand driven by the desire to reshape lives for the better, and dedicated to
delivering quality lifestyle experience through exceptional premium products.
It has since collaborated with several A-list names in the fashion industry such as Professor Datuk Jimmy Choo as the brand consultant, famous designers Rizman Ruzaini who designed beautiful hijab collections for Infinence, and famous artiste Nur Fazura, who is the ambassador for Infinence Shoe & Bag Collections.
Infinence X KLFW 2018
The 3 collections presented during KLFW 2018 are: Basic Collection, Holiday Collection & Luxe Collection. These collections will be made available at 3 different stages throughout the second half of 2018 till the first half of 2019. The first collection is estimated to be in market this September 2018. Look out for the announcements of the launching of these collections through their official Instagram account at @infinenceofficial.
Infinence Basic Collection
Designed with simplicity and style in mind, the ultimate elevated basic wear comes in 6 tops, 3 bottoms and 3 dresses. Suitable for those who love minimalism with a twist of charm.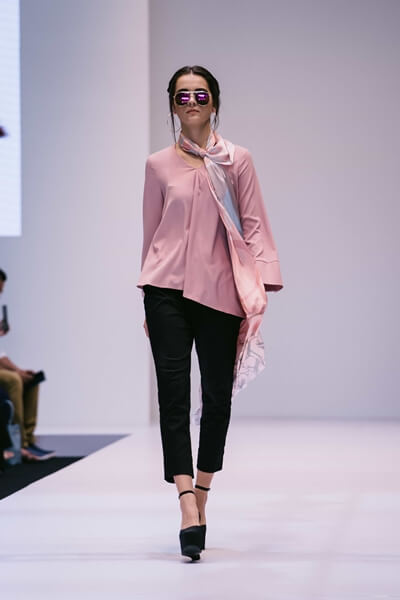 Infinence Holiday Collection
It's all about lovely prints and florals that are sure to make the heart skip a beat. This collection comes in 3 tops, 3 bottoms and 3 dresses. An ideal collection for the warm but carefree fashionistas who want to add a little sunshine and colourful prints to their wardrobe.
Infinence Luxe Collection
Sleek, modern and chic, the Luxe Collection is unique in style, giving the collection a touch of class and sophistication. The Luxe Collection comes in 2 tops, 2 bottoms and 3 dresses, suitable for those who want an elegant and graceful look.
On a side note, Infinence will also be rewarding 2 finalists from the KLFW X AirAsia Runway Ready Designer Search 2018 with RM10,000 cash prize each, together with a capsule collection for Infinence in 2019 during the grand finale on 10 August at Pavilion, Kuala Lumpur. Infinence's mission is to nurture and develop potential and emerging designers by providing them with the support to showcase their talent and collections. Thanks to this, talents are presented with a huge platform that comes with unlimited opportunities, various exciting activities and valuable exposure to a ready, vibrant market.