When I stepped into MANDALA Publika, a fairly new cafe and wine bar that has joined the array of F&B joints in Publika, I was immediately attracted to the inviting contemporary design. The most interesting part is the use of beautiful glass lighting that gives the place an elegant vibe.
MANDALA Publika
Great ambience accompanied by comfortable teal and brown colored leather seating made MANDALA Publika one of the coziest restaurants in Publika.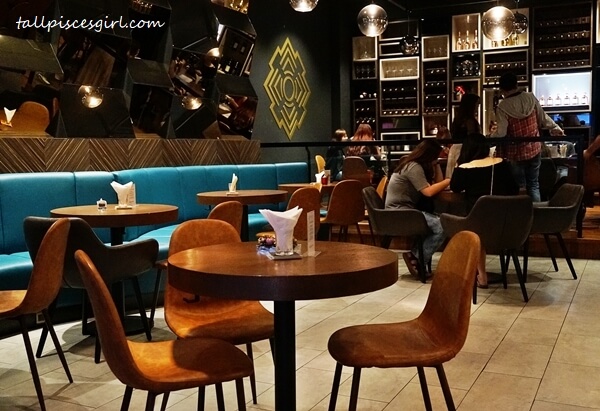 The place is very spacious and thus, suitable for parties, events, meetings and any kind of celebration without having to sacrifice guests' comfort.
If you appreciate good wine, MANDALA Cafe & Bar is the perfect wine bar for you as they have an extensive wine selections, ready for you to choose.
Apart from indoor dining, you can also opt for al fresco dining or VIP room (minimum spending required). For maximum privacy and comfort, of course the VIP room is most preferred! Now I know why celebrities like Jimmy Choo and Datuk Wira Lee Chong Wei visited MANDALA Publika too.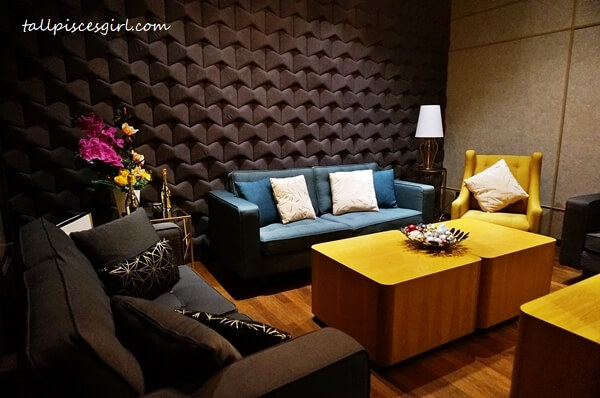 I know, I know. You can't just be drinking alcohol all day. How about some meals to pair along with it? MANDALA has recently introduced a very affordable 3 Course Set. At only RM 70, you get to choose your choice of starter, main course, and dessert. Available daily from 6pm to 12am.
Of course, you get to choose between their house pouring wine (Chardonnay/Shiraz) too. I'm loving their house wine, it's smooth and pairs well with the food.
Starter
MANDALA's Green: A great option for health junkies as MANDALA's green is loaded with generous portion of fresh green Romaine lettuce, hard boiled egg, thin carrot slices, Japanese cucumber, and cherry tomatoes, topped with Parmesan cheese and sesame dressing. I'm personally addicted to this salad because of the thin, crunchy carrot slices and sesame dressing are very delicious.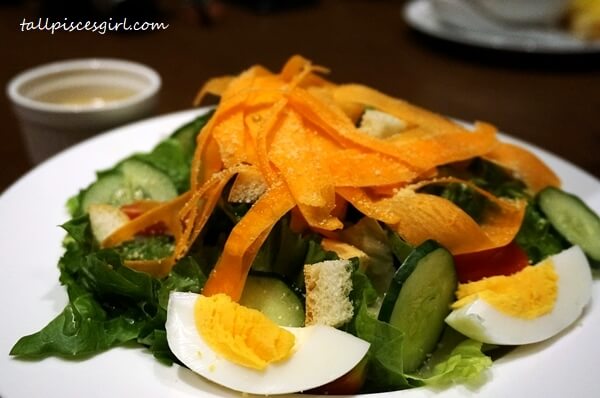 or
Mushroom Soup: Creamy mushroom soup that's good to have especially on a rainy day. It is topped with truffle oil – so luxurious!
or
Oxtail Soup: I'm totally recommending this rich but clear beef oxtail soup. It's very flavorful and best enjoyed when it's still warm.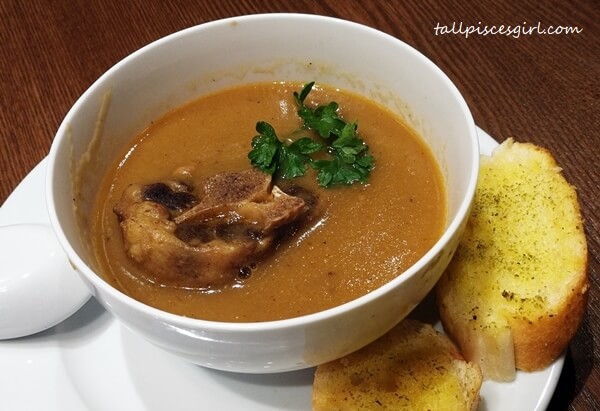 Main course
Golden Soft Shell Crab Spaghetti: You get a whole lightly fried Soft Shell Crab for yourself when you order this. Ultimate satisfaction! The pasta was tossed in buttermilk sauce, giving it an Asian twist. It is slightly spicy considering that they put chili flakes on it too.
or
Grilled Chicken with Buttermilk / Black Pepper: My favorite choice of mains has got to be this as I love the succulent and juicy boneless chicken underneath the perfectly grilled chicken skin. Dip it in the buttermilk sauce for extra oomph!
or
Jumbo Soft Shell Crab with Charcoal Bun: For burger lovers, you really shouldn't miss this. When they said Jumbo Soft Shell Crab, they really mean it. IT'S HUGE! The bun couldn't even cover the crab. I can't stop myself from getting more soft shell crab, it's simply delicious. Beneath the soft shell crab, there's also a perfect fried egg with runny yolk (yolk porn!). I'm also digging the fries. I think this is perfect for gathering with friends.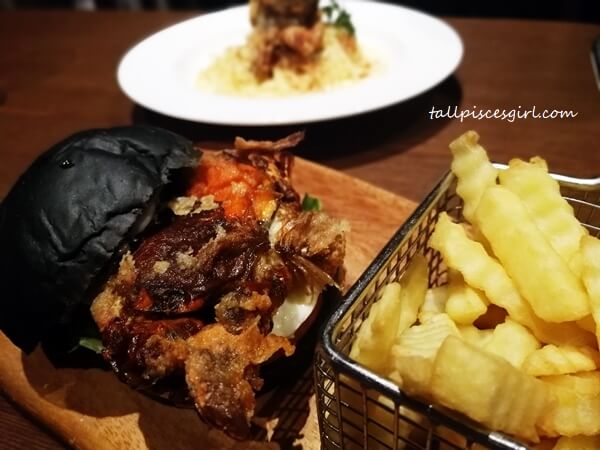 or
Fish and Chips: Fish and chips is a very classic Western dish. You can't go wrong with this freshly battered crispy fish. But if you're an adventurous person, I suggest you try other options. YOLO!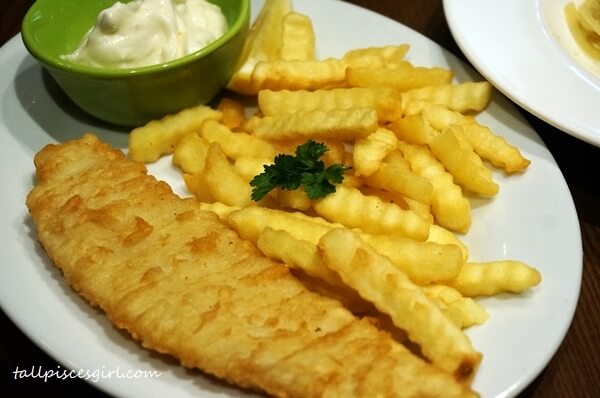 or
Grilled Salmon with Mashed Potato: It seemed that this dish is another excellent choice for the health conscious people since salmon is a good source of nutrition. I also noticed that this dish is sauce-less, hence making it low in calorie.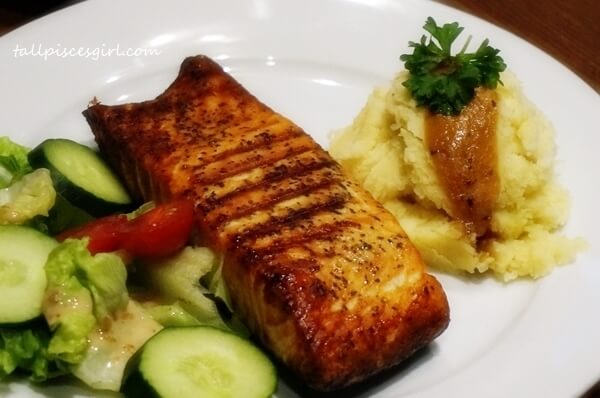 Dessert
Daily Crepe Cake: Their crepe cakes taste incredibly amazing with its layered creamy texture and the level of sweetness is just right.
or
Brownie with Ice Cream: Everyone of us love this brownie. The taste of chocolate is very rich, super addictive! I'd like to describe it as guilty pleasure.
or
Chocolate Lava Cake: Another sinful but irresistible option is Chocolate Lava Cake. Goes really well with the vanilla ice cream.
Mandala Cafe and Bar has introduced some new menu items which include:
Jumbo Soft Shell Crab with Charcoal Bun
Seafood Pizza: Generous amount of seafood garnished on top of the pizza, almost every bite has seafood on it. Crust is fairly thin and very crunchy!
Grilled Salmon with Mashed Potato
Oxtail Soup
Here are a few examples of what you'll get from this set @ RM 70. Promotion will be ongoing until further notice.
Address:
MANDALA Cafe & Bar
D3-G3-8, Solaris Dutamas
No.1, Jalan Dutamas 1, Kuala Lumpur
Tel: 03-6419 0382
Opening Hours: Daily 11am – 1am
Facebook Page: www.facebook.com/MandalaPublika