Desa Sri Hartamas is such a vibrant place filled with F&B outlets and bars. Among the chaos, it was such a surprise to discover a pleasantly cozy little Japanese restaurant called Makoto Japanese Cuisine.
Makoto Japanese Cuisine @ Desa Sri Hartamas
You might wonder – so what's so special about Makoto Japanese Cuisine? If you're a big fan of Unagi (eel) like me, you'll be super excited to know that Makoto is the only Japanese restaurant in Malaysia that air-flown LIVE EELS from Tsukiji market, Japan. This means, Makoto is the place where you can get the
freshest Unagi in Malaysia
!!
Preparing live eel isn't an easy feat. Hence, apart from importing live eels, Makoto Japanese Cuisine also imported the unagi chef, Chef Hayashi, all the way from Japan! Everything from the process of cutting, slicing, grilling, steaming, preparing the soy sauce, etc was handled by Chef Hayashi from scratch because every detail is very important to maintain the authentic Japanese standard. Before I show you the Unagi dish, let's start with starters and appetizers first. As they only start to prepare the eel when they received order to ensure maximum freshness, there's a waiting time of 30 minutes before your dish will be served. Remember, good things come to those who wait 😉
Before eating good stuffs, of course we need to clean our palate so we can taste the high quality ingredients properly. Oshinko Moriawase is an assortment of Japanese pickles that were prepared in-house at Makoto. I especially love the crunchy pickled radish which is mildly sweet and sourish.
Woot woot!! Guess what is this? This is called Hone Senbei – Unagi Bone Crackers which have been deep fried to perfection and lightly seasoned with salt. Great ingredients don't need complicated seasonings and is best enjoyed in its original flavor. These crispy bites make great nibbles; addictive even!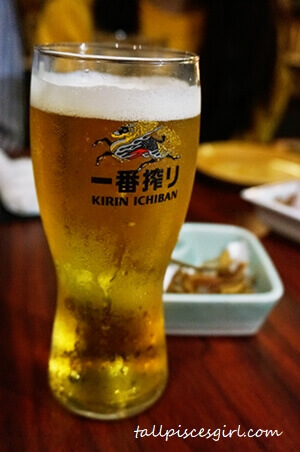 Hone Senbei is most awesome when paired with a glass of ice cold Kirin Draught Beer. Can't wait to bring my friends over for gathering and enjoy this pairing.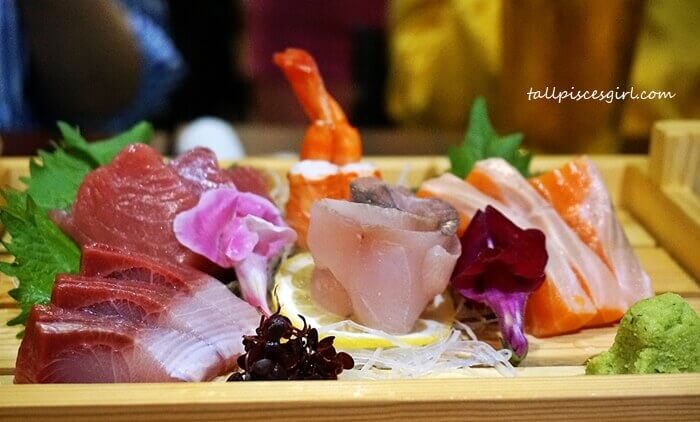 Look at these glorious fresh sashimi in Sashimi Platter! Don't you want to just gobble them all? If you're wondering how fresh they are, Makoto Japanese Cuisine actually air-flown all the ingredients in this platter from Japan several times per week. Depending on season and fresh fish available, fish choices presented might differ. I think this is a very good move to ensure that what they're serving to their customers are of highest quality. FYI, everything in this platter is edible including the Perilla leaves.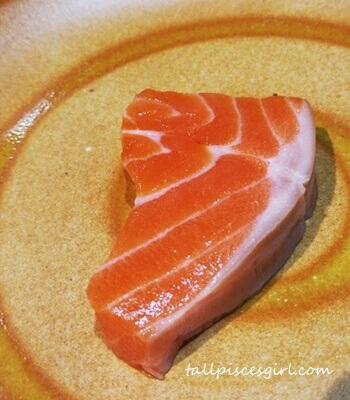 With this pic, you sure know which one is my favorite, right? I seriously can't resist the mouthwatering thick piece of salmon!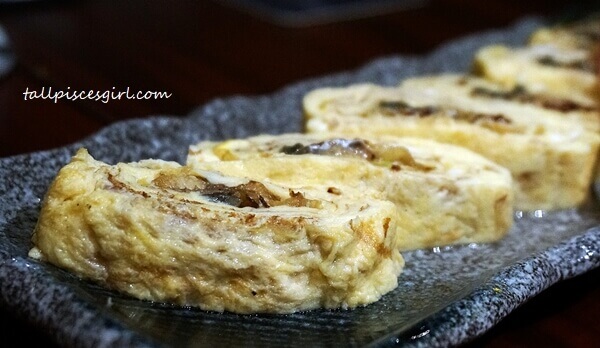 Have a taste of the Unagi while waiting by having this Japanese Umaki. Fresh and tender Unagi is enveloped in fluffy, cloud-like omelette – tastes so heavenly!
I'm not an adventurous person myself, but sometimes I will challenge myself to try things that I haven't tried before (as long as it doesn't harm my safety!). So when the co-owner asked if we would wanna try Shirako, I said yes. After all, I'm here for a food review! FYI, Shirako is the sperm sac (i.e. reproductive organ) of male cod.
How does Shirako tastes like?
It took some courage to put it into my mouth because initially, we thought it would be pretty small. Apparently, there are 2 pieces in a bowl. If you can eat oyster, it wouldn't be too difficult to eat because the texture is quite similar. It is creamy and smooth, with a strong buttery flavor. The most important tip I'm gonna give you is – don't keep imagining what it is.
P/S: Shirako is a seasonal item which is only available during winter.
How can you miss tempura when dining in an Japanese restaurant? If you look at the photos closely, you'll realize how different they are from the ones we normally ate in Japanese chain restaurants. Their batter is not as thick, hence, we can truly taste the fresh ingredients rather than just the flour of the batter.
Now, let's move on to the highlight of the day and Makoto's signature dish – Unaju. Chef Hayashi himself prepared the eel from start to end because only a skilled Unagi chef knows when the temperature is right and he keeps checking the condition of the eel when flipping it over.
How Chef Hayashi Prepares Live Unagi
Watch this video to see how Chef Hayashi prepares Live Unagi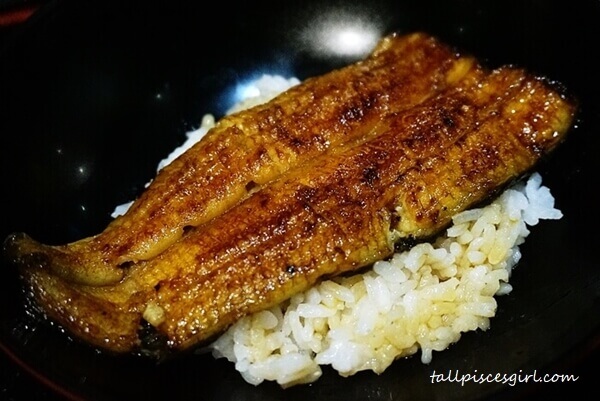 The result? A satisfying bowl of Kabayaki-style Unagi rice with savory sauce specially prepared by the chef himself. I totally loved the texture of it – succulent flesh with a balanced tenderness that indicates freshness. I appreciate very single bite of this premium Unagi. According to the co-owner, the amount of rice and sauce has been put in consideration to ensure that it is just right to pair with the amount of Unagi. This means, you won't end up with no Unagi left but a lot of rice remaining. How considerate!
You can also add a little bit of grounded Sansho Japanese Pepper to elevate the whole flavor of the Unaju itself. It tastes like Sichuan Peppercorn but just less spicy. My recommendation is, eat half without the pepper and another half with the pepper to experience the difference.
Unlike the usual mochi which is made of glutinous rice, warabomochi was made using fern (warabi) bracken. This gives it a slightly different texture. The combination with Matcha jelly and brown sugar jelly, topped with roasted soybean flour makes it a perfect dessert!
I seriously can't wait to come back for more. The authentic Japanese dining experience at Makoto Japanese Cuisine has just spoiled me! I can safely say that they're easily in the top 10 Japanese restaurants in Klang Valley.
Address
: akoto Japanese Cuisine
54, Jalan 27/70a, Desa Sri Hartamas,
50480 Kuala Lumpur
Tel
: 03-6211 1409
Opening Hours
: Tuesday – Sunday 12pm – 2.30pm, 6pm – 11.30pm (Closed on Monday)
Facebook Page
:
https://www.facebook.com/makoto.hartamas/