If you're a fan of circus, don't forget to catch
Cré Arts Asia
, Southeast Asia's largest modern circus troupe. They will be performing for the first time in Malaysia at the Kuala Lumpur Performing Arts Centre (KLPAC) from
29 September to 1 October 2017
.
Cré Arts Asia
The three-day performance dubbed Cré or 'earth' in Old Irish, promises spectacular displays of
gravity-defying performances
and extraordinary feats of the human body, all set within stunningly beautiful backdrops that are a mainstay of contemporary performing arts.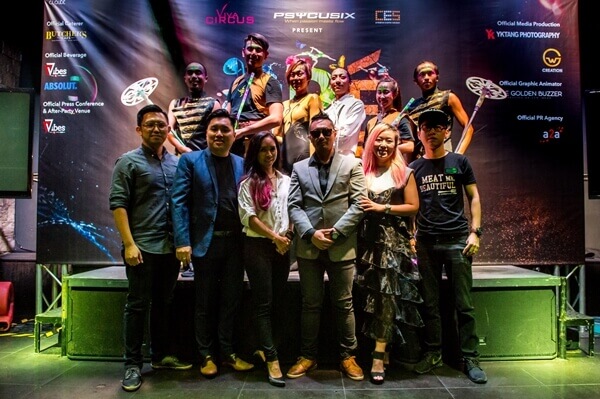 As its namesake suggest, Cré is primarily themed to showcase the beauty of Mother Earth, interpreting the natural elements of air, water, earth and fire through the use of the human body as a medium. Throughout the course of the show, the audience can look forward to
breathtaking aerial acrobatics, contortions, mesmerizing dance performances
and much more. Cré Arts Asia is a collaboration between two of Malaysia's leading home-grown performing arts studios namely, Viva Circus, an award-winning physical arts theatre company; and Psycusix, Malaysia's leading modern and contemporary circus performing group.
Chris Lo, Event Director of Creative Events Solution Sdn Bhd, the organiser of Cré, said, "The talents that are on display at Cré are truly world-class. In fact, some the performers featured have won several international accolades and have performed at renowned venues across the world."
"The experience and expertise of Viva Circus and Psycusix in putting up a quality performance that come with both the thrills and the depth in story-telling is also second to none. With both physical arts powerhouses coming together, Cré is indeed a must-not-miss experience that is suitable for all. Families, especially those with young kids, will find the show highly entertaining and meaningful," he added. Cre Arts Asia will be donating part of the proceeds from ticket sales to International Medical University Malaysia (IMU) Chariofare, the largest fundraising event at IMU. Apart from watching a great show, you also get to do charity!
Cré Arts Asia Tickets Pricing
Tickets for Cré are priced at RM98 (Fire), RM128 (Water) and RM168 (Earth) respectively. Tickets for kids below 12 years of age are available at RM68 (Water & Earth Only). Fire seats are free-seating while Water & Earth seats are numbered. From now until 14 September 2017, you can enjoy the Early Bird Promo for only RM108 (Water) and RM148 (Earth). There is also a special promotion whereby if you purchase five (5) Earth tickets, you'll be entitled to one (1) additional FREE Earth ticket. For tickets and more information on Cré, please visit
https://www.facebook.com/creartsasia/
, contact +6017 646 6469 or email
creartasia@gmail.com
.