I had an interesting experience at
XALF Design
showroom which is located at Empire Damansara, to discover how a pair of bespoke shoes were made. I'm sure a lot of people complained how expensive bespoke shoes are, but that was before finding out how tedious the process is.
As we all know, shoe is a necessity which also plays a big part in fashion. Hence, the technique of crafting a bespoke shoe became popular due to the need to standout from run-of-the-mill offerings.
XALF Design
The name, XALF is a combination of both co-founders' name, Xavier Mah and Alfred Hor. It also stands for their tagline: Xtraordinary, Amazing, Luxury and Fabulous. At XALF Design, you get to participate in the whole process from designing to finishing because it is a customized pair of shoes that is made uniquely for your feet only. You won't be able to find the same pair of shoes. Now, let's discover how a pair of high quality bespoke heels were made at XALF Design.
Bespoke Shoemaking Process with XALF Design
Design & Material Selection

Can't say that I'm a good shoe designer when I can't even draw lines properly haha!

The designing part is one of the most crucial process because it determines the outlook of your heels. As the heels you're creating is customizable, you can unleash your creativity and let their designers know what you have in mind. In return, they will meld your idea with their technical know-how and incorporate it into the design.

Feet Measuring

Feet measuring for shoemaking process @ XALF Design

Feet measuring was done in a precise manner by Alfred, including all the curves of my feet. If the measurement is inaccurate, all the efforts will go down the drain. This explains why having a customized pair of heels is like a dream. It's going to hug your feet perfectly and comfortably just like your second skin. Given the correct pair of heels, you will feel backache wearing high heels! For the record, my shoe size is US 7 / EUR 38 so take note ya… my birthday is next March *hint hint*

Pattern Making & Drafting

In order to define the pattern, the pattern template is hollowed out to obtain the individual pieces needed for the entire framework. Sections of the upper are drafted into the material. Other components such as the midsole, outsole and insole are also obtained in a similar way like pieces in a jigsaw puzzle for assembly later on.

Fitting

Raw material and pattern selection

Raw material (i.e. leather, suede, patent leather or calfskin) is selected depending on customer's preference along with color matching. One point to note is that XALF Design only uses real leather. The shoes that were mass produced outside were made using artificial leather a.k.a. PVC that will crack after its short lifespan is reached (1-2 years). A fitting process with the client is crucial to ensure that the materials chosen are suitable and able to assimilate with the entirety since the end goal is to showcase the shoe in its full splendor.

Cutting

Leather cutting @ XALF Design

One of the most challenging things in customizing a bespoke shoe is to maintain the precision when cutting the raw material because it plays a big role in retaining the integrity of the raw material. In short, every detail matters. Hence, they only hire experienced craftsman that has worked with real leather. Their current one has over 40 years of experience with real leather.

Sewing

The upper of the shoe determines the flair of the shoe. Thus, it cannot be overly flashy, nor too subdued. The process of composing the upper with needle and thread (or machine when needed) could determine the sublime craftsmanship of the craftman.

Stock Fitting

A sturdy sole is important to support the weight of your body

How well the composite of the sole (from outsole, midsole and the padded insole) is constructed can determine how sturdy the shoe is. Therefore, the craftsman's knowledge of how cosmopolitan women move in their footwear is very important.

Different types of padded insole

Lasting

In order to attach the upper to the sole, a last is molded in a customized configuration of its wearer. With this, the upper and sole are sandwiched with clear parameters to showcase the desired shape of the shoe – something which cannot be accomplished by machine.

Heeling

The heel is where the stark beauty of its wearer is conveyed. The combination of physics and ergonomics work together to create a lifted posture that portrays sophistication with a hint of sexiness to the wearer.

Finishing

Gold zipper on Anna from Super Women Collection enables transformation in the form of accessories

As finishing touches to the high quality end product, the edges are smoothed down, refined and polished. Excess materials are trimmed away. Last but not least, the pair of shoes are accessorized according to the design and client's needs.

Crystal embellishments on heels elevates your style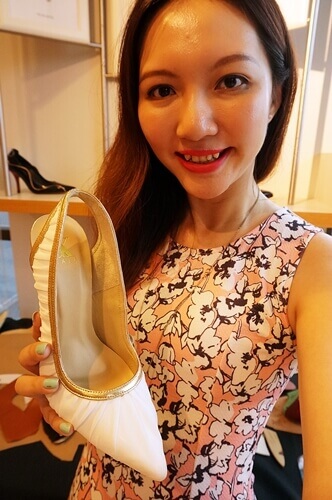 View XALF Design's shoe collections at their showroom in this video: If you're keen to know more, visit their website at
www.xalfdesign.com
or Facebook page at
www.facebook.com/xalfdesign/
.