Who doesn't remember the legendary and globally-renowned pop band
ABBA
? Famed for classic hits like Mamma Mia, Gimme! Gimme! Gimme!, and Dancing Queen among others, it spells nostalgia especially to people who are in the same generation as our parents. And I'm sure that we would recall the times when our parents were blasting these songs away and eventually, we knew how to sing them too! Although the band members parted ways in 1982, ABBA has remained as one of the most influential music group and an iconic band of the 70s. Thanks to its varied musical genres, they managed to reach out to a wide range of audiences. Until today, the music of ABBA is still relevant and listened by fans all over the world.
Arrival from Sweden – The Music of ABBA
This September, AC Music Entertainment will bring you the international hit tribute musical Arrival from Sweden – The Music of ABBA. Arrival from Sweden, is a renowned ABBA tribute band, celebrates all ABBA greatest hits and previously unreleased song included "Just a Notion", directly from Björn Ulvaeus and Benny Andersson of ABBA. This tribute show debuted in 1995 and already been seen by over million people, globally.
Fans of the band in Malaysia will get to relive the golden days with the favorite hits like Money Money Money, SOS and even Super Trouper soon! Reminisce the days of the 70s as you enjoy Arrival from Sweden – The Music of ABBA.
Arrival from Sweden – The Music of ABBA @ Plenary Hall, KLCC
Show Date: 1st September – 3rd September 2017 Show Time: 8:30 PM Venue: Plenary Hall, KLCC Ticket Price: Diamond: RM 1,000 (Please contact organizer) VIP: RM 588 Cat 1: RM 418 Cat 2: RM 338 Cat 3: RM 138 Cat 4: RM 88 * All ticket prices are subjected to RM4 processing fee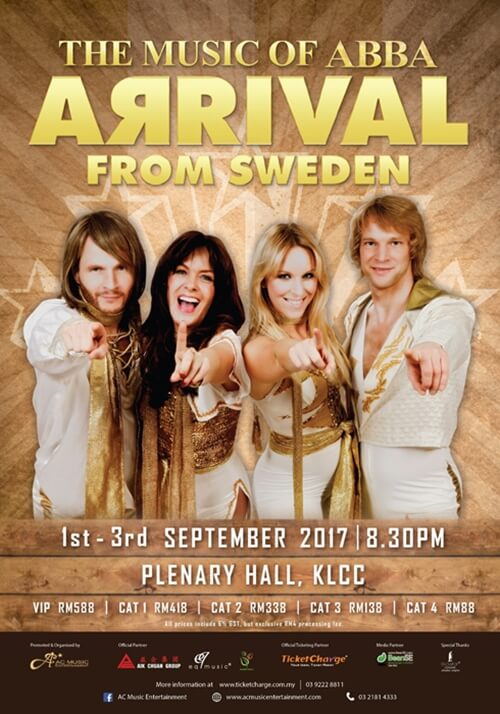 Contact No.
: AC Music Entertainment: 03-2181 4333 Ticket Charge: 03-9222 8811
Website
: AC Music Entertainment:
www.acmusicentertainment.com
Ticket Charge:
www.ticketcharge.com.my
Thanks to AC Music Entertainment, I'm going to
give away a pair of Cat 4 tickets
for 3rd September show (worth RM 176 in total) to 1 lucky reader! All you have to do is, comment here and let me know who you'll be bringing to the concert. Let me know why too, if possible! Contest ends on 6th August 2017.