Magnum, the authority on pleasure, has launched its most playful ice cream yet –
Magnum Red Velvet
. The new, innovative and bold flavour introduces a playful take on classic Magnum indulgence as a reminder to inspire Pleasure Seekers to bring back moments of play into their day to day lives and have the confidence to play as an adult.
Magnum Red Velvet
We always eat Red Velvet cake, but have you eaten Red Velvet ice cream before? Inspired by the iconic and well-loved cake among Malaysians and fans across the world, Magnum has pushed the boundaries yet again in delivering and replicating the popular favourite in an indulgent Magnum ice cream. With Magnum Red Velvet, Magnum offers a playful balance of fun and sophisticated flavors. True to the "Never Stop Playing" spirit, Magnum has innovatively played with different taste profiles. Bite into a velvety cocoa red-coloured ice cream with cream cheese swirls, coated with a luxurious, cracking cream-cheese infused white Belgian chocolate coating, made with the finest of cocoa butter – a sure sign of quality chocolate.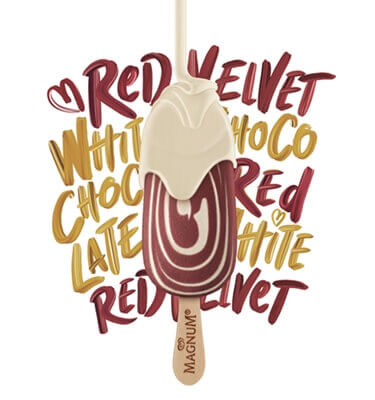 Encouraging Malaysians to find the fun in anything, the new Magnum Red Velvet revives the carefree and spirited attitude we enjoyed during childhood.
Magnum X Grab
To celebrate the launch, Magnum is also spreading the #NeverStopPlaying spirit through a partnership with Grab. From 5 to 9 May 2017, Pleasure Seekers can purchase launch-exclusive customized Magnum Red Velvet creations at RM30 with their debit/credit card via the GrabMagnum icon within the Grab App. Indulge in three uniquely crafted Magnum Red Velvet ice creams, available nowhere else in the world and get it directly delivered to your doorstep!
This exquisite treat is only available within the KLCC, Bangsar, Petaling Jaya and Damansara area. Deliveries will be made via luxurious #GrabMagnum vehicles between: Weekdays: 10 am – 5 pm Weekends: 10 am – 8 pm For step-by-step instructions and, terms and conditions, kindly visit
www.grb.to/MagnumRedVelvet
.