Donutes Coffee & Cake Baking originated in Taiwan and has been around for over 25 years. The founder's mission was very simple – to share the outcome of his baking with everyone to enjoy.
Donutes Coffee & Cake Baking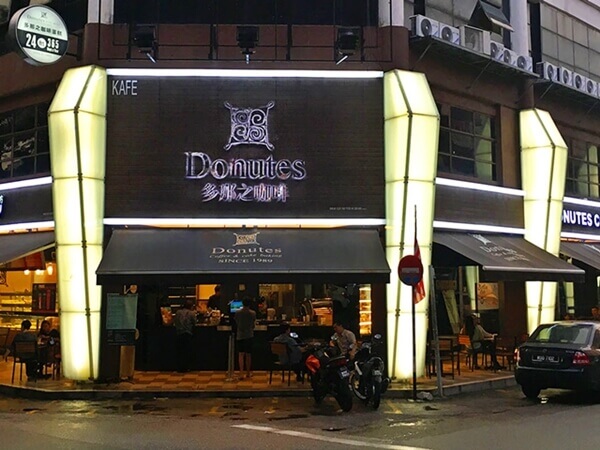 Originally, Donutes just focused on fried bread, their core product. In 2006, they have evolved to cater for a bigger market that serves different groups of customers. Donutes Coffee & Cake Baking now offers specialty coffee, tea series, cakes, breads, and ice cream.
Donutes Lava Salted Egg Cheese Tart
Let's witness the happily-ever-after marriage ceremony between salted egg mini croissants and lava salted egg cheese tart.
What's happening is, Donutes is launching their Lava Salted Egg Cheese Tart on the 6th May exclusively at Puchong branch. The result of this combination is spectacular.
Imagine your mouth taking a bite on the golden brown pastry and the mousse-like cream cheese with salted egg yolk filling oozing out. Oh so yum!!
On
6th May and 7th May
, there will be a "
Buy 1 Box, Free 1 Box
" promotion; which means if you buy 6 Lava Salted Egg Cheese Tarts, you will get 6 more for free! If you can't finish them, don't fret! Keep it refrigerated at 5 Celsius and reheat with oven for 2-3 minutes at 150 Celsius. I love to gobble them all as soon as they're freshly baked though! Price: RM 6.90 per piece
Donutes Best Sellers
While you're at it, don't forget to check out Donutes Coffee & Cake Baking's best sellers! The No. 1 crown belongs to Danish Polo Bun (priced at RM 4.20 each) that has reached 1,000,000 sales in 365 days. It tastes satisfying indeed. The top mildly sweet, crunchy layer is perfectly paired with the fluffy milky bun.
Don't forget to complement it with a cup of coffee or tea; it's ultimate indulgence #likeataitai
Next up on their Top 3 list is their Taiwan Rosong cake (priced at RM 6.90 each) that has sold 450,000 in 365 days. Order this if you're a big eater. Or else, you'll have to share because it's huge!! Most people would compare it with the size of their palm but for me, I'd say that it's almost the size of my feet hahaha!
Last but not least, is the irresistible Golden Liu Sha Mini Croissant (priced at RM 2.90 each).
What's enclosed in a crispy croissant pastry is golden salted egg custard that oozes out as you take a bite on it. So sinful yet delicious! I can't get enough of this. I'm secretly getting more from the group of pastries on the table.
Donutes Green Onion Twist is also amazing! It might not have made it to the official Top 3, but it's in my personal Top 3 list! Try it and you'll know what I mean. It's cheesy, slightly sweet, and filled with chicken floss. Their outlets are open 24-hours, which makes it an awesome place to hangout with friends and family! No need to worry that they'll be closed when you wanted to go there 🙂
Puchong branch
: No 7, Jalan Kenari 6, Bandar Puchong Jaya, 47100 Puchong, Selangor
Tel
: 03-5880 7038
Kota Damansara branch
: No 1, Jln PJU 5/13 Dataran Sunway, Kota Damansara, 47810 Petaling Jaya, Selangor
Tel
: 03-6143 7262
Subang Jaya SS15 branch
: 1, Jalan SS 15/4e, SS 15, 47500 Subang Jaya, Selangor
Tel
: 03-5879 7638