Simmer Huang (黃記煌)
, the brand that is famed for its
100 years Three Sauce Simmer Pot
recipe in Beijing, has finally reached Malaysian shores. The well-kept recipe first originated from the "Spicy Fish" in
Imperial Cuisine of Qing Dynasty
and has since been passed from generation to generation.
Simmer Huang 黃記煌 @ Pavilion Kuala Lumpur
It was such a pleasure to be among the first to dine at Simmer Huang, Pavilion KL together with my makan gang: Evelyn Ang, Dennis and Clumsy Boy. The restaurant is located at the
8th floor
of the newly opened retail expansion,
Pavilion Elite
, that is seamlessly connected to Pavilion Kuala Lumpur.
Hui Lau Shan's Prosperity Yee Sang
As the review took place before Chinese New Year, we had the opportunity to taste Prosperity Yee Sang from Hui Lau Shan. I love this variation of Yee Sang; it's a twist from the usual ones we had because this is fruits Yee Sang! Super healthy and it makes a great appetizer. Content includes mango slices, red apple cubes, green apple cubes, and shredded carrots.
Appetizers
Before the main dishes were served, let's have some appetizers to stimulate our appetite.
Perfectly roasted peanuts were served in premium aged black vinegar. The taste of the vinegar is of sweet and sour; with mild malty flavor. This is the one appetizer that I can't stop eating because it stimulates my saliva production.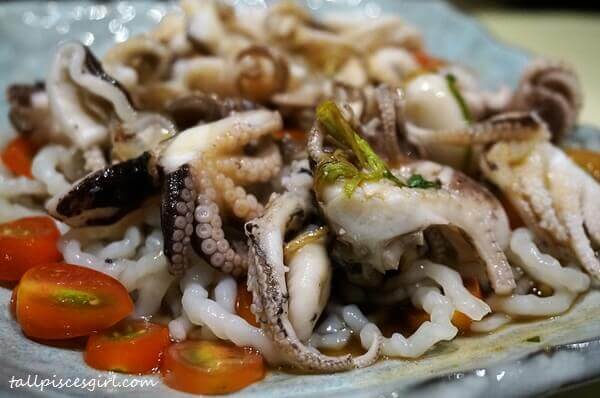 The portion for Simmer Huang Octopus is quite generous. And I absolutely love the crunchiness of these fresh, raw baby octopus. The potato vermicelli (红薯粉) has a very unique texture and crunchy as well! It took us some time to figure out what this addictive thing is.
Mushroom Bites is also a cold appetizer that has crunchy texture and sourish taste. As I'm writing this, my tummy started to call for food! My favorite abalone mushroom!
Main Pot (Three Sauce Simmer Pot)
Needless to say, we've gotta try the award-winning Three Sauce Simmer Pot for sure! First, you need to select your choice of hotpot: Fresh Fish, Seafood, Meat (pork, beef, chicken) Then, choose your preferred sauce to go with the fresh ingredients: Classic, Seafood, Spicy, Hot & Spicy, Soy Don't fret if you don't know which one to choose because you can refer to the menu for recommended type of sauce 🙂
Simmer Huang is known as the
master of hotpots
because of its unique simmer cooking process. The art of simmering is perfected by using Chinese medical herbs combined with juices from over 10 nutritious vegetables and sauces to brew up nutritionally balanced dishes.
Assorted Seafood Pot with Classic Sauce (四鲜焖锅配招牌咸鲜汁)
During this process, not a single drop of water is being used. This is how intense the flavors of the ingredients are.
After the waiter arranged the ingredients layer by layer into the hotpot, it was left to simmer for a while. Then, the thick, signature sauce was spread carefully to ensure that all the ingredients were covered with the sauce. Let it simmer again for a while to bring out the goodness of the ingredients and START FEASTING!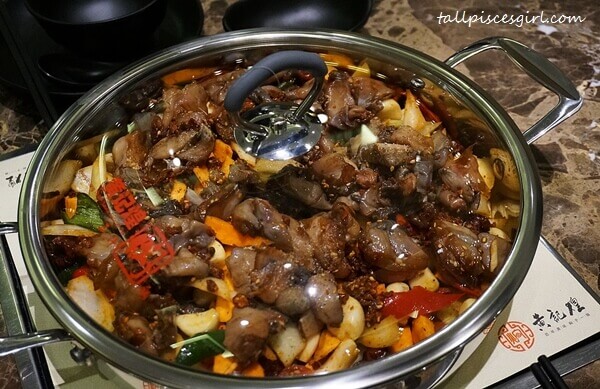 Since the food is not fried nor deep fried, all the vitamins and nutrients are locked in, making it more delicious and healthier to enjoy.
Assorted Seafood Pot is the tastiest variation that I've tried because the amount of seafood is very generous, making the broth tastes intense with sweet seafood juice. Expect a seafood galore that consists of cod fish slices, cuttlefish, prawns and oysters!
In order not to waste the treasured essence from seafood, broth is added into the hotpot, transforming it into a soup version just like steamboat. THIS IS IT! We just had to order rice because the soup is just too yummy. The soup will go wasted without rice.
Pork & Fungus Pot with Spicy Sauce (猪菌焖锅配微麻辣汁)
Next on our hit list is Pork & Fungus Pot whereby we had layers of vegetables as base and then topped with scrumptious pork belly, black fungus. king oyster mushrooms and oyster mushrooms. This time, we paired it with Spicy Sauce which sends our tongues to numbing mode like Szechuan-style chili.
Spicy food lover will definitely enjoy their hotpot with Spicy Sauce because it is not only spicy, but it also created a unique taste when combined with all the herbs and essence from the meat. Plus, the fragrance is simply mouth-watering!
Add-On
Chef Special Mushroom Ball tastes great thanks to the fresh and succulent meat combined with mushroom bits that create layers of texture when you chew on it.
Fried Beancurd Crust is a must-order and I guarantee you'll regret if you missed this! This might seem like a normal dish but when the fried beancurd crust is put inside the Assorted Seafood Pot with Classic Sauce, the taste is absolutely amazing. The essence of everything is enveloped within it.
Fresh cuttlefish paste that is served on ice to retain its freshness. Love it to bits!
Dessert
With the price of only RM 15, you get to try 3 different desserts when you order Mango Feast. Mango Feast comprises of Mango Ice Cream Sandwich, Icy Mango with Coconut Flesh and Mango Icy Sweetie Balls. My ultimate choice goes to Icy Mango with Coconut Flesh because I just love the fragrance of coconut! The good news is, all desserts served by Simmer Huang is supplied by Hui Lau Shan, the mango dessert expert.
Full Menu of Simmer Huang @ Pavilion Elite KL
Address
:
Simmer Huang
Lot 8.101.00, Level 8, Pavillion Kuala Lumpur, 168, Jalan Bukit Bintang, 55100 Kuala Lumpur
Business Hours
: Daily 10am – 10pm
Tel
: 03-2110 0102
Facebook Page
:
Simmer Huang Malaysia 黃記煌