It's been awhile since I've been on a road trip. Thanks to
Honda Malaysia
, I get to drive the new
10th Generation Honda Civic to Penang
with my girls and brought home a lot of beautiful memories! On a lovely Saturday morning, 15 bloggers gathered at Citta Mall to experience the 10th Generation Honda Civic.
Honda is the first Japanese mass market manufacturer to introduce turbo engine in the C-segment. Hence, the 10th Generation Civic is able to provide "D-Segment Value" at "C-Segment Pricing".
After a quick breakfast and briefing session on the car specs and functions at Onde Onde, we officially started our exciting journey at 10 am.
Before we depart, a group shot with all the participating bloggers is a must. And here we come, Penang!
Penang Road Trip with 10th Generation Honda Civic
Guess who's the first driver? It's me! Together with Rane Chin and Joyce, we're going to drive Honda Civic 1.5 Turbocharged Premium!! So so so excited but first, let's keep calm and familiarize ourselves with the car.
8-way power driver's seat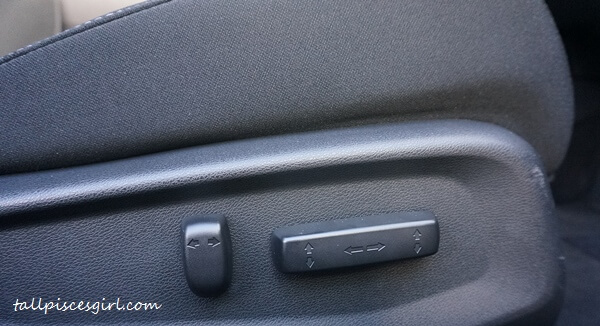 Since we're going to drive a long journey, we can't compromise on comfort. Honda Civic addresses drivers' need to be in the most comfortable driving position by introducing the digital 8-way power driver's seat. It includes a lower cushion that tilts up and down for the most precise comfortable position.
Wide beverage holder space
With two pretty girls on board, I have to drive carefully and stay alert. That's made possible with snacks and beverages all stocked up in the wide beverage holder space. The space is even big enough to put in a tablet! Oh, and the USB charging port is over there too. Since we're always active on social media, we need a lot of juice to keep our phones alive.
Electrostatic Switch
Having the Electrostatic Switch on the steering gives me full control from adjusting the radio volume to picking up a call without losing focus. If you're an Apple user, you can also use Apple CarPlay to access your songs, messages and get direction. For Android users, don't fret! The Android version will be launched soon.
Restoran Sri Tanjung Tualang
After a 2-hours drive, our tummy started to grumble! Let's head to
Restoran Sri Tanjung Tualang
for some yummy halal seafood.
Tanjung Tualang is a place that is famous for their freshwater prawns. Without further ado, let's dig in!
What a hearty meal we had. Thanks, Honda Malaysia for bringing us here. Aside from tasting the delicious food, we also took the time to know more about each other 😉
Keyless Entry Remote Control
The 10th Generation Civic is so smart! Using the Keyless Entry Remote Control, we can remotely start the engine and air conditioning to cool down our car before we enter. The doors will remain locked until we're 2m away from the car.
7″ Advanced Display Audio
The GPS device's screen is so small, we had to squint our eyes to look at it. Luckily we can also view the navigation from Honda Civic's 7″ Advanced Display Audio. With the 10-speaker premium audio system, we just have to utilize the radio and listen to some upbeat songs to suit our journey.
Turbo View
The journey towards Penang is the best time to try the functions of Honda Civic. There were a few points on North-South Expressway that is quite steep and requires acceleration. When I drove my car, I would need to step on the pedal until maximum for a few times and I can feel like my car has eaten too full. No energy to go up at all! With Honda Civic 1.5 Turbocharged Premium, our car will automatically switch to turbo mode when the speed went above 80 km/h. The drive up is so much more effortless. The blue bar on the dashboard indicates how much turbo is being utilized during the drive.
Stadium Batu Kawan
After approximately 2.5 hours, we arrived at Stadium Batu Kawan. This is where we get to see the safety features of Honda Civic being demonstrated.
The 10th Generation Honda Civic is available in 5 colors: Dark Ruby Red Pearl, Modern Steel Metallic, Crystal Black Pearl, and two brand new colors, Lunar Silver Metallic and White Orchid Pearl.
Vehicle Stability Assist (VSA)
In order to test Honda Civic's Vehicle Stability Assist (VSA) feature, we were taken for a ride by the professional drivers. It was a truly exhilarating experience sitting in the car, while they did the Gymkhana stunts!! Check out the video to see what we've experienced: The purpose of this demonstration is to show the importance of VSA. In fact, VSA is available for all Honda cars. YAY! With VSA feature, the car will not skid and overturn when you drive on slippery road or emergency brake. Plus, rest assured that you'll be protected with 6 airbags (Dual Front Airbags, Side Curtain Airbags, and Side Airbags) in the car.
Here's a bonus move for us – J turn aka James Bond move. OMG!! We all screamed on top of our lungs! Luckily the vehicle was stable enough.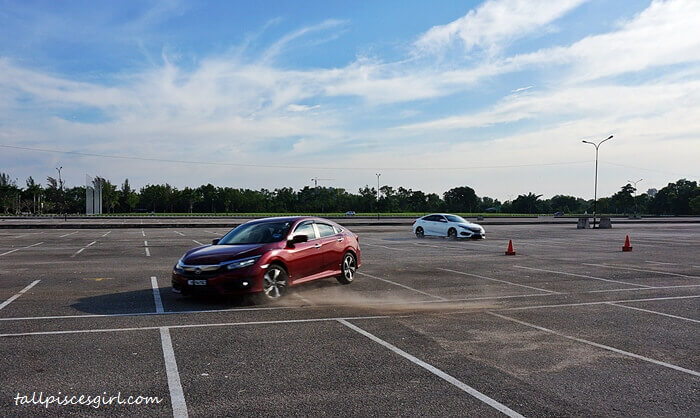 ISOFIX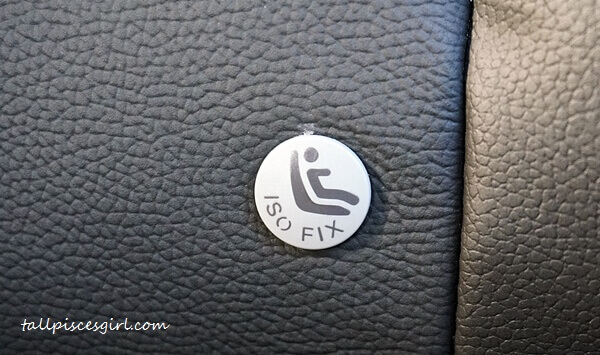 For those who have little ones or planning to have one, rest assured that your precious will be placed at the safest point of the car. This is where you see the ISO FIX button. Just secure the baby seat at these areas for maximum safety.
Cruise Mode
When the path is clear, we utilized the Cruise Mode and set it to 110 km/h so we don't have to keep our legs on the pedal while cruising within the speed limit.
Brake Hold
The city dwellers will be very very thankful for the Brake Hold feature. Once the button is pushed while pressing the brake, brake hold system will be activated. You can then lift off your leg when traffic is on standstill. Isn't that awesome? This is also useful when you're stopping temporarily on steep roads.
Botanica Mansion
The sun was almost setting when we arrived at Botanica Mansion, Balik Pulau. Took some time to hang around while waiting for the food to be ready.
The mansion is so huge and looks majestic! Botanica Mansion is a restored English mansion built in the early 1881 that serves as a Clubhouse now for Botanica CT.
This is just too mesmerizing. Sipping mocktail while watching the sun set is the best thing to do after a long journey.
There were so much food for us! Aside from buffet-styled food, there were also Asam Laksa, Char Kuey Teow, Cendol, Banana Fritters, and many more delectable food. So blessed to be here with the Honda team 🙂
LED Lights
Honda Civic uses LED for their headlights and taillights because they don't need warm up time and it's very bright, yet won't hurt the eyes of people who look into it. This is just perfect! Look at the photo above – on a road where there's no street light, just turning on the LED headlights brightened up the whole path.
The "C"-shaped LED taillights will undoubtedly be recognized as Civic's stylish statement.
G Hotel Kelawai
When I found out that we'll be staying at G Hotel Kelawai, I was super elated! It's one of my dream hotels to stay in Penang! Every time I passed by, I secretly hoped that I'm staying there. So this is
THE POWER OF DREAMS
! Thanks Honda Malaysia, for making this possible.
I've got the spacious Executive Room for the night which provides me the ultimate relaxation to recharge for the next day.
Although tired, the girls and I still managed to check out the rooftop infinity pool beside Gravity Bar to have a look at the spectacular night view of Penang.
After a hearty buffet breakfast at Spoon Cafe, we all headed to ESCAPE Adventureplay in our sport attires and of course, our Honda Civic!
ESCAPE Adventureplay
It's all about adventure at ESCAPE Adventureplay. The adults can finally play like kids again.
I managed to play A-Maze with Emily Tang. Then, we went to play Tubby Racer with Sam, Fatin Bella and Emily. So exhilarating! Thanks Samuel Chew, for the video of us while playing Tubby Racer.
Tubby Racer @ ESCAPE Adventureplay
by tallpiscesgirl
The toughest activity at ESCAPE Adventureplay is completing Monkey Business because there are 16 obstacles to be cleared! And all of them requires arm strength and balancing skills.
Aerobat made me felt so amazed. Apparently, it's possible to do acrobatic moves with just guidance through voice by the coach. JUST BELIEVE!
Prawn Village Seafood Restaurant
After the hectic yet fun activities, it's time to fill our tummies again. YAY to more seafood today! We had so much food at Prawn Village Seafood Restaurant such as crab, prawn, fish, lala, etc.
Bye-bye
It's time to finally say bye-bye to Penang, the land of seafood. Oh, after touring for so long, is it time to service yet? With the All-New 1.5L VTEC Turbocharged variant, you don't have to worry about maintenance because it comes with
smart monitoring system
. When it's time to change oil, the indication lamp on the dashboard will be turned on to remind you.
The
All-New Honda Civic 2017
is available in 3 variants and the 
prices on-the-road with insurance
are:
RM 113,800 for 1.8S
RM 127,800 for 1.5 Turbocharged
RM 135,800 for 1.5 Turbocharged Premium
The Civic is definitely on top of my preferred car list now. If you're planning to get one too, do visit any Honda dealer or call Honda's Toll Free number at 1-800-88-2020, or log on to
www.honda.com.my
for more information on the features and specs.