White Horse Tavern
@ Ampang was launched in September 2015 and I must say that I felt so blessed to discover this cozy hidden gem! This place is not only a bar, but also a family restaurant with a kids corner and a complimentary kids menu.
The unique selling point of White Horse Tavern is that they have an array of delectable food, prepared by talented and dedicated chef,
Chef Yogi
.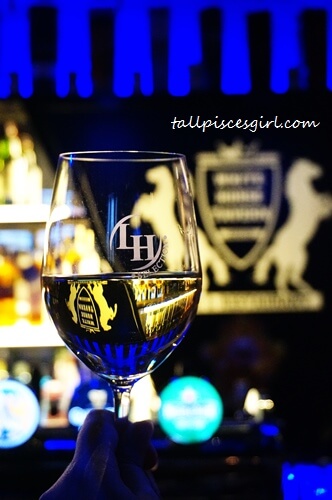 Of course, the experience is further heightened when coupled with ice cold pint of beers, premium scotches and wines.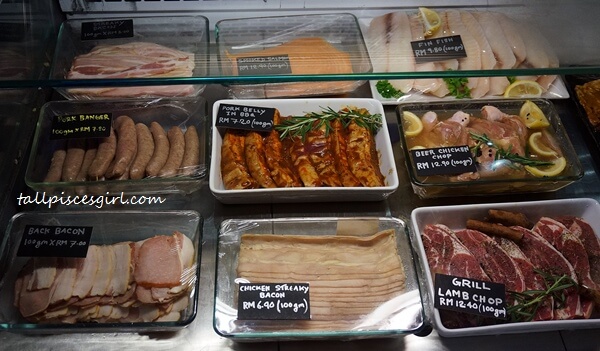 The restaurant is equipped with a well-stocked deli counter that is refreshed frequently with a variety of meats and sides. You can choose your food ala window shopping and get it grilled on the spot.
White Horse Tavern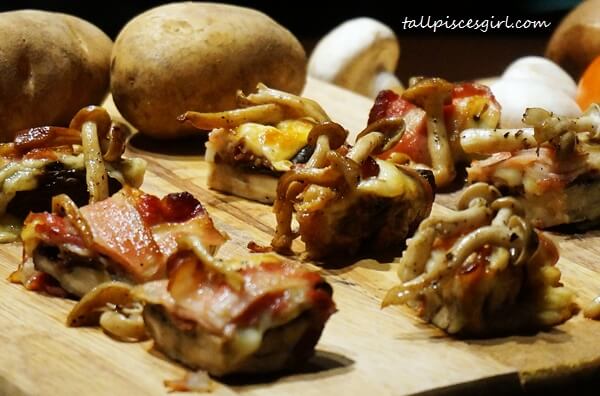 Stuffed Portobello Mushrooms
was the first dish on the menu that we've tried and it's also one of the best! Totally digging the juicy grilled Portobello mushrooms as they were stuffed with melted mozzarella cheese, and topped with grilled mushrooms and bacon. I can't help but to get another serving of this!
My photo doesn't do justice to the tender
BBQ Chicken Wings
 here, but they were grilled to absolute perfection and thanks to Chef Yogi's signature BBQ Sauce, it's finger-licking good (familiar tagline? :p).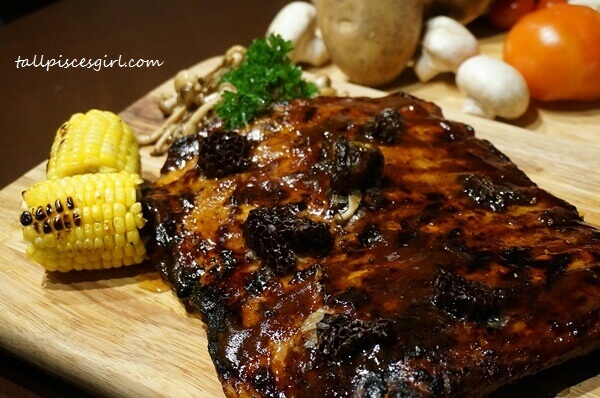 One of the must-haves at White Horse Tavern is Chef Yogi's signature creation,
Honeycomb Baby Pork Ribs
. Ingredients used is the key that distinguish the quality of the food. Glazed with pure honeycomb transported all the way from Cameron Highlands, you can see how much passion and effort they put to perfect the recipe. Perfectly grilled pork ribs comes with jacket potato, corn on the cob and sauce of your choice.
Note
: Honeycomb Baby Pork Ribs is available after 12pm from Mon-Sat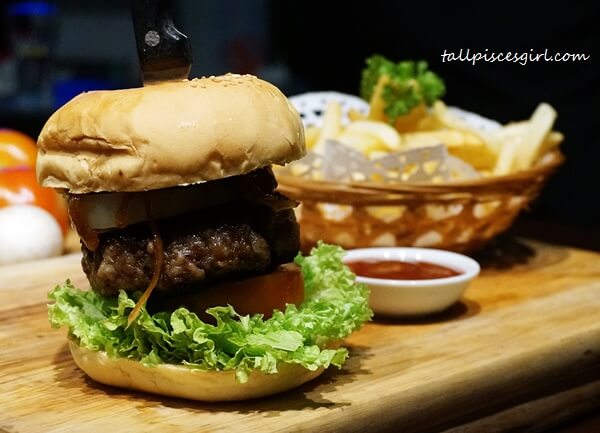 Pork Burger
is another popular creation from Chef Yogi. The 180gm pork patty was grilled to perfection and for those who love fiery sensation, ask it to be coated with the
Hellsfire XL sauce
! Served with fries, salad, coleslaw and caramelized onions.
Aside from food tasting, we were in for an entertaining night as Chef Yogi demonstrated how he separated meat from the bone of pork knuckle in less than 30 seconds! Amazing!!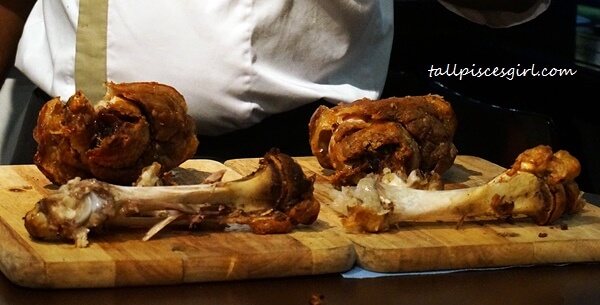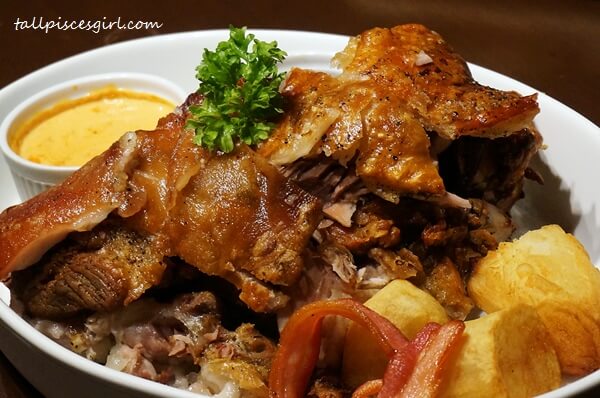 Major loves for
Crispy Roast Pork Knuckle
! The meat was juicy, tender and very well-marinated. As I was typing this, my tummy was making sound, hinting that it's time to go back and have it again! Each platter of pork knuckle comes with creamy spicy mustard, prune and apple compote, streaky bacon, and jacket potatoes.
Note
: Crispy Pork Knuckle is available after 6pm from Mon-Sat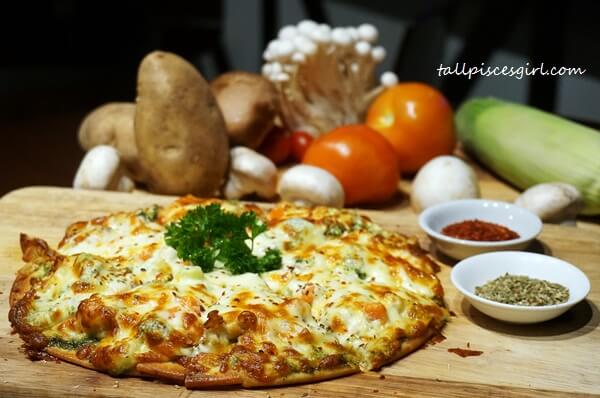 Fans of thin crust pizza would love
Deep Dish Alfredo Pizza
as I find grilled fin fish topping to be rather unique yet tastes good when complemented with Gouda cheese and cream.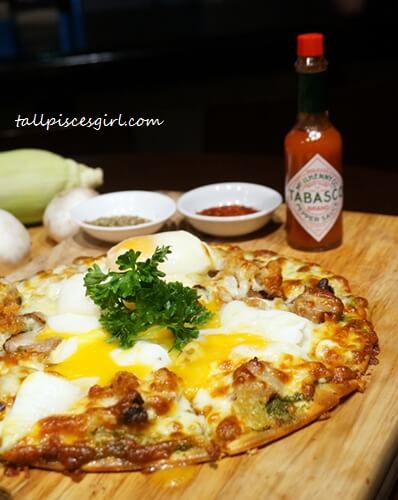 An idea of how dads make breakfast – a generous amount of eggs, mushrooms, bacon, sausages and hash browns with cheddar cheese, all stashed together as a pizza!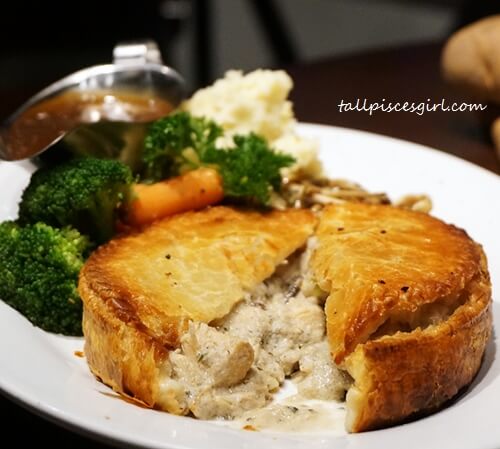 Beef or chicken pie? Your call! Regardless of choice of meat, Chef Yogi's secret recipe filling will leave you feeling satisfied (though I personally prefer the former). I love the texture of flaky, crunchy pie crust.
Chicken Mushroom Pie
 also include creamy mashed potatoes and sauteed vegetables while
Minced Beef Pie
is served with jacket potato, green salad and sauteed vegetables.
For a light meal or quick bite,
Fish Gratin
made of Fin Fish and potatoes served in a cheesy white sauce is just perfect.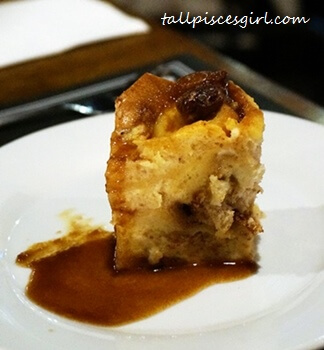 We had our tummies filled with great food but we just couldn't resist dessert! So, we had a small piece of
Bread and Butter Pudding
with homemade caramel sauce (hence the photo!) to end the day.
Address
:
White Horse Tavern
Lot G08B, Grd Flr, The AMPWALK, 218 Jalan Ampang, 50450 Kuala Lumpur
Tel
: 012-289 0708
Facebook Page
:
White Horse Tavern
Business Hours
: Mon-Fri: 11 am – 1 am Sat-Sun: 8 am – 1 am