Step into
House Restaurant / Bar / Winepost at GTower
and be welcomed by the cozy and comforting atmosphere from the earthy toned setting. It's no wonder that so many expats and locals are patronizing House @ GTower after working hours – they feel so at home here!
House has combined everything under one roof from restaurant, bar to winepost for a unique dining experience suitable for everyone.
House Restaurant / Bar / Winepost @ GTower
This Christmas season, House Restaurant @ GTower has introduced some Christmas Roasts menu like roasted turkey, roasted lamb and many more. The star of this menu is
Santa's Christmas Platter
that consists of:
Roasted Pumpkin Veloute
Roasted Turkey
Roasted Beef Ribeye
Honey Glazed Turkey Ham
Chestnuts Stuffing
Buttered Vegetables
Potato Wedges
Christmas Yuletide Log Cake
Sauces: Giblet Gravy, Beef Jus, Cranberry Jam, Dijon Mustard, Apple Raisin Sauce
Priced at RM 229, this huge set is enough for 3-4 pax. This Santa's Christmas Platter will be available from 1 December 2015 – 2 January 2016. I especially liked the succulent Honey Glazed Turkey Ham and crispy potato wedges in this set.
Feeling all jolly with the festive ambiance, I could be biased but I love the buttery taste of this
Christmas Yuletide Log Cake
.
Nothing can be better than starting off a meal with some green vegetables.
Chicken and Brie Salad
is mixed green salad combined with grilled chicken breast, deep fried brie cheese, avocado, almond flakes and lots of honey mustard vinaigrette dressing.
One of my favorite dishes here is
House Classic Burger
whereby perfectly marinated Australian ground beef patty was served with melted cheddar cheese on soft sesame bun accompanied with beef bacon and pineapple rings. Green salad and french fries were given as sides too!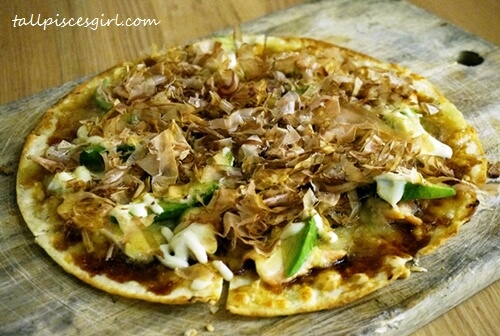 For sharing with a group of friends, pizza is not to be missed!
Teriyaki Salmon Pizza
topped with avocado and bonito flakes was a great choice – love the smoky taste.
Pan Seared Crispy Skin Salmon
definitely looked like a piece of art. Served with organic lemon mash, fennel, basil pesto and tomato compote, it was really appetizing to the point that my stomach is already growling as I was writing this post.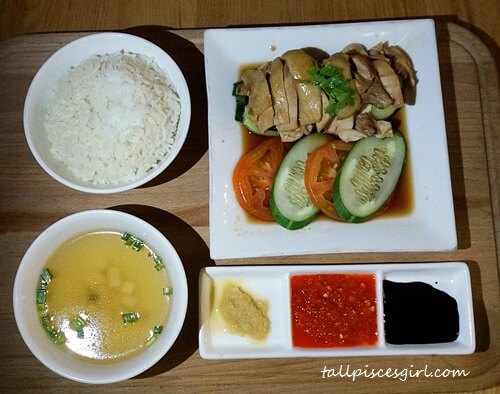 Aside from Western food, House @ GTower also serve Asian cuisine like
Hainanese Chicken Rice
. Their tender juicy poached chicken was served with fragrant ginger rice and best eaten with their homemade garlic chilli.
A must-order if you're having beer is their
House Wings
! It's so crispy and you can smell the aromatic spices that they used to marinate the wings.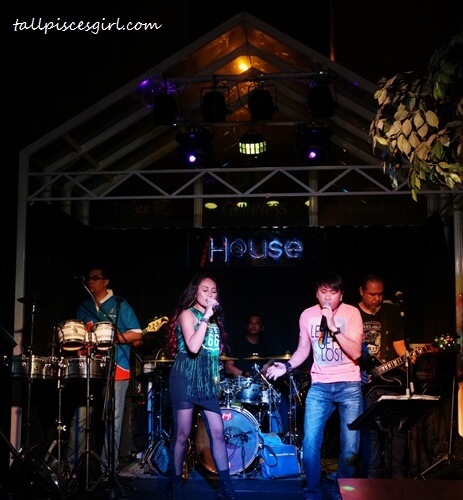 Don't miss the live band performances by
NRG
at House Restaurant every Monday to Saturday from 9.30pm onwards. They're really good and most of their songs are pop songs from the 90's!
You'll be spoilt for choice in the beverage department but let me help you to make your selection easier. These are my favorites: Snowball and their House Made Signature Tea whereby you'll get a huge scoop of sorbet on top. For the signature tea, I preferred Peach more but I guess it's a personal preference. Stir the sorbet in and enjoy the drink!
Address
:
House at GTower (rebranded to 11 LA – Live Fusion Pool Bar)
LG02-04, GTower, 199, Jalan Tun Razak, 50400 Kuala Lumpur
Tel
: 6012-251 7072
Business hours
: Monday – Thursday: 11am – 2am Friday: 11am – 3am Saturday: 11am – 12am Sunday: Closed
Facebook page
:
11 LA – Live Fusion Pool Bar