Originally from Portland, Oregon, Slappy Cakes has been famous for their pancakes and was awarded the title of "America's Best" by Food Network's Alton Brown as one of America's top ten destinations. They have since expanded its wings to Maui, Japan, Philippines, Singapore, and now – Malaysia!
The funny thing is, I was invited by a fellow foodie, Pancake to this review session. I just can't stop making puny remarks like "I wanna slap Pancake with Slappy pancake". LOL!
Slappy Cakes' first branch in Malaysia is located at Publika, Solaris Dutamas. With an inviting interior and cosy ambiance, it is set to be the perfect gathering place with family and friends.
Slappy Cakes @ Publika
The fun began when we DIY our own pancakes. It's time to unleash your creativity and show off your art skills. But first, choose your favorite pancake batter flavor that they made from scratch daily. There are 4 flavors available: Whole Wheat, Buttermilk, Chocolate & Peanut Butter. My personal favorite is peanut butter batter since I prefer salty than savoury pancakes. Those who are health conscious can opt for whole wheat batter while chocolate batter is perfect as outline for your designs and complements well with all other batters. Buttermilk is great for that classic pancake flavor!
There's nothing to worry about when cooking your own pancakes because the griddles and utensils were imported from Japan with non-stick and anti-burn technology.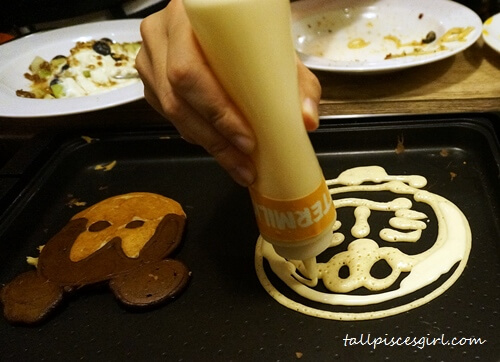 See what design Pancake made – my favorite Doraemon!! My design failed miserably as I'm not an artistic person all the while. After designing, put on some fixins! With 12 sweet and 4 savory fixins (RM 3 each) to choose from, it's definitely not an easy task. Slappy Cakes also offer ready made pancakes for those who are lazy to make their own.
Disclaimer as Pancake put it: The designs are what YOU think it is. It's totally your imagination that's dirty if you think it's something dirty :p
Last but not least, add your favorite toppings (RM 3.50 each) to complete your pancake. I'd recommend Lemon Curd (crowd's favorite) as it goes really well with pancakes and does not taste too sour. Cinnamon Creme Fraiche is an irresistible sinful choice of topping too!
Aside from pancakes, Slappy Cakes also offer all day breakfast sets, entrees, egg benedicts, salads and desserts.
A generous plate of Housemade Granola that consists of crunchy green apples, slices of bananas, blueberries and granola topped with creamy Greek yogurt is a healthy option for guilt-free diet. There's just so much texture in a mouthful!
Slappy Benedict has got to be the best dish throughout this review. But I could be biased since I love eggs.
Sauteed spinach, mushrooms & turkey bacon with pureed roasted garlic & sundried tomatoes topped with 2 poached eggs & hollandaise sauce on house-made English muffins, served with potatoes. I can eat this everyday and never get bored. Not only the Egg Benedict is good, I can stop myself from eating the crispy potatoes too!
Satisfaction is when I took a mouthful of this perfectly seasoned Grill Salmon Aglio Olio. It has that fragrance and classic taste which I still failed to cook out. Maybe it's the sweet basil! I was also amazed to see the generous amount of salmon cubes. YUMS!
After all the yummy food and non-stop chatting, Slappy Lemonade hit the right spot by quenching our thirst. It's all homemade by the chef using natural ingredients. It left me sooooo refreshed!
Address:
Slappy Cakes Malaysia
A3-G2-3A, Solaris Dutamas,
No. 1, Jalan Dutamas 1,
50480 Kuala Lumpur,
Malaysia
Tel: +603 6211 9949
Business hours:
Tuesday – Friday: 9 am – 9 pm
Saturday – Sunday: 8.30 am – 9.30 pm
Facebook Page: Slappy Cakes Malaysia