Thanks DocLab Korea for sending me these face ampoules a month back! Muah~~~
I'm actually quite surprised that many people has never used ampoule before. Actually, ampoules are airtight glass containers that are filled with highly concentrated active ingredients. They are more intense and potent than serums and essences. Ampoules usually contain botanical extracts, vitamins and enzymes in various combinations. They are usually preservative-free and chemical-free due to the airtight packaging.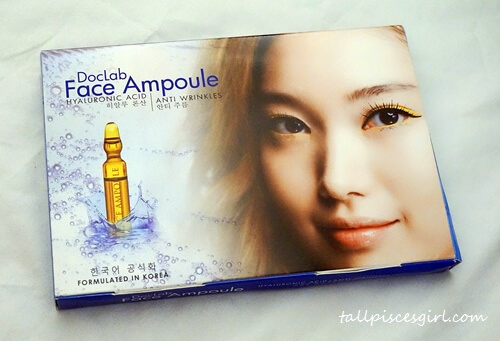 So what took me so long to review them? It's because I need to bring it along to Penang in order to test its efficacy. The thing is this: every time I expose my skin to air conditioner for more than 2 days, it will turn very dry. Dry to the point until my skin has rough patches! And it will take 2-3 weeks to recover T_T




Before the review, let's understand more about the product.
Ingredients:
Aqua, Collagen, Sodium PCA, Hamamelis Virginiana (Witch Hazel), Water, Panax Ginseng Root Extract, Aloe Barbadensis (Aloe Vera), Leaf Extract, Phenoxyethanol, Sodium Hyaluronate, Tocopheryl Acetate (Vitamin E), Arbutin, Methylisothiazolinone
Plus points for DocLab Korea Face Ampoules for being alcohol-free and paraben-free!
Inside the box, each DocLab Korea Face Ampoule glass vial was arranged separately. It is important that they do not touch each other because the glass is very fragile. Thumbs up for the packaging! I just put the whole box into my handbag during travel.
Claimed benefits:
Skin moisture boost and deep hydration with Hyaluronic Acid
Restore skin suppleness and elasticity with Collagen
Retexturize skin, smoothen fine lines and reduce wrinkles with Ginseng Extract
Natural anti oxidant and skin protection with Vitamin E
Powerful skin whitening and lightening with Arbutin
Skin soothing and refining with Witch Hazel Extract and Aloe Vera Leaf Extract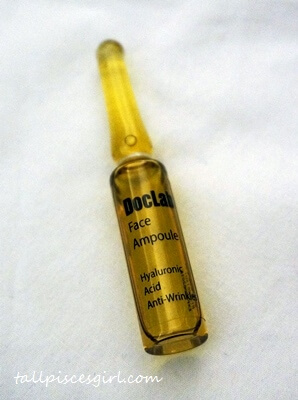 How to open DocLab Korea Face Ampoule:
If you see the ampoule liquid in the top part of the vial, gently flick it with your finger and it should move down. The tricky part is how to open the vial since many people are using it for the first time. It's pretty easy really; you'll get a hang of it with constant practice. This is how I do it.
Hold the vial using left hand
Wrap right hand with a cotton towel and hold the top part of the vial
Put some pressure onto the top part of the vial with your right hand and gently press it backwards
The top part will snap and detach from the body of the vial.
How to use DocLab Korea Face Ampoule:
Pour the ampoule into palm bit by bit, spread onto both palms and tap them onto skin. Make sure you don't pour too much because it is quite runny and might leak from the gap through your fingers. Don't waste such awesome product! It is recommended to finish the whole vial within 1 day (day and night) but if you think that it is too much, you can follow my way. I cover the top part with a clean tissue and secure it with a rubber band before putting it into the fridge to ensure freshness. With this, I can use it a day more.
The correct routine is to use ampoule after toner. Then, you can follow your usual skincare regime i.e. moisturizer, sunblock, etc.
Verdict:
The texture of the ampoule was quite watery like water (hence no photo from me because it is not so visible) which made me quite skeptical at first. I tried it anyway since it's a review and I'm really amazed by the result! So glad I gave it a chance because guess what – my skin was exposed in an air conditioned room for 5 days straight but there wasn't any dry. rough patches as before. I'm so gonna bring them along every time I travel!
If you're keen, DocLab Korea Face Ampoules are available at DocLab Korea's website at the retail price of RM 138 per box. There's an ongoing promotion now whereby you can grab it at only RM 98 per box including postage!