I've not driven alone so far for a very long time and guess where I went 2 weeks ago? I drove allllll the way to
Sepang Aircraft Engineering
to witness
Ninetology Malaysia's AirAsia Livery Plane
that marks their ASEAN wide expansion initiative. I love these great experiences that blogging has brought me =)
Sepang Aircraft Engineering
Ninetology's Aircraft Livery Plane!
Ninetology and Qualcomm will expand to ASEAN together
Ninetology Malaysia is an ASEAN mobile device technology company that produces products empowered by the latest solutions for practicality and functionality.
Sean Ng, Chief Executive Officer of Ninetology ASEAN
Quah Cheng Eng, Ninetology's Digital Media & Marketing Manager
Sean Ng, Chief Executive Officer of Ninetology ASEAN has also announced a revenue target of RM380 million by the end of 2014, projected from its expansion plans into Philippines, Thailand and Vietnam. They have sold over 1 million units to date and have expanded into Indonesia as of September 2013.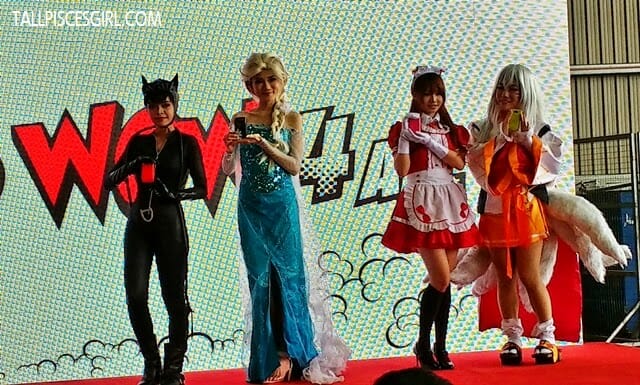 Cosplayers with phones that represents their character
Ninetology's humanised devices are
powered by Qualcomm® Snapdragon
mobile processors, a world leader in 3G, 4G and next-generation wireless technologies, to continue their efforts in delivering outstanding value to their consumers.
The bloggers gang
Joel with the maid cosplayers
So Wow For All Campaign & the U9J1
The So Wow For All is a whole year long campaign where Ninetology aims to "wow" everyone. This campaign starts with the launch of Ninetology's latest model, the
colourful U9J1
which comes in four different colours – rave red, classic black, fuschia pink and neon green. This full fledged Android does everything a smartphone can do – but at a price tag of only RM 199! What a steal!
Ninetology U9J1
Ninetology U9J1 at only RM 199!
At the same time, Ninetology is embarking on a mission to engage with the mass digital community alongside social influencers, leading the way of digital media networking in Malaysia and organizes monthly giveaway (themed #9Giveaway) on every 9th of the month. Another "wow" in the pipeline is a heartwarming web-series, scheduled to be released in the second quarter of 2014. To know more about Ninetology's smartphones and giveaway, kindly visit
https://www.facebook.com/NinetologyMalaysia
. Also, do check out my post on
Ninetology U9Z1 vs. HTC Butterfly S
.