Do you remember that I talked about an awesome app that enables you to save more in your daily lifestyle called
Samsung Galaxy Life
? If you missed out, click
here
and read about it.
Renoma Cafe Gallery
Samsung Galaxy Life was finally launched last Friday at
Renoma Cafe Gallery
! After braving the horrendous Friday traffic, I'm glad to join fellow bloggers for the launch. I know I've been raving a lot about this app but I really can't help it because is so useful! Just 2 days ago, I went for a couple spa treatment at Sompoton Spa using Samsung Galaxy Life app for a special price.
Dance performance
There were many programmes that night like fashion show, lucky draw sessions and dance performance. I really enjoyed the dance performance!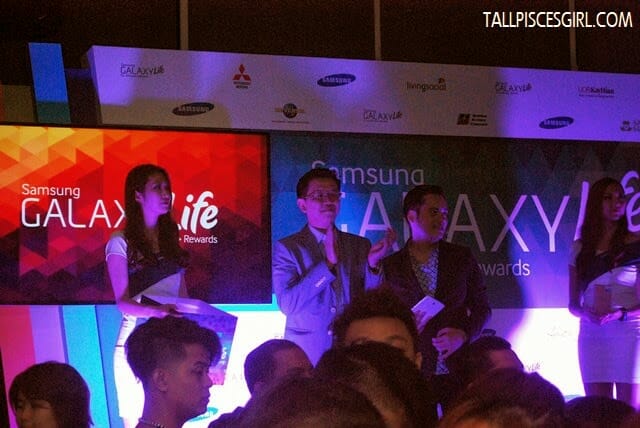 Lucky draw
Ah… lucky draw prizes include Samsung Galaxy Gear and Samsung Galaxy S4! How great if I can win a Samsung Galaxy Gear to pair with my Samsung Galaxy Note 3! *dream on*
Coffee art demonstration by Coffea Coffee
Coffea Coffee, being one of the merchant in Samsung Galaxy Life app showcased their coffee art there. So pretty! I wanna pay them a visit before the 50% discount promotion ends.
Cute mini cupcake
The place was full of happy faces and laughter as we finally get to meet with long lost friends. Snacked on some yummy mini cupcakes and fruit punch too!
Pineapple punch, want?
With lovely girls, Joanna Choong and Janice Yeap
With Li Chuen and Joanna Choong
With Rane and Rachel Ng who coincidently wore the same color as me.
She said it's Tiffany & Co. color. LOL!
This is what I call grinning from ear to ear!
With Donovan Chan, the guy behind Manoah =)
By the way, I noticed that there have been more merchants joining Samsung Galaxy Life which a good news for all Samsung users because you can now shop more and save more. Among the merchants are Zalora, Escape Room, Coffea Coffee, Bizzy Body, Sompoton Spa, Sakae Sushi and many more! Besides great deals, they also have apps recommendation and exclusive interviews.