Kanebo Lunasol has recently celebrated their 15th anniversary with members of the media, bloggers, outstanding makeup artists, VIP guests and business partners at Kampachi Japanese Restaurant.
Kanebo Lunasol Celebrates 15th Anniversary
We were taken on a unique journey to experience the key philosophy behind Lunasol through Japanese art and cultural performances.
Furoshiki
Furoshiki is a type of traditional Japanese wrapping cloth traditionally used to transport clothes, gifts or other goods. Furoshiki started out as a cloth in which people carried their clothes but later it came to be used to carry or to wrap almost anything of various shapes.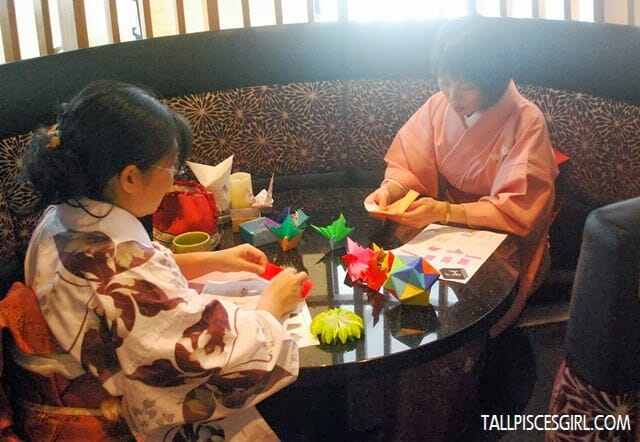 Origami
Origami is a traditional Japanese pastime where a single square of paper is folded in different ways to create shapes like cute animals and beautiful plants. The most common origami shape is the crane.
Koto
Koto is the national instrument of Japan and is similar to Chinese's Gu Zheng. Koto players pluck the strings on it using three finger picks to produce music.
Star products from Kanebo Lunasol
Lunasol – which means Moon (Luna) and Sun (Sol), plays on the concept of light and shadow in their innovative makeup products to achieve a stunning look with sophisticated visage. With moon, it will produce shadow and with sun, our features are highlighted which creates a perfect facial structure.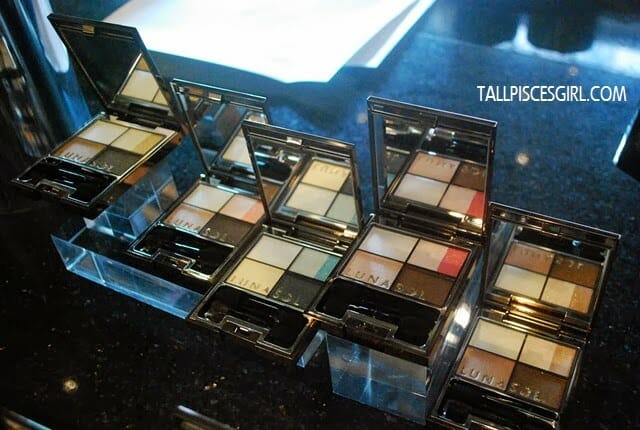 Kanebo Lunasol is popular for their natural earth tone eyeshadow colors that are perfect for everyday use. Couple it with some shimmer and I'm sure you'll steal the limelight!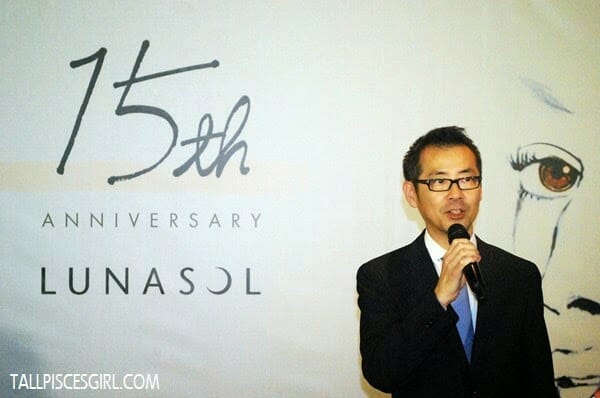 CEO of Kanebo Cosmetics Malaysia, Mr. Masahiro Yamasaki
CEO of Kanebo Cosmetics Malaysia, Mr. Masahiro Yamasaki took the opportunity to thank guests for the support they've given the brand throughout the years. He said, "Fifteen years is truly a landmark for a brand. We are delighted to celebrate this, but also to celebrate the many years we've worked closely with all our friends today in bringing the brand to where it is now."
During the launch, guests were also entertained by a graceful ballerina as she dances around the stage while painting colors artistically on the backdrop of a woman's face.
Kanebo Lunasol 15th Anniversary Makeup Palette
To commemorate Kanebo Lunasol's 15th anniversary, the special Kanebo Lunasol 15th Anniversary Makeup Palette (RM 368) will be available from March 2014 onwards.
The palette features six beige coloured eyeshadows including reproduced and existing popular colours to create a complete three-dimensional, beautiful look on the eyes; Micro Finish Pressed Powder N in Sheer Beige that allows you to blend two colours with the skin for an even texture and added radiance; the duo 15th Anniversary Cheeks in Pink Beige, a pink for a translucent effect and a red to recreate a healthy flush; the 15th Anniversary Liquid Lips in Pink Beige, a liquid lip colour that adds a pop of hue for a smooth lip texture; and High Stylized Mascara SV in Clear Black, a miniature version of Lunasol's popular separating, volumizing mascara. The palette is encased in a beautiful golden pouch that can be reused.
Model was holding Kanebo Lunasol Modeling Beige Skin Makeup Base/Foundation
Complete your look with the latest Kanebo Lunasol Modeling Beige Skin Makeup Base/Foundation SPF 30 PA++ (RM 148 for 30ml) that is inspired by the Lunasol eyeshadow classic, Beige Beige from Skin Modeling Eyes. This nude base makeup instantly beautifies the skin while conditioning the skin tone and texture to achieve flawless beige skin.
Lunasol is currently available at 40 Kanebo outlets in major departmental stores and salons in Malaysia. For more information, please visit
https://www.kanebo-global.com/global/en/
.
Kanebo Lunasol's 15th Anniversary Party ended with a scrumptious spread of authentic Japanese food from Kampachi Japanese Restaurant.
From today onwards until 8th April 2014, Kanebo Lunasol will be giving out different products daily for 15 days! All you need to do is visit https://bit.ly/lunasolMY15 daily and key in your details to join. Share with your family and friends to increase your winning chance!
Also, Kanebo Lunasol is currently running a contest. The grand prize is a trip for two to Japan!
How to win:
Spend RM 400 and above of Kanebo products and receive ONE stamp
Collect 10 stamps
Submit your completed Kanebo Passport (with 10 stamps) to a Kanebo counter near you and you'll be entitled to join the Kanebo Passport lucky draw
* Earn BONUS stamp when you purchase any of the Anniversary items