Now, how many of you skip breakfast everyday? I bet a lot of you do, right? Well, that's probably because you don't know how important it is! Do you know that having
breakfast can increase our memory, provide us energy for the rest of the day and helps improve our digestive system
too? And, the ladies will be surprised to know this – studies have shown that skipping breakfast is more likely to cause you gain weight instead of loss weight! Do you still want to skip breakfast now?
Mr. Ho Hau Chieh, Executive Director, Dairy Business Unit of Nestle Malaysia attempts a "MILO® Tarik" for the cheering crowd
MILO Malaysia Breakfast Day
MILO has recently introduced
MILO Malaysia Breakfast Day
to further amplify their involvement in children's wholesome well-being. This year, MILO is bringing a new spin to breakfast by introducing the benefits of
Positive Energy
from having a well-balanced and nutritious breakfast.
Positive Energy
is derived from the perfect ratio of nutrients which are protein, carbohydrates and fats to provide our body with the much needed fuel to take on both physical and mental challenges each day.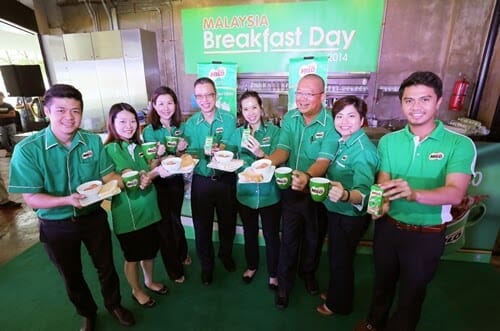 The Nestle MILO team serves a healthy breakfast
accompanied with a nutritious mug of MILO
Malaysia Breakfast Day Run
will be held in Dataran Putrajaya on 20th April 2014 starting from 7:00am. Here's a chance to spend quality family time while improving your overall health! Isn't this killing two birds with one stone? =)
For fun run, families can opt for 3 km category while serious runners can opt for 8 km category. Breakfast meals will be provided to all runners. Besides, there will also be various interactive sport activities that will keep the whole family energized!
The MILO Positive Energy Squad makes an appearance
at the MILO Malaysia Breakfast Day launch
For more information on
Malaysia Breakfast Day
and its activities, kindly visit:
www.milo.com.my/breakfastday
.