I'm normally a loyal person but recently, my heart has been stolen away…by this new
Honda CR-Z Hybrid in Milano Red
!!! Isn't he sexy? Don't ask me why it's a 'he'. I guess when guys treat their cars like wife, we girls can treat our cars like husband too, right?
Honda CR-Z Hybrid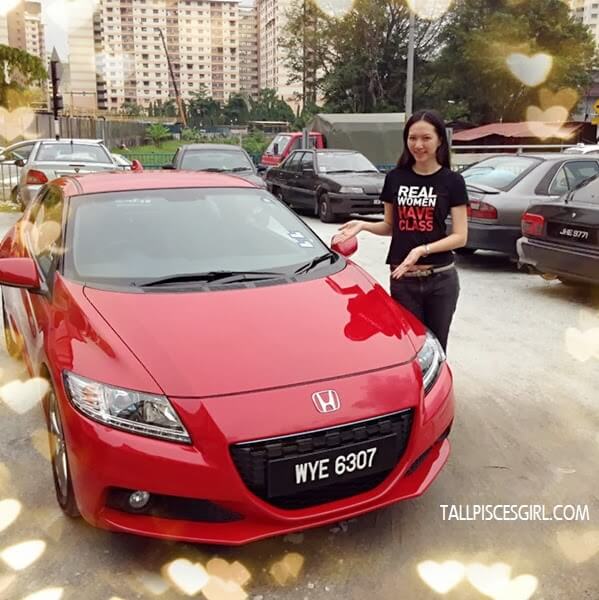 Honda CR-Z Hybrid in Milano Red P/S: Take note on my shirt :p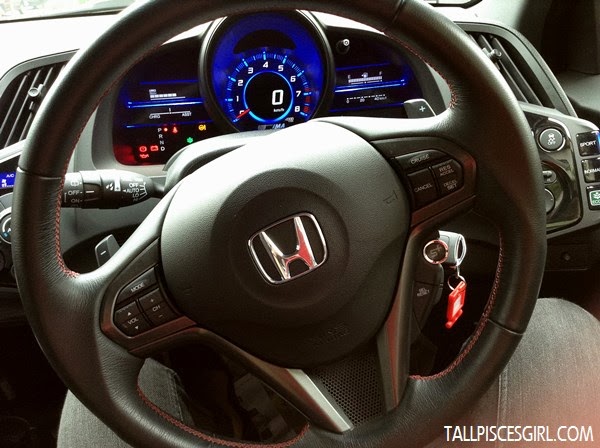 Illuminated Advance Sports Meter and steering
The cool Illuminated Advance Sports Meter cluster with Ambient Meter provides information on motor assist/battery charge, energy flow, instantaneous fuel economy and remaining fuel based on driving pattern. The color of Ambient Meter changes according to driving mode; red for sports mode, blue for normal mode and green for ECON mode.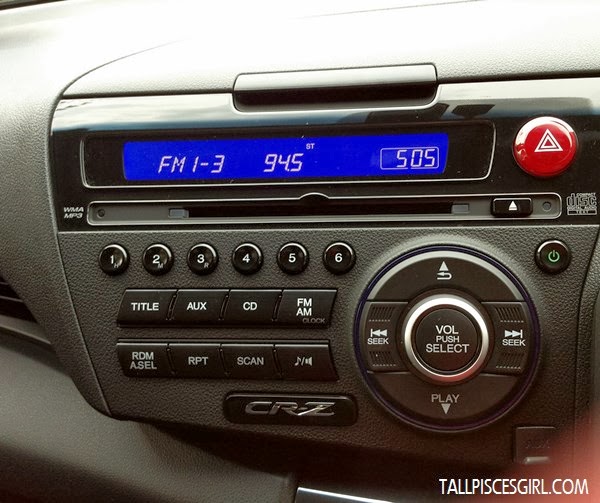 Radio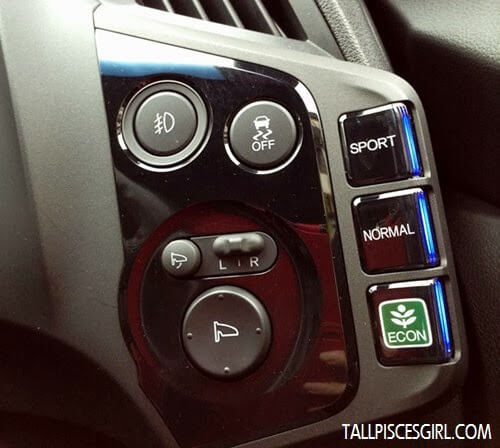 Honda CR-Z 3-Mode Drive System
What are the differences between Sports mode, Normal mode and ECON mode?
Sports mode: Gives a more powerful acceleration and swift steering feedback
Normal mode: For balanced performance and prudence
ECON mode: Cruise along as you help conserve the environment by prioritizing fuel economy
Honda Hybrid Family Road Trip @ Ipoh
I got to spend 3 days 2 nights with this awesome car. So we decided to head to Ipoh for Honda Hybrid Family Road Trip 2013 together with other Hybrid family members namely Jazz, Civic and Insight. My partner in crime was Choulyin so I went to her house and pick her up early in the morning.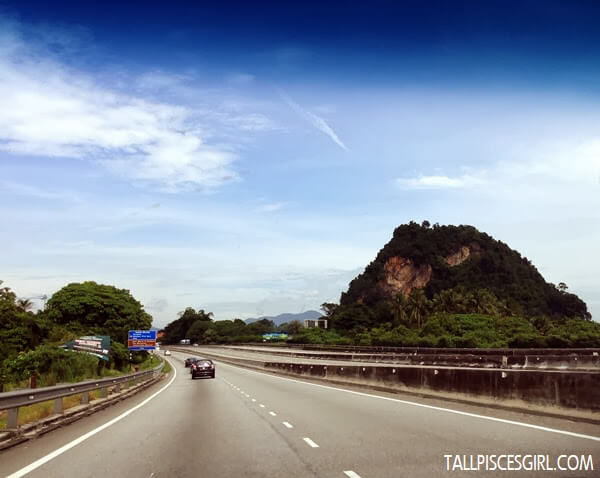 Beautiful nature on the way to Ipoh
I was initially very worried that I might not be able to adapt to a new car since I've been driving my own national car for 9 years already! Surprisingly, it was very easy to adapt even for a girl like me. Driving along the highway was very enjoyable as it was very steady and stable, I didn't even realize that I was driving at 110 km/h because if it was my own car, the steering will feel shaky and I will feel like my car is floating! Sitting on the sporty semi-leather seats with lots of room for my long legs gives me ultimate comfort during a long trip. The 2 hours trip to Tesco Ipoh passed by without us noticing!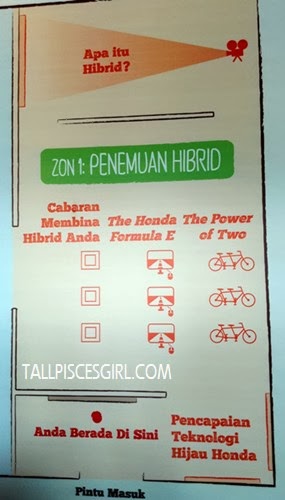 Hybrid Discovery Zone
We first went to the Hybrid Discovery Zone where we were educated on Honda's Green Auto Technology Milestone and how a Hybrid car actually works. Little did I know that green auto technology has started since 1972! I'm not even born yet! :p
Since then, green auto technology has evolved throughout the years and become more and more environmental friendly until Hybrid technology was finally developed in 2007 with the launch of Honda Civic Hybrid. In 2013, Honda has the widest range of Hybrid cars in Malaysia (CR-z, Jazz, Civic, Insight) and they're offering the longest battery warranty period in Malaysia.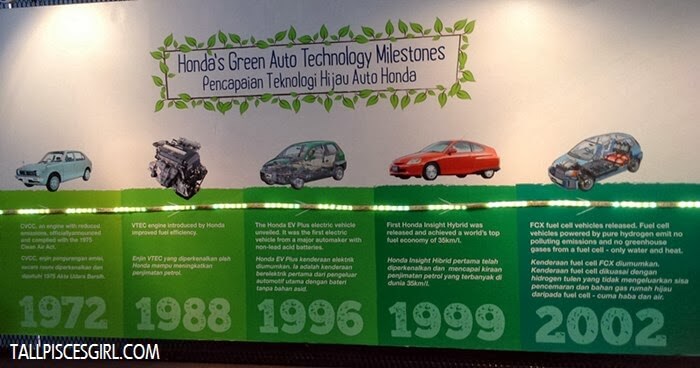 Honda's Green Auto Technology Milestone 1972-2002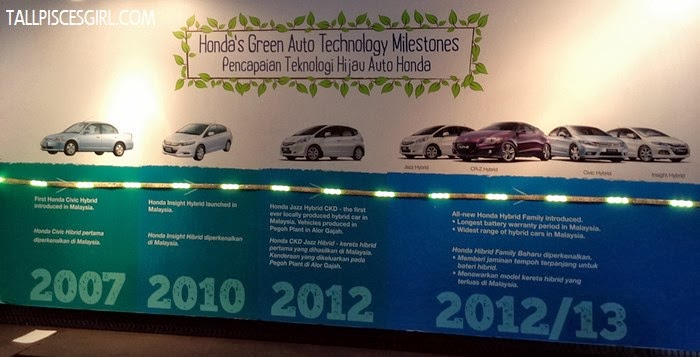 Honda's Green Auto Technology Milestone 2007-2013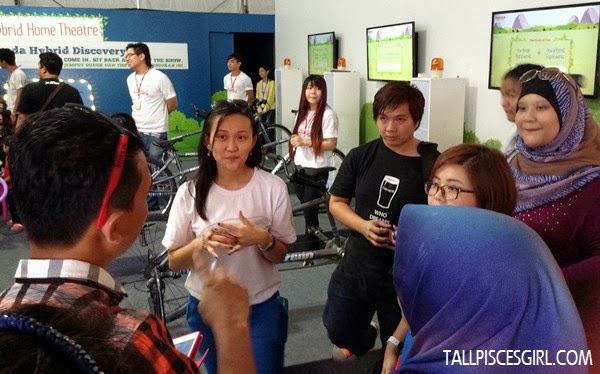 Felt like joining field trip during schooling time. Any questions, you can ask this pretty jie jie!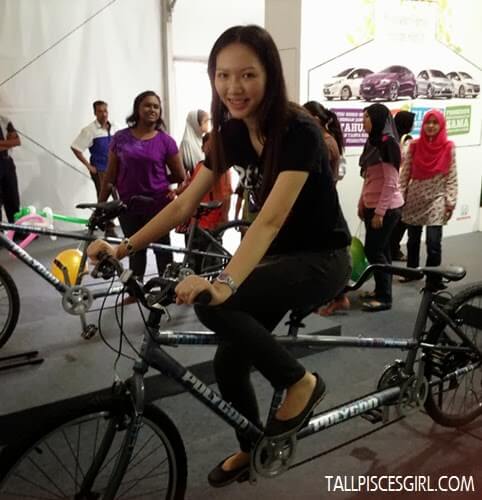 Tandem Bicycle
The purpose of the Tandem Bicycle is to let you feel the power of 2. First, only 1 person is instructed to ride the bicycle. It was extremely hard and tiring to generate speed with only the power of 1 person. Next, you gotta ride with your partner to generate speed with the power of 2 people. The result? A LOT EASIER because you don't need to work alone!And that is why Honda is using IMA Hybrid System for their hybrid cars. IMA Hybrid System is Honda's electric motor and battery coupled with an Intelligent Power Unit (IPU) to augment the petrol-driven engine for powerful acceleration. The IPU controls and regulates the power of the IMA to optimize performance relative to fuel economy in the CR-Z hybrid.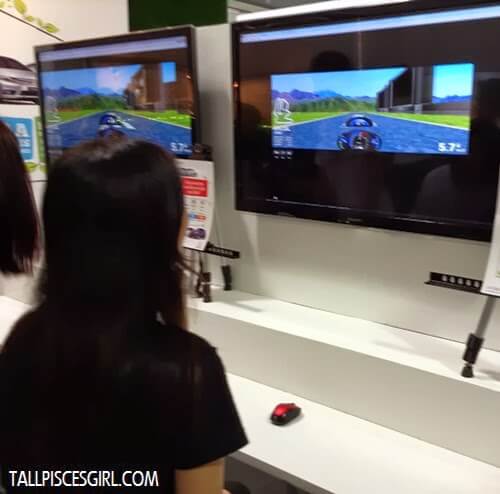 The Honda Formula E
Honda Formula E was a pretty simple game to let you feel how it's like to drive a Hybrid car and how you should drive to ensure fuel efficiency. Let me tell you a secret: the key to maximum fuel efficiency is to remain at constant speed! Steady yo!
How Honda hybrid car works
To start a hybrid car: Engine operates with electric motor assist
During low speed cruising: Electric motor operates alone
Acceleration: Engine operates with electric motor assist
During high speed cruising: Engine operates alone
Braking: Charges IMA battery
Standstill: Automatic idle stop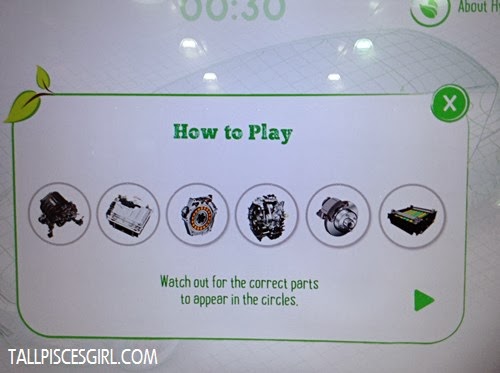 Construct Your Hybrid Car Challenge
There's a 30 seconds limit to complete the hybrid car so you gotta be fast! I'm glad to have someone teaching beside me so in the end I won a wooden pen! I totally love naturally made items!
Wooden pen from Honda
Next stop, is the showroom where all the hybrid family members were displayed for the public to see see look look and touch touch. There were a few helpful staffs to answer any questions related to the cars.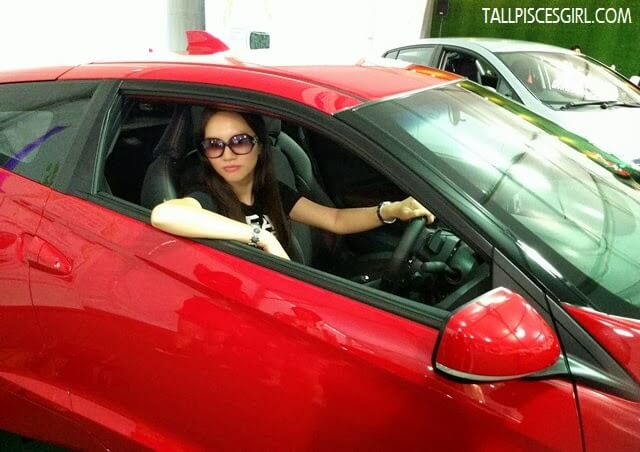 Don't I look freaking stylish in Honda CR-Z? We're made for each other!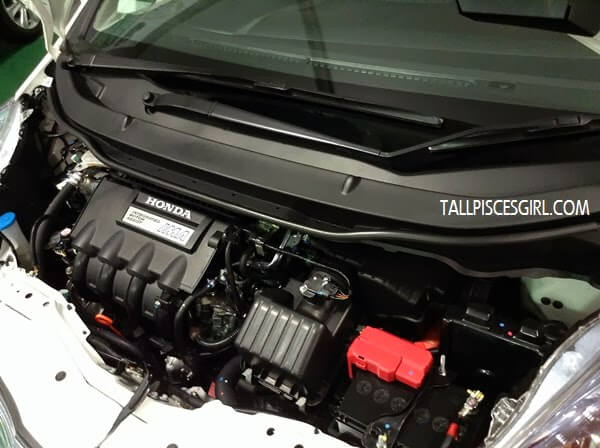 Inside every great car, there is an awesome car system – Honda Insight Hybrid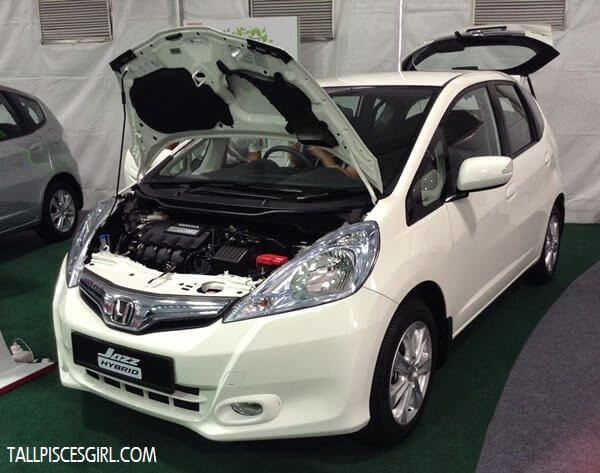 Honda Jazz Hybrid
Honda Civic Hybrid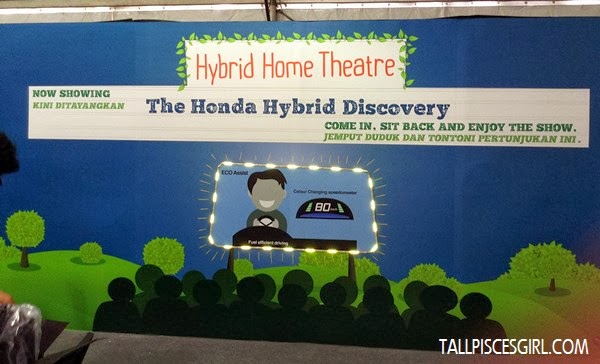 Hybrid Home Theatre
We took a tour into the
Hybrid Theater System
to watch some short animations on the benefits of buying a hybrid car and more detailed information on what is happening in the car system when certain actions were done to save fuel.
Why you should buy a Honda Hybrid car:
Saves fuel, thus saving money and preserve the environment
Honda Hybrid car offers 8 years battery warranty
The cost and time required to service a hybrid car is almost the same as normal range car
Since it doesn't purely run on battery, the car can still move on fuel even if there's problem with the battery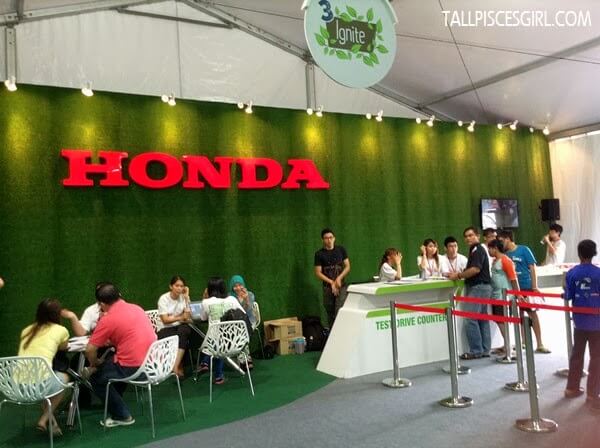 Interested? Come for a test drive! You'll receive a mystery gift too!
There are many booths outside the showroom and one of them is game booth! Went there with the rest of the bloggers and joined in the fun!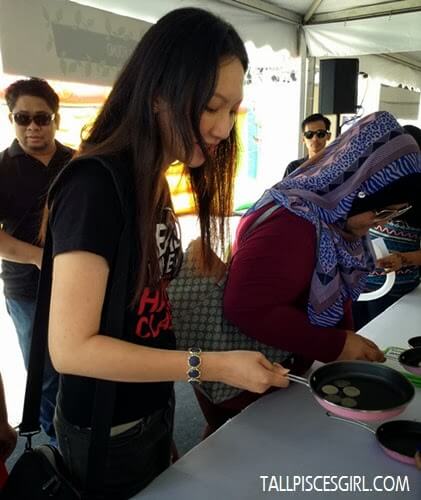 Need to flip all the coins within a certain time period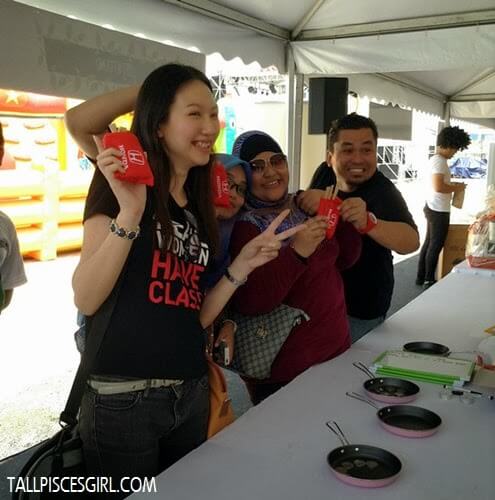 Managed to flip all last minute! Phew~~
After a long day at the roadshow, we went to Ipoh town to explore the beautiful heritage. Sometimes, you need to really find in order to discover good stuff. Arrived at this uniquely beautiful place called Burps & Giggles for lunch and here are some of the interior decors. It's a gem that stores history and nature in one place!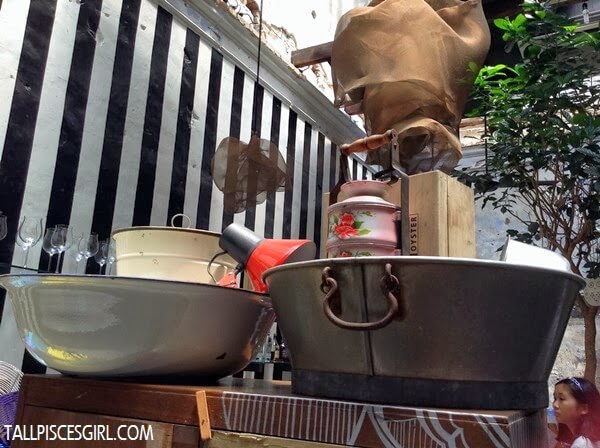 Full of nostalgia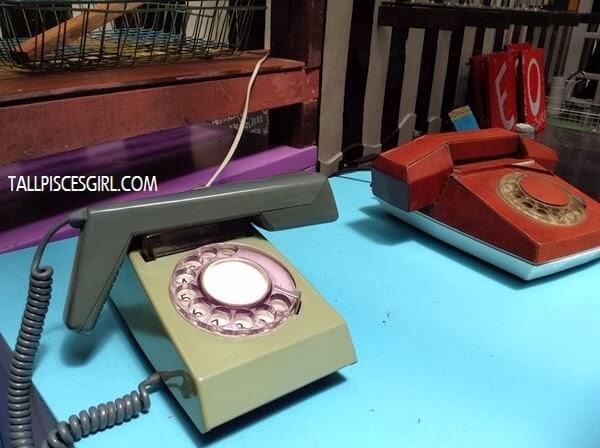 OMG I used to have one of these! We dial instead of press.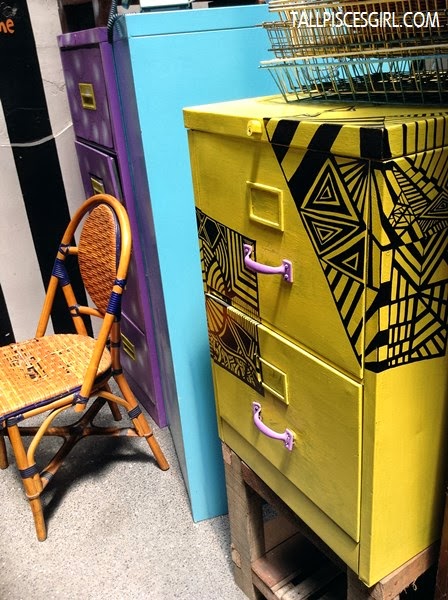 Refurbished old file cupboards
Being here made me realized that to preserve heritage and environment, we need to take action ourselves. No use talking if you don't walk the talk. Of cos, driving a Honda hybrid car certainly helps since less fumes are produced and thus has less impact on the environment.The next place we visited was Nam Thean Tong temple, a very famous Chinese temple in Ipoh within a limestone cave.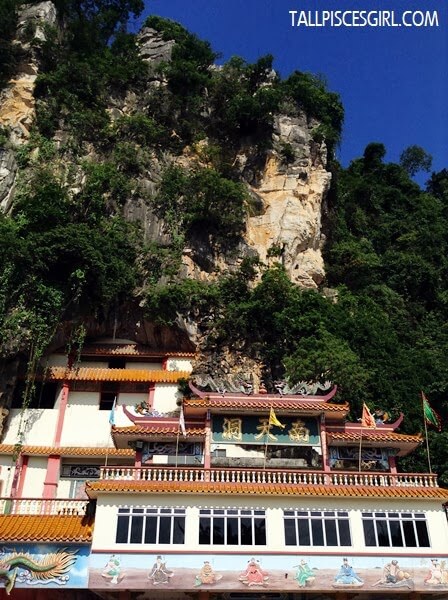 Nam Thean Tong temple
Just right next to Nam Thean Tong is Lin Sen Tong temple, another Chinese temple within Gunung Rapat. We also wanted to visit Sam Poh Tong but unfortunately it was closed for renovation. Just like cars, temples need to undergo maintenance too!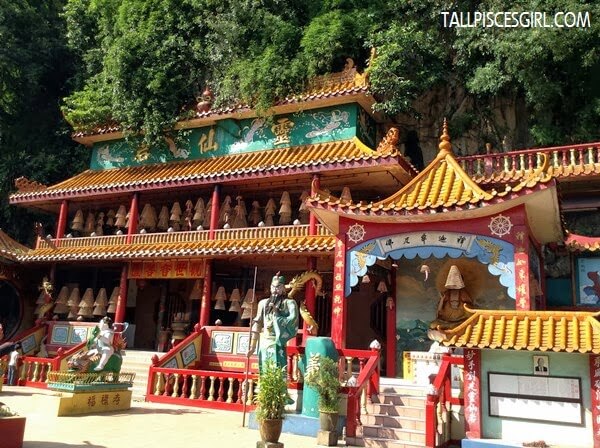 Lin Sen Tong temple
Our last stop for heritage trail is Kellie's Castle near Batu Gajah! I was mesmerized by the architecture of this building. It was used as a setting in the 1999 film Anna and the King too. How I wish I can be the princess that stays here… *every girl's dream* Unfortunately, it's reputed to be haunted!!!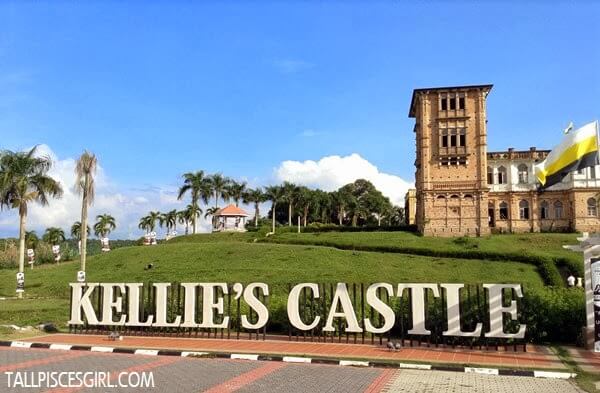 Kellie's Castle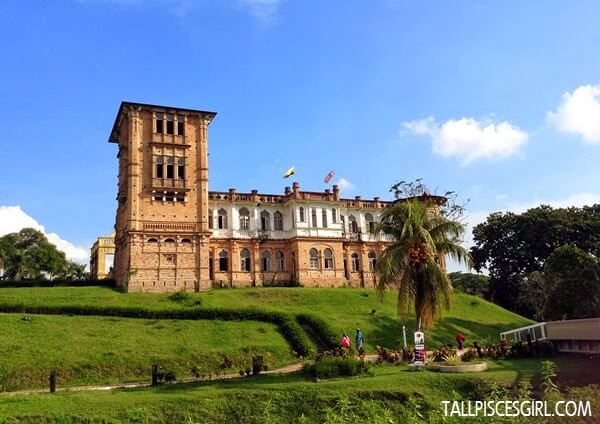 Kellie's Castle and the green green grass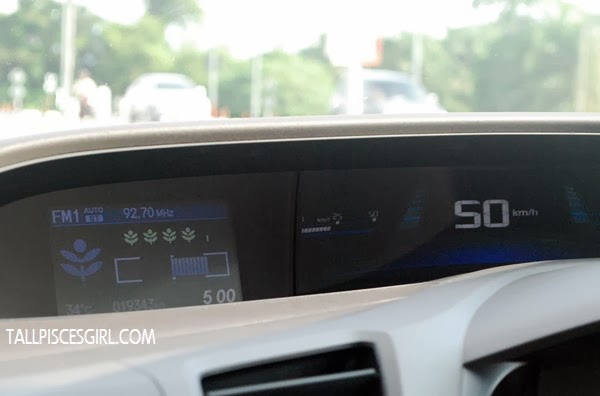 Eco Score on my friend's Honda Civic Hybrid
Danny One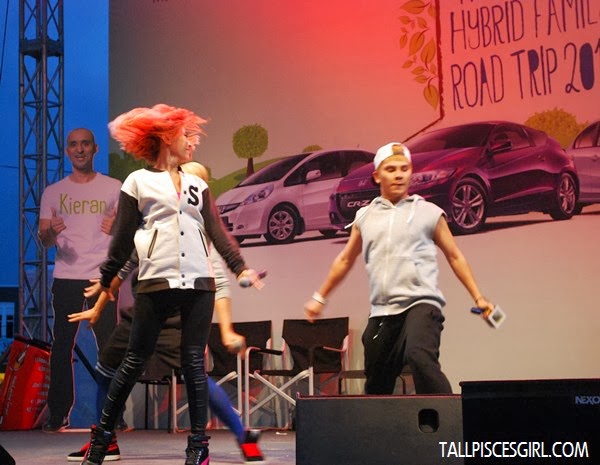 GINA doing their penguin dance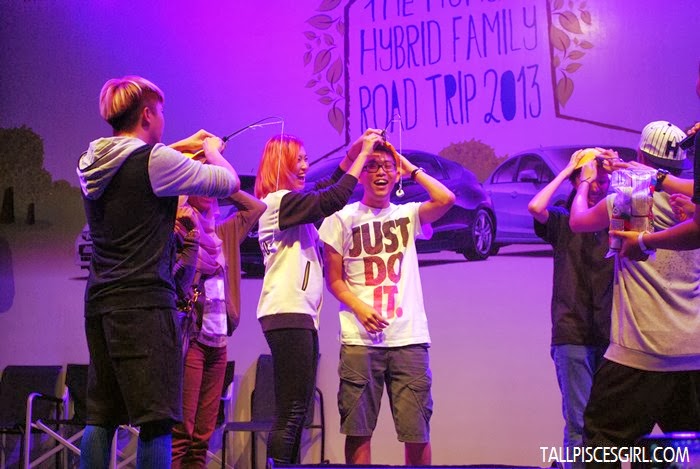 You can also play games with them! Just volunteer!
We had to bid our trip mates and Honda hybrid cars goodbye after spending a night in Ipoh. We were left with a lot of fuel after a super long journey! Just look at the meter!
Here's where I went starting with full tank:
Eastin Hotel -> Kepong
Kepong -> Cheras
Cheras -> Kota Damansara
Kota Damansara -> Ipoh
Tour around Ipoh town
Ipoh -> Kota Damansara
Kota Damansara -> Eastin Hotel
…And we still have more than a quarter tank of fuel!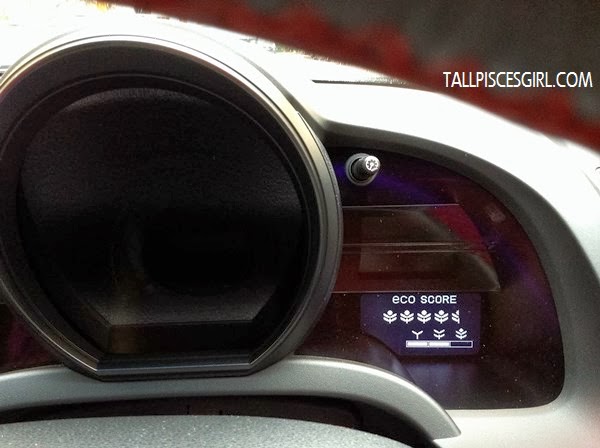 Check out my Eco Score! *proud*