Hey everyone!! How was your Merdeka holiday? This post of mine here is closely related to Merdeka Day too! This beautiful bottle of ABSOLUT HIBISKUS was hand delivered to me last Sunday and I love the unique design so much!
ABSOLUT HIBISKUS
ABSOLUT HIBISKUS is the first-ever floral-flavoured vodka to hit Malaysian shores. ABSOLUT HIBISKUS is introduced by
Pernod Ricard Malaysia
to celebrate
Malaysia's Independence Day and Malaysia Day
by paying homage to Malaysia's national flower. Malaysians can look forward to artist collaborations and parties nationwide to sample this latest addition to the ABSOLUT flavours family.
ABSOLUT HIBISKUS is incredibly easy to mix – perfect for creating complex cocktails and still sensational by adding just one ingredient. The slightly acidic, berry-flavour hibiscus is underlined by the sweet notes of pomegranate – made from all natural ingredients.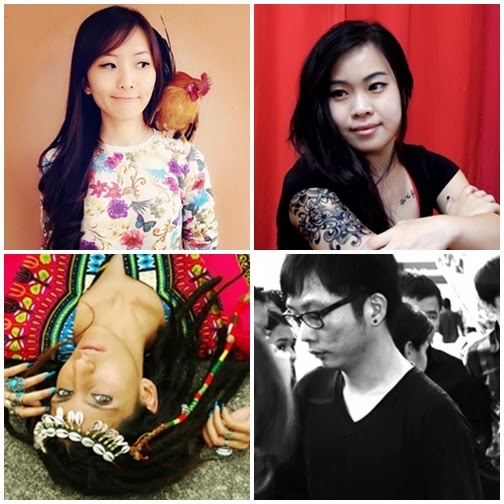 Malaysian artists
In support of Malaysian talents for creativity and innovation, Pernod Ricard Malaysia collaborated with artists from 3editions – a contemporary online art & design gallery to design 4 unique artwork pieces as part of their interpretation of ABSOLUT HIBISKUS. These designs were created with the underlying theme of empowerment, and when the pieces are combined, will form the iconic giant ABSOLUT bottle which will be displayed at the ABSOLUT HIBISKUS party venues.
The artists were: Michelle Lim who makes her various artworks come to life on paper, sometimes with a digital edge; Tan Howe Qin who focuses on experimenting with white, grey & black & playing with electronics; Hyacinthe Kaur whose major influences in her designs have been cultural in nature specifically Native American Indian and Hindu; and Abs Lee a self-taught monster illustrator who explores creating wacky illustrations.
Four in-outlet events celebrating ABSOLUT HIBISKUS will be held at Poppy KL, Luna Bar KL, Mois Penang and the finale will be held at The View, KL. For more details please log on to the Absolut Malaysia Facebook page at
https://www.facebook.com/absolut.my
. To cap the celebrations, Pernod Ricard Asia will also be unveiling the world's first ABSOLUT Brand Store at KLIA on September 27, 2013.
ABSOLUT HIBISKUS can be purchased at selected MOT outlets and the ABSOLUT Brand Store in KLIA. For ABSOLUT cocktail recipes, visit
https://www.absolutdrinks.com/en/
.
Pernod Ricard Malaysia collaborated with 23Aubergine to create localised cocktails using ABSOLUT HIBISKUS – the results of which are Malaysianised ABSOLUT HIBISKUS cocktails – perfect for parties, gatherings and inspirational moments. Try it! =D
Malaysianised ABSOLUT HIBISKUS cocktails
ABSOLUT HIBISKUS Calamansi
– hi-ball glass
– 30ml ABSOLUT HIBISKUS
– 45ml Schweppes tonic
– 15ml sweet basil syrup
– 5ml fresh calamansi juice
– lime wedge (garnish)

Tasting notes: Fresh citrus notes supported by sweet herbal notes from the basil and a refreshing finish of tonic with the distinctive bitterness of the quinine.


ABSOLUT HIBISKUS Chilli
– rocks glass
– 30ml ABSOLUT HIBISKUS
– Squeeze of fresh lime
– Topped up with Schweppes ginger beer
– Half a lime wheel garnish
– spritz of Angostura bitters
– a few drops of chili padi simple syrup

Tasting notes: Vibrantly refreshing ginger beer followed by herbal notes of the bitters. A sweet-spicy kick of chili.


ABSOLUT HIBISKUS Ginger Lime
– hi-ball glass
– 30ml ABSOLUT HIBISKUS
– 25ml ginger root syrup
– 5ml fresh lime juice
– 30ml brewed Cameron Highland's tea
– skewered ginger & lime (garnish)

Tasting notes: Refreshing iced lime tea flavours with a slow/delayed release of spicy ginger root and gripping tannins from the brewed tea.


ABSOLUT HIBISKUS Pom-Rose
– rocks glass
– 30ml ABSOLUT HIBISKUS
– 20ml roselle juice
– 5ml pomegranate syrup
– Topped up with lemonade
– Pomegranate jewels and lime wheel – garnish

Tasting notes: Well-rounded flavours, sweet of roselle, tart of pomegranate, fresh from the lemonade.


ABSOLUT HIBISKUS Tropical Passion
– hi-ball glass
– 40ml ABSOLUT HIBISKUS
– 30ml pineapple juice
– 10ml passion fruit puree
– 20ml gula melaka syrup
– 5ml calamansi lime juice
– Pineapple wedge and passion fruit seeds (garnish)

Tasting notes: Tropical flavours of pineapple and passion fruit with a sensuous caramel finish of the gula Melaka.