Several weeks ago, I was honoured to be invited to the
Launch of Imbi Palace Group Rebranding dinner
at
Grand Palace Restaurant, Pavilion KL
. Upon entering the restaurant, I can feel that they really lived up to their name, it is indeed grand especially with the presence of crystal lamps. Around 140 guests including bloggers and members of the media was present that night.
In order to make way for development projects in the city, the first outlet on Jalan Imbi was closed down earlier this year. After some consideration, they decided to rename their company to Imbi Palace Group so that
Imbi Palace Restaurant
's history and heritage will continue to live on in the company name.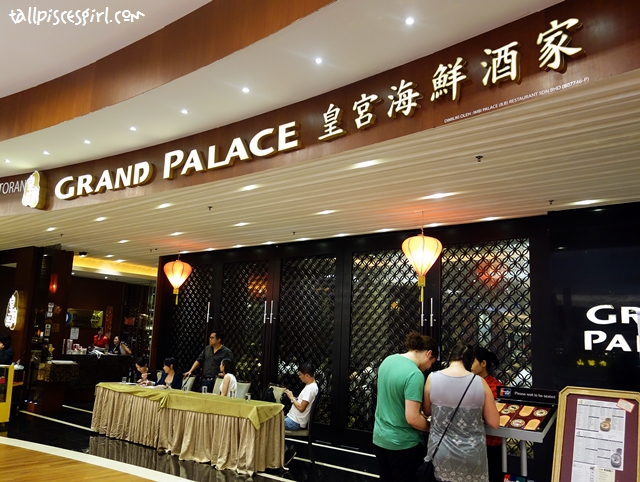 Grand Palace Restaurant @ Pavilion KL
With the new name, a new logo now represents the restaurants. As with the previous logo, the corporate colour is Gold. Gold represents the gold standards adhere to in the food, in terms of taste and quality and service excellence. The Chinese calligraphy stroke in the new logo stands for culture, tradition and art.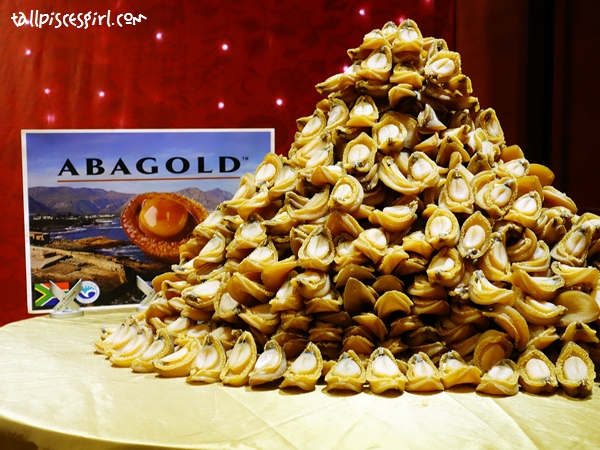 Abagold Abalones!
After the speeches and launching ceremony, we were served a 9 course Chinese dinner which are arranged and designed by
Chef Jason Tong
, Group Executive Chef. He has over 20 years experience in Cantonese Cuisine with a reputable hotel in Hong Kong.
Double Boiled Cordyceps Flower with Top Shell & Fish Maw (RM 28.00)
The first dish that I got to taste was
Double Boiled Cordyceps Flower with Top Shell & Fish Maw
. Upon hearing the name, I knew it is a very healthy and nutritious soup, especially for the ladies because Fish Maw is known to supply collagen to our skin. The function of this soup as a whole is to improve skin complexion, nourishes our Yin and cleanses our kidney.
P/S: So sorry for the blurry photos of soups. It seemed like Sony RX100 is not so good in focusing on soups/water even on manual focus :/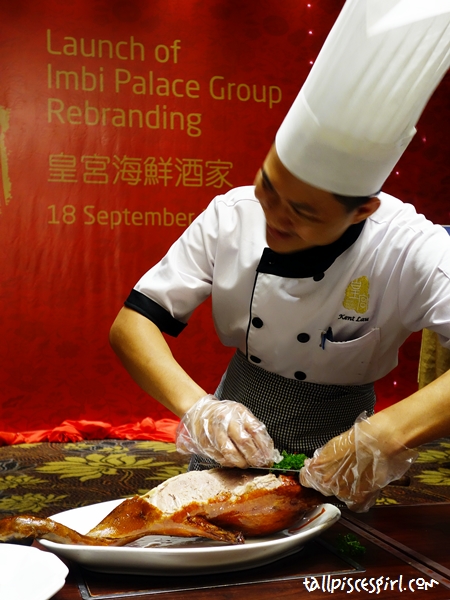 Chef showed how he slices off the duck skin and meat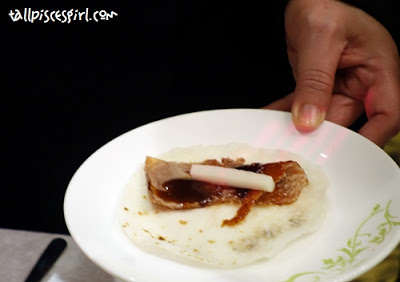 The next dish we had was
Crispy Golden Peking Duck
. Peking Duck is a popular duck dish from Beijing that has been prepared since the imperial era.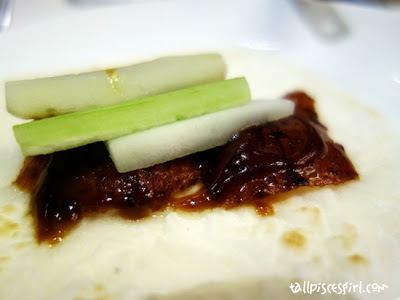 Crispy Golden Peking Duck (RM 70.00)
The thin Crispy Golden Skin is perfect with the right amount of meat. To make a Crispy Golden Peking Duck Skin wrap, take the skin and meat, add some scallion and their specially prepared hoisin (seafood) sauce and wrap it in the home-made thin pancakes called Momo.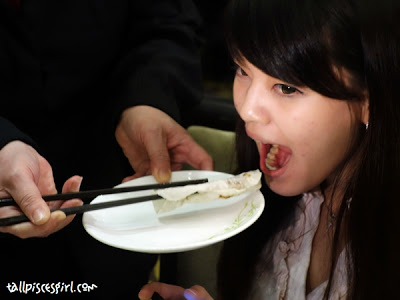 Ahhh… open your mouth big big :p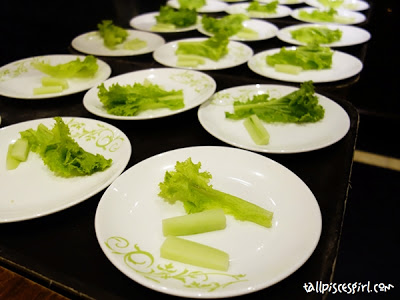 Preparations for Pan Fried Stuffed Scallops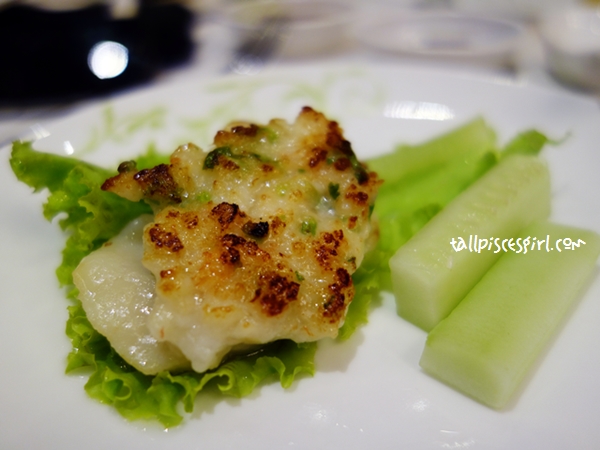 Pan Fried Stuffed Scallops (RM 14.00)
Next yummylicious dish was
Pan Fried Stuffed Scallops
where finest scallops were chosen from the icy cold waters of Canada and stuffed with fresh Banana Prawns from the Gulf of Carpenteria before being pan fried. The combination of aroma and taste was amazing!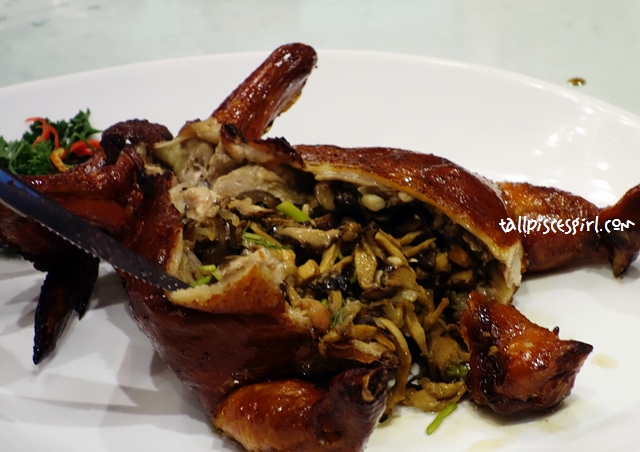 8 Treasures Truffles Chicken (RM 80.00)
8 Treasures Truffles Chicken
sounds that it is packed with so much goodness inside! So what are the treasures? The treasures are the 8 different types of mushrooms that has been infused with truffle sauce and later stuffed into the chicken. It is prepared by hanging the entire chicken to roast in order to bring out the rich flavor of the chicken meat while maintaining the crispiness of the skin.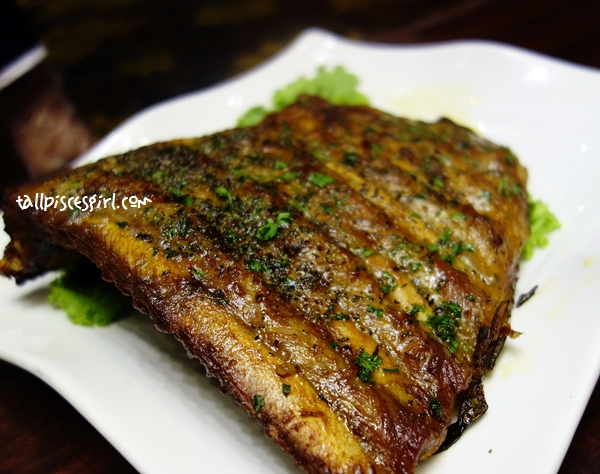 BBQ Broiled Spanish Pork Ribs (RM 158.00)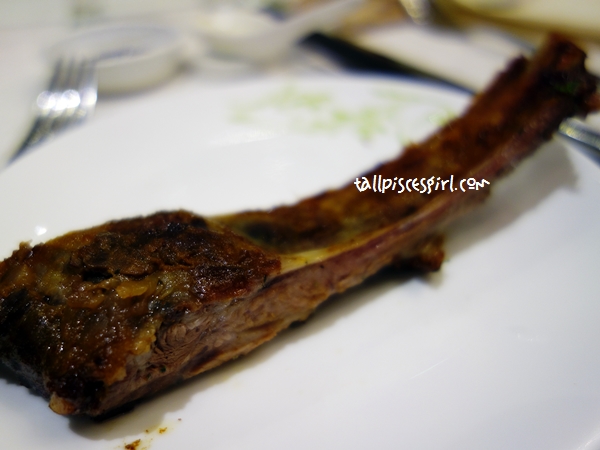 BBQ Broiled Spanish Pork Ribs (Single portion)
Rave of the night:
BBQ Broiled Spanish Pork Ribs
! Everyone loves this and most of us were craving for more! The ribs are from Spanish Iberian pig, which is known for its nutty flavour and its delicate melt-in-your-mouth marbling due to its diet of acorns that gives it a uniquely tender, rich and rosy meat. Though a little salty, I think it goes really well with the beer! So… let's yum seng!!!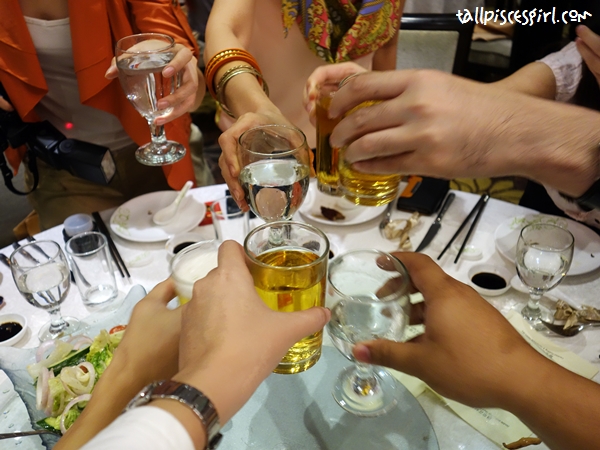 Intermission: Yum Seng time!!!
I've been to a number of events and seems that lucky draw is a must in Malaysian events! LOL! This night, a few lucky winners will get to enjoy 2 abalones for free at Imbi Palace Group restaurant!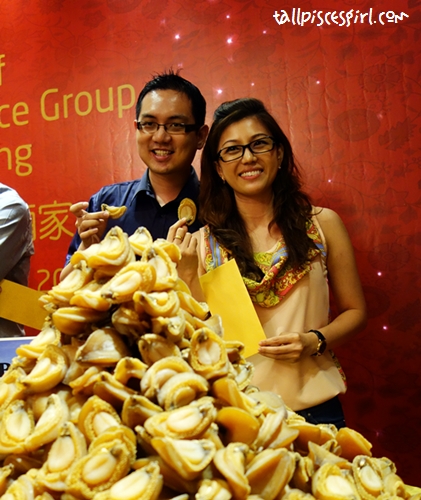 Happy winners, Isaac Tan and Kelly Chin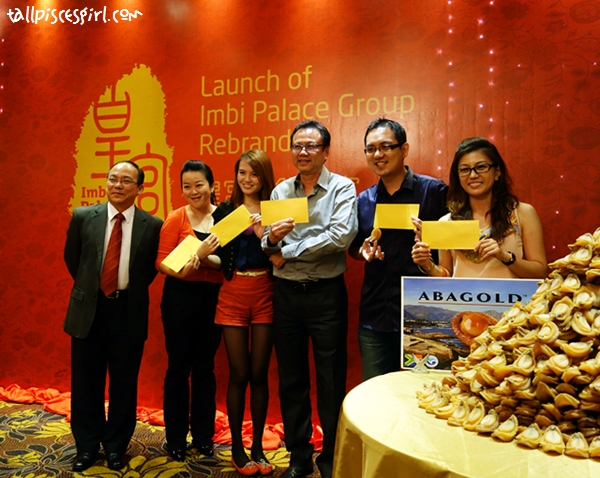 All the lucky winners of the day! Congratulations!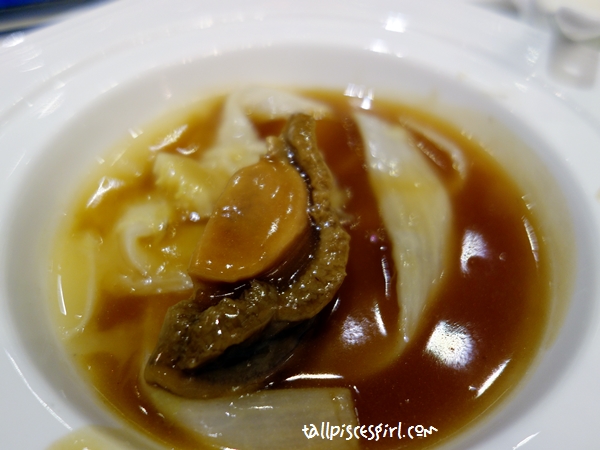 South African Dried Abalone (NP: RM 168 per piece, Promo – RM 88 per piece)
Although I don't have the luck to win them myself, I'm happy that I get to try their South African Dried Abalone. The texture is chewy, sticky and rich and it looks like a golden ingot that signifies wealth and
prosperity. Harvested from the unpolluted seas off the coast of Hermanus, the quality of this
18-head abalone
is assured because they follow international Food Safety methodology, that is, the HACCP (Hazard Analysis Critical Control Points), in its preparation process.
For your information, the word 18-head is a measurement unit in Chinese kitchen for the size of the abalone. This means you get 18 pieces per 600 gram – which is a very large abalone.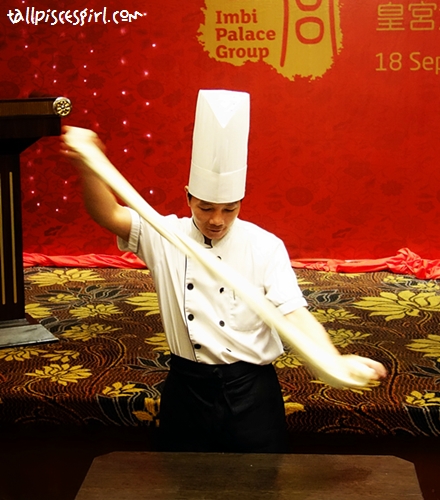 Chef skilfully prepared Lan Zhou Knife Shaved Ramen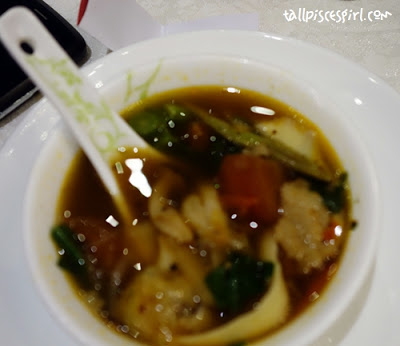 Lan Zhou Knife Shaved Ramen (RM 10.00)
Lan Zhou Knife Shaved Ramen
is a heritage food enjoyed for generations and is prepared by shaving off a ball of dough and thus, none are identical. Served in pickled vegetable soup, it's a very unique taste compared to the normal ramen I've tasted before.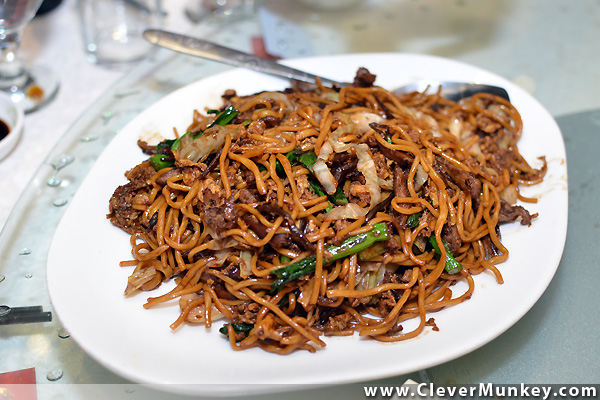 Braised Noodle with Duck Meat (RM 18.00)
Credits to Henry Lee for the photo =)
The Peking duck meat that was left after the skin has been removed was used to cook up this
Braised Noodle with Duck Meat
! Needless to mention, it was simple yet tasty due to the flavorful duck meat.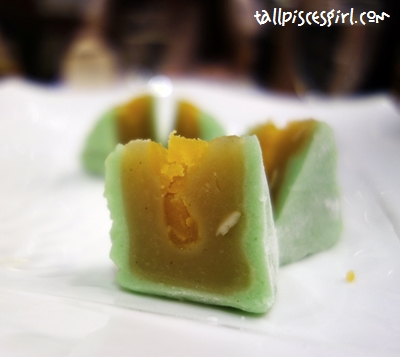 Snow Skin Mooncake with Single Egg Yolk (RM 15.80)
I also sampled some
Snow Skin Mooncake
that night. I was surprised to find out that it's not sticky and the sweetness level is just right. I remember the taste of a branded Snow Skin Mooncake that I recently ate but it was too sticky and hard to chew on!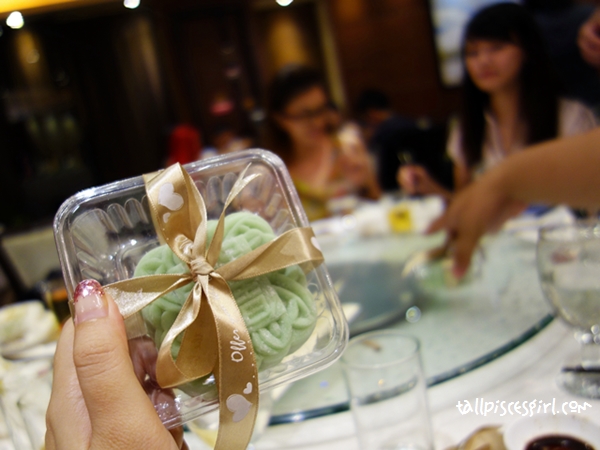 Bringing back a whole mooncake to enjoy!
Coconut Pudding (RM 8.00)
Last but not least, is the cooling and refreshing
Coconut Pudding
. It's nothing fancy but it tastes really good. No wonder it's the
signature dessert
of the Imbi Palace Group! Of course, the bloggers didn't forget to camwhore and take lots of group photos! For more photos, do drop by at my
Facebook Page
=)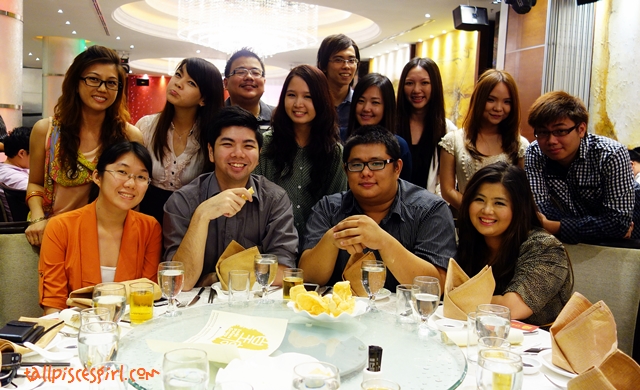 Group photo of bloggers
Currently Imbi Palace Group has 4 outlets:
Mutiara Palace Restaurant, Mutiara Damansara
The Klang Palace Restaurant, Centro Mall, Klang
Grand Palace @ Pavilion
The Jaya Palace Restaurant, Menara LYL
New outlet to open next month: Palace @ Setia City in Shah Alam with banquet facilities of over 250 tables.
For more information, please visit
Website:
www.palacegroup.com.my
Facebook Page:
https://www.facebook.com/ImbiPalaceGroup