Many of us who are working professionals need to spend long hours in front of the computer everyday. Working overtime even adds more hours to the already long period! As we climb the career ladder, our personal time became lesser and lesser while having to juggle multiple roles in life. For instance, besides a staff, a woman will need to juggle between the roles of a daughter, sibling, mother and wife. With the emergence of social network sites, many time-starved professionals are even more addicted to their gadgets. This makes us multi-tasking as much as we can, trying to make the most out of our packed schedules so that none of our time is wasted.
Due to all these stress, long hours in front of computer, wrong sitting and sleeping posture, many working professionals have developed tension around the neck and shoulder area, causing pain and discomfort. I'm one of them too. Sometimes it feels better, sometimes worse. But like most of people, I didn't do anything to relieve the pain and just live with it because I just don't have the time. In business world, time is gold!
But one fine day, I discovered
Tiger Balm Neck & Shoulder Rub
. Tiger Balm Neck & Shoulder Rub is designed to provide effective, fast and soothing relief for tensed and tired muscles around the neck and shoulder area. It is the first and only product that is specially formulated to provide relief for neck and shoulder aches and tension.
Tiger Balm Neck & Shoulder Rub
and Tiger Balm Neck & Shoulder Rub Boost
There are 2 variants of Tiger Balm Neck & Shoulder Rub, namely
Tiger Balm Neck & Shoulder Rub
and
Tiger Balm Neck & Shoulder Rub Boost
. It comes in a 50g flat tube, making it convenient to carry around when travelling and the shape is designed ergonomically for ease of squeezing it during application. The modern design and trendy design makes it stand out compared to other typical analgesic products.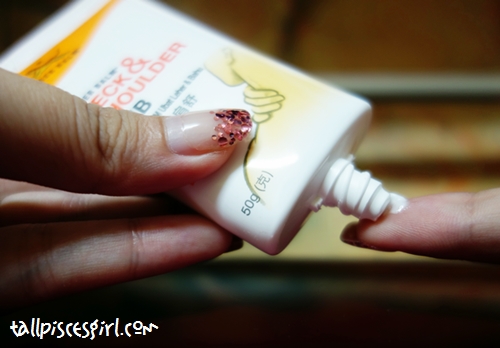 Non-greasy texture
From my personal experience, this non-greasy cream absorbs very fast into the skin because my shoulder felt a warm sensation almost immediately after applying it. The scents from both variants are refreshing and rejuvenating, it woke my senses up. Tiger Balm Neck & Shoulder Rub has a soothing lavender scent that provides lasting pain relief for my neck and shoulder aches. As for the boost variant, it provides extra strength solution for over-stressed, tired and stiff neck and shoulder muscles.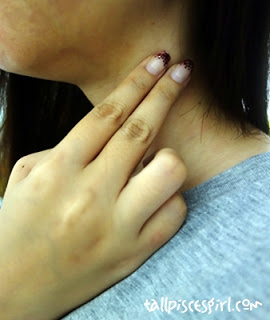 Massage gently
After the warm sensation, it turned to a cooling and tingly sensation that lasted surprisingly long, making the experience felt like having "massage-on-the-go". This is especially convenient for professionals with hectic lifestyle as they can relieve the discomfort while working or travelling, like a pair of invisible hands massaging your next and shoulder to smoothen the knots on your aching muscles. This product is created and manufactured by Tiger Balm, a world renowned and trusted brand that specialises in providing quality products for relief of aches and pains for almost a century.
Tiger Balm Neck & Shoulder Rub (Regular/Boost) is now available in all leading pharmacies and Aeon Wellness stores. For more information, please contact +603-7966 0763 (Mon-Fri, 9am -5pm) or visit Tiger Balm Corporate Website at
https://www.tigerbalm.com
for further enquiries.