His car was among those washed by topless women during Singapore's recent 'Tease and Wash' show.
Topless Car Wash
Freelance photographer Gary Yong, 28, couldn't believe it when his girlfriend Bella Zhong told him that she was one of the 20 winners of Singapore's first topless car wash.
He was more surprised when she wanted him to be there with her. According to the rules, winners were allowed to bring a friend along to the event.
Besides, he had a car and she didn't.
Both decided to go and see for themselves on Sept 16, if the event billed 'Tease and Wash' was really true.
Zhong, an advertising executive told The New Paper: "I was quite surprised it really happened. At first I thought, 'Cheh, wear bikini'. Then they took it off. They were wearing nipple tapes. The pieces were very small, just covering. I thought, wow. Then they took it off. They were really topless.
When Yong and Zhong arrived, they were briefed by the organizers on the guidelines – no touching the models, no photography except by the two official photographers.
Then the cars rolled out to be washed. The models moved in with their hoses and props – wash mitts, big brushes and sponges.
Zhong and her boyfriend who were among the first to arrive soon spent their time discussing the models' figures.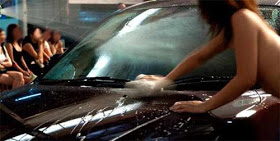 "The Caucasian model really stood out. And there was this one girl who was very skinny but busty for her size." She said the event was "very entertaining".
But was she uncomfortable to be at such an event with her boyfriend of three years?
"I think I'm pretty open about it. There's no point getting jealous. It's something we can experience together. It's not every day that you get a topless girl washing your car for you."
Event organizer Gerald Chen, 29, said he knew that his company, Motoring Exchange, was treading on dangerous ground by holding such an event, even if it was touted as a 'private' one held in a disused warehouse.
"It was a risk we were willing to take," he said.
He said censored pictures taken from the event, with the breasts of the models digitized, have been uploaded on the website, with an "above 18" restriction on it.