The Movement Control Order (MCO) has disrupted the traditional method of getting a medical card, which is usually a scheduled face-to-face meeting with an agent. However, medical cards are still essential to safeguard against illness and accidents. MediSavers goal is keep as many people protected as possible, even during the MCO. Their advisors are trained to give digital consultations via video calls, WhatsApp or phone calls. You can sign up for MediSavers eMedical Card entirely online!
MediSavers eMedical Card
Private hospitals attract top medical talent and are better equipped due to their sizable funding. However, the best facilities and doctors also comes with a high price tag. A heart bypass is estimated to cost RM80,000 in a private hospital setting compared to RM4,000 in a government hospital (Source: Ministry of Health Malaysia, 2015).
Still, many Malaysians opt for private hospitals due to better expertise and treatment facilities. The private sector is also well equipped for fast procedures with no waiting list.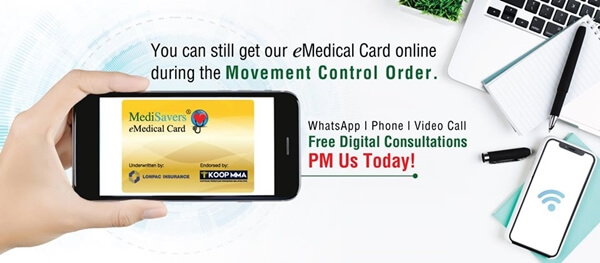 MediSavers the only eMedical Card in Malaysia endorsed by Koperasi Persatuan Perubatan Malaysia Berhad (KOOP MMA), a corporative of medical professionals.
✅ Payment-free hospital admission
✅ Up to RM1.1 million in hospital bills for every illness
✅ Protection for life
✅ 10% automatically increasing room & board and per illness limit every 3 years
✅ As low as RM119/month
MediSavers has issued over 200,000 insurance policies, with over 7,000 of them online as of today.
You can sign up for as low as RM119 per month with no deposit during the MCO! MediSavers eMedical Card is waiving the usual 2-month deposit requirement to reduce the financial burden for new sign-ups under their MCO Assist Campaign. This offer is only valid until 30th April 2020! Send a message via their Facebook page for a free digital consultation today: https://www.facebook.com/mxm.international/