Last week, Sensodyne introduced the new Sensodyne Sensitivity & Gum, a dual-action toothpaste to address two most common dental problems – tooth sensitivity and gum problems.
Two dental problems, one effective solution.
Sensodyne Sensitivity & Gum
Sensodyne Sensitivity & Gum toothpaste has been clinically proven to relieve sensitivity and improve gum health. Its dual action formula works to actively build a layer over sensitive areas of your teeth to protect it against sensitivity, whilst targeting and removing plaque bacteria that can cause gum problems.
There is a close link between these teeth sensitivity and gum problems. Receding gums is one of the main causes of tooth sensitivity. When the gum receded, the dentine inside teeth is exposed. This can affect the nerve inside the tooth, leading to sensitivity. Among the
factors that causes receding gums
are gum problem, brushing too hard, using the wrong toothbrush, teeth grinding and more.
Report from Sensitive Teeth and Attitude Study by GSK shows that 44% of people with teeth sensitivity avoid the sensitive areas of their teeth and gums when brushing. This can lead to a sticky film of bacteria called plaque. Plaque build up can cause swollen gum, bad breath, and discomfort when brushing or flossing. Dentists agree that both these symptoms need attention and their patients would benefit from taking control of the two problems as soon as possible.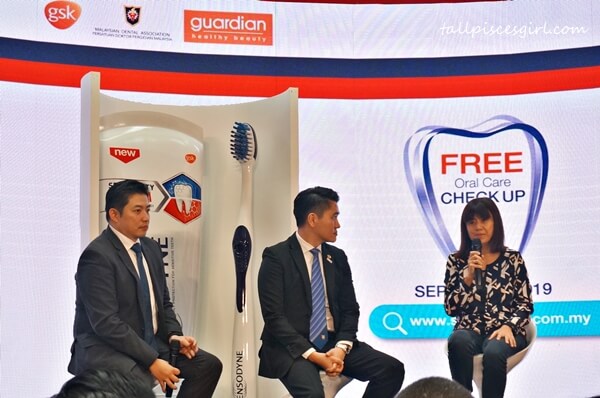 According to Dr Cheah Chia Wei, Lecturer, Department of Restorative Dentistry of Dental Faculty, University Malaya, "Teeth sensitivity and gum problems are very common in Malaysia; yet, such issues go under-detected and the growing number of sufferers are also not proactively managing either symptoms. These two issues need to be addressed simultaneously."
In conjunction with the launch of Sensodyne Sensitivity & Gum, Sensodyne is hosting a roadshow with Guardian Pharmacy from 12 – 16 September, 10 am to 10 pm at the
LG2, Blue Concourse at Sunway Pyramid Mall
. Don't miss this chance to equip yourself with more oral care knowledge and try the "Stains, Chill, Brush Dental Test".
Sensodyne is also partnering with Malaysia Dental Association to provide
Free Dental Check Up in 815 dental clinics
in Malaysia . This move is to encourage consumers to visit dentists regularly for healthier teeth and gums while promoting good oral care techniques. Don't wait until you feel pain to visit a dentist! List of participating dental clinics can be found at
www.sensodyne.com.my
.
Sensodyne Sensitivity & Gum toothpaste can be found in local pharmacies and supermarkets nationwide, with a recommended retail price of RM16.90 per box and toothbrush at RM10.90.