Tall girls have it hard to finding an outfit that complements their height. The outfits are always too short or too heavy. We are always the odd ones out trying to pair that kurti with some heels. It can be stressing to go shopping and not find a single outfit that fits your height.
Basic rules and tips you should know when picking an outfit to dress a tall figure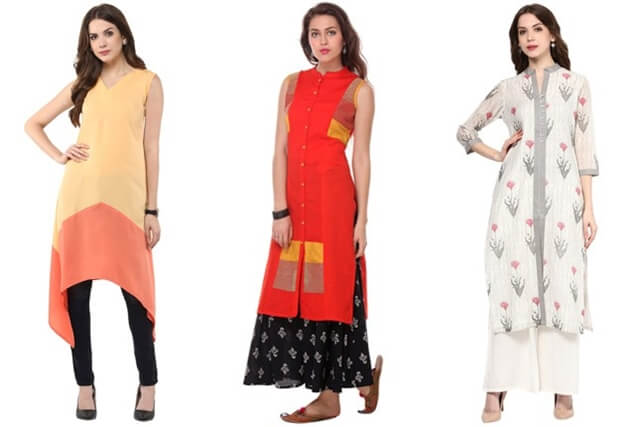 Use a waist tie to create curves
Switch up your oversized dresses and shirts by adding a slim belt to your waist. A belt accentuates your curved and gives your body a nice definition. The curves also steal away some attention from your height. Be careful about which outfit you
throw a belt on
. Some clothes are designed to have a lose structure on the waist and may end up looking ridiculous.
Avoid clothes that are too large
Clothes which are too large for your body will make you appear heavy and unflattering. Oversize clothes also make you shapeless by hiding away your curves.
Don't fear wearing heels
People always think that if you are tall, you can't wear heels because it exaggerates your height. Do not listen to them. You are never too tall for a pair of heels. Instead of constantly wearing flats, change out your shoe type depending on the occasion. Even tall people need to look sophisticated in heels.
Oversized accessories are your friend
Open collars make you appear taller. You can't always wear one type of collar. V- Neck, round and deep collars increase the length of your torso. You can cover this by adding jewellery to you.
Show some legs and arms
Finding an outfit that fits your legs and arms can sometimes be a problem. Instead of dismissing beautiful and trendy outfits because of this, you can wear the mid length to create your own fashion statement. Choose to stick to a store that offers clothes that fit your size. This way you will save the time and effort needed to go through and try countless of outfits only to lack one.
Avoid wearing vertical stripes
Vertical stripes make you appear taller and thinner. If you are tall and thin, then you can imagine how these striped will make your exaggerated figure look. Don't try these stripes unless you want this illusion or perception. Horizontal stripes increase your width and reduce your height.
High neck blouses are perfect
Blouses with high closed necks are good for breaking the monotony between your torso and you neck. They take the attention away from the long neck. This does not mean you should avoid other
neck designs
. Tops are so versatile and if you find one whose design you like then you have to compromise and accessorize it for a perfect fit.
Avoid broad shoulders
Extra shoulders like super long sleeves, ruffles, flares and puffy sleeves will make your shoulders look broad and create a disproportion in your body. Heavy shoulders create an unflattering figure on tall women.
Here are some ethnic combinations that will make you look amazing without exaggerating or drawing attention to your height
Kurti palazzo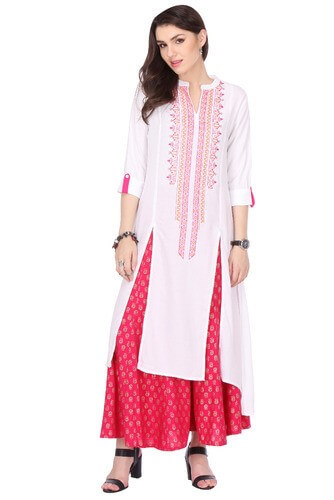 The tall slim figure goes well with most kurti ensemble. You can make a fashion statement by pairing a straight cut Kurta from
Stylecaret
with flared pants like the palazzo. This look is elegant, and is flattering to your long legs. A high low Kurtis complements this body type well. You can wear it with leggings or bear, paired with traditional sandals or block heels. Other type of kurti that look good on tall women include front slit Kurtis, anarkali Kurtis, trail cut kurti and the pintuck kurti. The must have kurti foe tall petite women is the side lit kurti. A kurti with long slits on the sides can be paired with jeans or leggings for the ultimate street wear
What makes a kurti great for tall women?
Kurti drapes well on the body to define the shape of the torso and the waist. Almost all designs of the kurti look flattering on tall women.
Saree
Saree makes women of every shape and size elegant and stylish. The saree is famous for its universal wear. You can wear it to college, work, festivals and traditional weddings. A saree will fit into your tall frame depending on how you drape it
What makes a saree look good on tall women?
A nicely draped saree shows off your curves. A good fitting saree will show the definition of your waist and your tall legs. Your high waist and torso gives the saree a good shape. Pleats look good on tall legs because they have space to drape well.
Lehenga choli wear
The lehenga choli is a nice traditional outfit that fits both tall and short women. Create a break between your lehenga and choli to break the monotone and illusion of tallness. You can do this by wearing a low waist lehenga and a crop choli. Lehenga choli with a thick hemline looks good on tall people. Choose a lehenga choli with a light neckline and a heavy hemline. A tall spaghetti strap lehenga with block heels will create the perfect
fashion statement
.
Why lehenga looks good on tall people
The pleats and flare of the lehenga are defined because of your long legs. A fitting choli top shows off your long torso and well defined waist.
Cold shoulders, off shoulders and one shoulder designs
These western inspired designs make your outfit stylish, bold and street ready. You can wear these sleeves on your lehenga tops. The cold shoulders and off shoulders make your torso appear shorter and shifts the attention away from your height. One shoulder tops are sophisticated and can be dressed for casual events, dinners and nights out.
Final word
Tall women are not limited to certain types and designs of clothing. With this information you can add more traditional and indo-western styles to your closet. I mentioned some of the outfits that will look good on your body; it is up to you to create more style to add to your closet. Play around with different designs to come up with your own fashion statements.