Carlo Rino
Just in case you haven't known, Carlo Rino is our own local homegrown brand that has built a strong reputation for their stylish yet practical and versatile ladies' accessories. With colorful great design that exudes confidence and made with high quality materials, it's no wonder Carlo Rino has became the preferred brand of many young urban ladies.
So you must be wondering, "What's the occasion?". Oh yes, I have a great news to announce: Carlo Rino is turning 30 this year! That's a milestone birthday (in this case, anniversary)!
Happy birthday, Carlo Rino!!! *pops confetti*
Carlo Rino 30th Anniversary
In order to celebrate Carlo Rino's 30th anniversary, the brand has decided to thank their loyal supporters by offering them more rewards than before!
If you want to enjoy these rewards, remember to register as a member when you purchase at Carlo Rino boutiques in Malaysia. You can immediately take advantage of their point rebate system.
This point rebate will translate as cash for your next purchase. So the more you shop at Carlo Rino, the more money you get to save. This means you get to shop more too!! Why am I such a genius? Hahaha!
Point Rebate System
Here's how the Point Rebate System works:
Normal price to Less than 10% products – Enjoy 10% cash rebate
Less than 20% to Less than 40% products – Enjoy 5% cash rebate
* 1 point rebate = RM 1 (All products)
Aside from this, members are entitled to an RM 100 birthday discount voucher on their birthday month. You'll also be the among the first to receive latest updates from them and get invited to exclusive events like fashion shows and tea parties!
People are always reminded of bags whenever this brand came to mind but this time, I took an effort to explore their footwear collections too. I was bedazzled by their latest additions in Carlo Rino Fantastical Fantasy Autumn/Winter Collection 2016. They have everything from simply divatastic glamorous heels to witty fun print range to head turning party perfect shoes.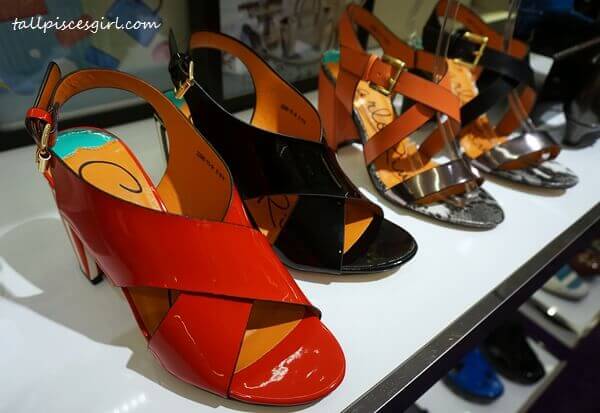 Carlo Rino Fantastical Fantasy Autumn/Winter Collection 2016
As the theme for this year's A/W 2016 Collection is code-named Fantastical Fantasy, they have incorporated nature's palette into their designs. Expect unique creations that are adorable and feminine as they unveil sweet and fashionable handbags and shoes. Don't be surprise to find yourself in the centre of attention!
For more information, visit www.carlorino.net or shop online now at https://shop.carlorino.net/.