I like to move it move it~~ I like to move it move it~~ Oh! Do you like to dance? I'm not a fan of running and jogging especially on a treadmill because it feels so boring! Friends asked me to listen to songs while doing it but I can't because I'd wanna dance along with the beats then! So might as well dance right? I know, life's hectic and you might not even have enough time to sleep but exercise is very important to keep our brain alert and prevent aging! So no matter how busy, make some time to move your body k?
Watsons Move Your Body Campaign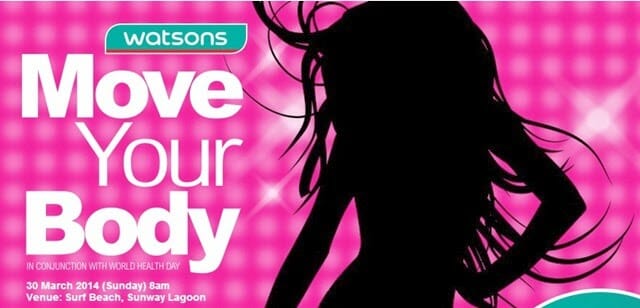 Watsons Move Your Body campaign
In order to encourage Malaysians to exercise towards a healthier lifestyle,
Watsons Malaysia
in collaboration with hitz. FM and Celebrity Fitness has launched
'Move Your Body' campaign
. This campaign is also part of the countdown towards this year's World Health Day, and will run from 25th February till 30th March 2014.
Still not motivated to move your body? I bet you will do it if you can stand a chance to
win RM 5,000 cash
! All you need to do is create your own dance video, upload it on YouTube and submit it to Watsons Malaysia's Facebook page! If you win, you'll be able to perform at the final Move Your Body event on 30th March 2014 at Sunway Lagoon with the hitz. FM crew. That's sounds so cool!
Come and learn the basics first by watching this tutorial!
I'm not good at following instructions so I just cincai dance freestyle only la XD I know you'll be laughing at me cos I laughed at myself too LOL! So damn embarrassing weh!! But never mind la… for the sake of good health right?
All of you are invited to dance for better health at Move Your Body
grand finale at Sunway Lagoon 30th March 2014
. Come with your friends and family to have an enjoyable time in the Move Your Body dance session with Ean and Jinnyboy. If you're a Watsons VIP member, you can get the ticket worth RM 120 for
only RM 30
with any purchase from selected Watsons stores. The best thing is, it includes
all day free entrance at Sunway Lagoon
! WHEE~~ Tickets will be available for sale from 25th February – 23th March 2014 in Klang Valley and Negeri Sembilan. First 300 customers will receive exclusive goodie bags!
For more information about Dance for Health – Move Your Body campaign, please visit
www.facebook.com/watsonsmalaysia
or Watsons official website
www.watsons.com.my
.