Last Sunday marks a bitter sweet experience for me (but more to sweet la… you'll find out soon enough!). I was invited by
Nuffnang
to attend
Maxis 4G Bloggers Blaze
that was held at The Curve's Piazza area.
Maxis 4G Bloggers Blaze
My day started pretty bad starting from after I parked inside The Curve, I didn't know how to get out to the open area cos The Curve haven't open the gates yet! So I ended up asking the security guard that I bumped into then only managed to find my way out.
During registration, I found out that my name wasn't in the list! Searched both my Chinese and English name also don't have, so I don't have a team at the time being. Everyone was already seated with their team mates and I'm the orphan there T__T
During the last 5 minutes only my team mate told me he saw my name there and guess my name? Tall Pisces Girl. Hahaha ok, so I'm not an orphan after all!! Finally united with my Stallion team mates which consists of
Rebecca Saw
, Joel Wong and
Rawlins
!!! *jumps in joy*
After a light breakfast (and 2 cups of coffee :p), it is time to finally start our first challenge! For the first challenge, we were required to scan QR codes from a sea of balloons with the 4G device provided, one team member at a time to obtain the first location for our mission. Unfortunately (again), luck isn't on our side! Rawlins had 1 whole minute to scan and though he was really fast, all of the balloons were just a decoy! Finally, we managed to get the location during the last second! Damn suspend right?
So… Our first destination is Sunway Lagoon and to park at Pyramid Tower Hotel's lower basement parking would enable us to get there faster. Rebecca was our reliable fast and furious driver while I helped to read the map. Upon arrival, we first need to download Drag Race game and each member would need to play it on our 4G device. Then we need to send the screen shots of our results to the judges and experience Maxis's blazing fast 4G network. The team that beats the game in the fastest time will win this round.
After playing the virtual racing game, time for a real one!! We all ran as fast as possible to the Go-Kart Racing spot and wait for our turn. Apparently, we were the last team to arrive…sad… There were only 2 drivers needed for the Go-Kart because we're going to ride the couple ones. The guys, Joel and Rawlins were assigned to be drivers while Rebecca and I just need to sit back and relax hahaha… not really la… we played a part in becoming cheerleaders too! And the ride was very bumpy yo! I was Joel's passenger and our kart can really speeddddd!! It feels like riding roller coaster (but I just keep calm and take a deep breath la)! The time to complete 3 laps were then recorded to compete with other teams' and we also need to upload some photos to complete this mission. Thanks to Maxis 4G, we finished the task in a breeze.
Then, we ran all the way from the Go-Kart venue back to Sunway Lagoon entrance and climbed up 3 long flights of escalators (previously we ran down all 3 long flights!! T__T)!! I already almost puked and felt like fainting @__@ Now I know how it feels like to be in Running Man and really salute them! So we received our next location and it is……… MadMonkeyz rock climbing gym at Setapak. Whutttt?!
No turning back now! Headed over to MadMonkeyz with the help of Waze. Must make full use of the technologies and apps right? While on our way, we had some funny conversation about the couple Go-Kart but let's get back to the challenge or this post is gonna be very long winded :p
Upon arriving MadMonkeyz, we were told that we're the last team to arrive (not again!). They gave me size 6.5 shoe although I normally wear 7. They said it should be tight so I just follow instruction lor… but before we even started climbing, my left feet already started to cramp. All my team members successfully climbed up the wall but I fell down twice so Rawlins helped me instead (thank you so much!! *touched*). Despite being his first time, he climbed really fast!! Maybe that's his hidden talent? =D While climbing, we also had to record a short video and send it over to the judges in order to complete this mission.

After everything is done, we rushed back to The Curve. We were the 5th team to arrive and I thought there's no mission left already but I was wrong! Apparently, our last mission is to eat (or more precise term would be 'scrape') watermelon!! Uh-oh….. the watermelon was HUUUGGGGEEE!!! Nevertheless, we did our best and Rebecca, being the most ambitious team member just activated her crazy mode and banged her face into the watermelon and dug deep into the poor watermelon hahaha!

Check out how Rebecca did it in this video!






And finally… it's time to announce the winners!! The runner-up team walked away with an iPad Mini for each member and it went to…. Team Leopard!!!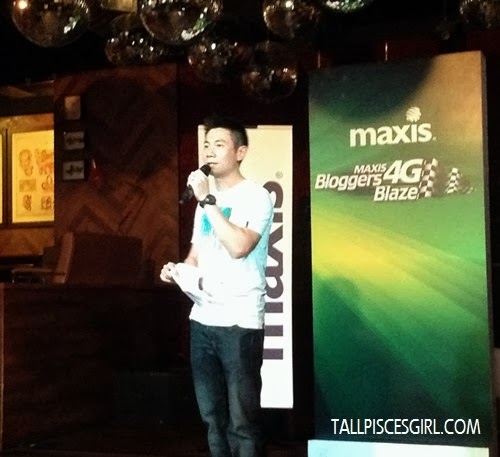 Congratulations, Team Leopard!
Before mentioning the grand prize winners, I caught the emcee, Ben stole a glance at us! Could it be us?
YES!!!! The grand prize winner is Team Stallion!! Woohoo~~~!!!
We all jumped in joy because
we have won ourselves a Samsung Galaxy Note 3 and Maxis LTE Wifi Modem each!!!
I did complained to my team members about my old lousy phone before we started the challenge so this is like a dream come true! Totally feeling blessed to have capable team members and I'm glad I didn't drag them down LOL! All our hard work paid off and all the battle scars left were worth it after all!
Team Stallion with Ben of Fly FM and Ms. Yoges from Maxis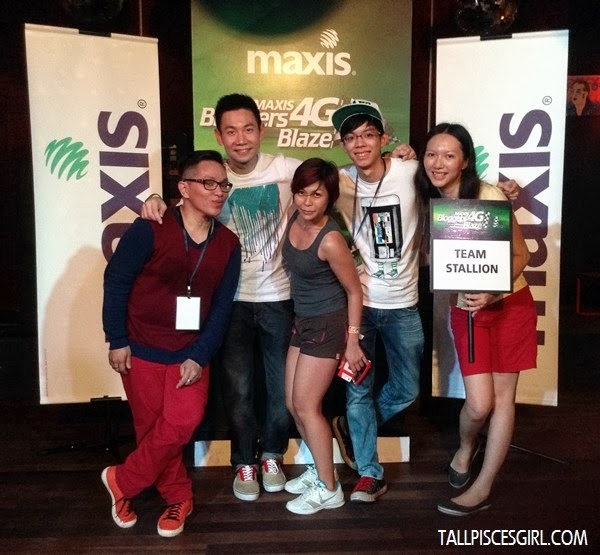 Amazing Team Stallion!
All the survivors of Maxis 4G Bloggers Blaze
Later on only I realized that the most important is not how fast we arrive the destination but how well we perform our missions. The faster, the better!
*sounds like Mong Ji Hyo for being so blur about the entire game*
Okeh I guess it's time for me to end this long winded post here! Last but not least,
thanks again to Nuffnang, Maxis and all my awesome team members for everything!
Love you all! ♥♥♥ Now, let me enjoy some quality time with my new phone ya ;p
Samsung Galaxy Note 3