Last Friday, I was at
Hotel Maya
for a pampering session by
Veet
, courtesy of Nuffnang =)
I'm sure you girls (and guys?) know Veet right? Veet is the
world's No.1 depilatory cream
! Their wide range of products gives women flawless, smooth, and moisturized skin minus the hassle and pain.
Before the pampering session, Veet has invited Miss Malaysia Thanuja Ananthan, 8TV Quickie host Megan Tan and actress Diana Danielle to share with us their 'furry moments' and how Veet helped them get rid of unwanted hairs. I honestly agree with them that Veet is very convenient especially for busy girls like us. We just don't have the time to even go to a waxing salon, not to mention that you need to call up to make appointment and sometimes the slot you want is unavailable! That horror!
The pretty host
The host, Miss Malaysia Thanuja Ananthan,
8TV Quickie host Megan Tan and actress Diana Danielle
Wahhh!! Check out the smooth and long legs!
I envy max!
Look here sexay ladies! :p
Veet Hair Removal Cream works effectively on hair as short as 1.5 mm to keep skin irresistibly smooth and moisturised while Veet Wax Strips gently and effectively remove hair from the root for longer-lasting smoothness up to 4 weeks. Which one do you prefer? 😉
As I've just shaved my legs few days ago, the hair is too short to test the product. So I tried this Suprem' Essence Wax Strips on my arms instead. Normally I'm kinda afraid of pulling the wax strips myself for the fear of pain. This time, I have someone to help me pull it :p
Very convenient!
They not only have the steps on the box but also on the wax strip itself.
After rubbing the wax strip with your hands,
hold EasyGrip tab and peel strips apart
Apply strip to arms with EasyGrip tab at bottom.
Then, pull strip back against direction of hair growth in one motion.
*Ouch* It's not that painful actually LOL
Nah, my hair!
Use this Perfect Finish wipes to clean off the wax once done.
Wow all shiny and smooth (*_*)
*wipes wipes* Aloooo!
Fresh trying the Veet In Shower Hair Removal Cream
Feels like a girls' slumber party!
So much fun!
Hahahaha…. My Majesty, Jess
Disclaimer: The captions are fictional
Iris trying out the Veet Hair Removal Cream
YY also tries the Veet In Shower Hair Removal Cream!
Look so scandalous hor? :p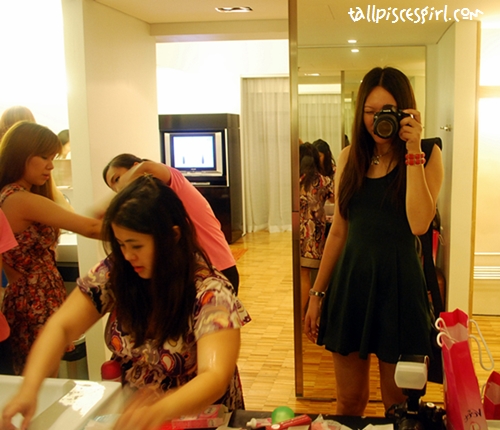 Many people complimented my dress! *flattered*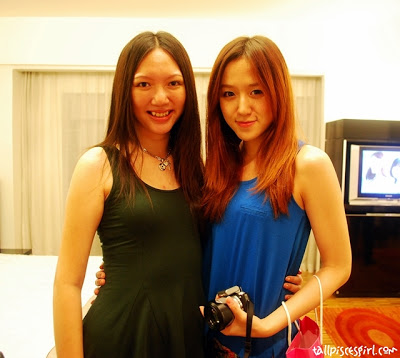 Queennie and I <3
Our dinner before the event starts. Super yummy!
As usual, I'll take some random unrelated photos like the scenery around with KLCC and KL Tower:
Here's a good news for Nuffnangers!
If you fancy some extra cash, Samsung Galaxy Tab 7.0 and Veet products, you should join this
Veet it Off with Nuffnang
contest! From
24 September until 24 October 2012
, show off your creativity through modifying or taking off parts of your apparel and post it up in a blog post.
As part of the competition, shortlisted finalists will go through a crash course on skincare and grooming, posing for photo shoots, so as to equip them with know-how in preparation for the grand finale to be held in November 2012 at Kuala Lumpur. For more info on the contest, check out
Veet Malaysia's Facebook Page
.