On the first day of Chinese New Year, I received a weird call from an unknown number (03-20355599).
When I answered the phone, it started babbling like nobody's business. I didn't really pick up long enough to listen to the content though cos I was afraid it might cost me money if I continue listening so I hung up within 2 seconds.
Right after I hung up, I received an SMS. My reaction was: What?! I've just been
phone call spammed
for the first time! I've been spammed via SMS and e-mail but phone call is definitely new.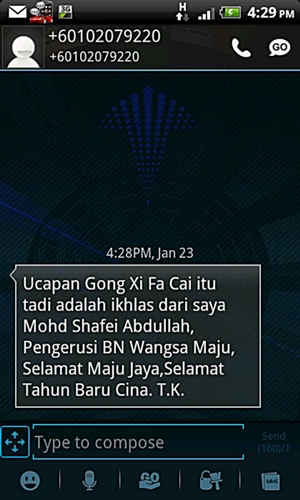 The message read: Ucapan Gong Xi Fa Cai itu tadi adalah ikhlas dari saya
Mohd Shafei Abdullah, Pengerusi BN Wangsa Maju
, Selamat Maju Jaya, Selamat Tahun Baru Cina. T.K.
Translation: The Gong Xi Fa Cai greeting just now was sincerely from me Mohd Shafei Abdullah, Chairman of BN Wangsa Maju, All the best, Happy Chinese New Year. T.K.
My thoughts: Hmmm… only big corporations can afford to send SMS to so many people. I hope it's not our tax money :/