Just a quick update~~ Went Mid Valley to shop but it was super duper crowded! I only found an illegal parking space after making rounds for 40 minutes. Then I knew why… Couples who registered their marriage at Thean Hou Temple today (and their relatives) sure headed here for lunch since it's so near!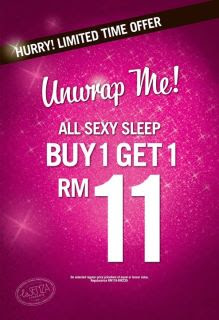 La Senza 11.11.11 Promotion
Anyway, I heard that there's a sale at La Senza but I didn't see the details properly. I only knew what the sale was about after I reached the shop. It's 'Buy 1 sexy sleepwear and get the second one at only RM 11'. So forget it… I have no one to show the sexiness to LOL! I bought something more practical instead!
I also signed up for La Senza Prestige membership card. Membership fee is RM 30 per year. I know it sounds expensive but you will get lots of discount vouchers and also 10% discount for every purchase. That's where you get back your 'capital' :p They're having a promotion right now: 3 bras at RM 169 and I also utilized my membership card so I only paid RM 152.10 for 3! 🙂
La Senza Promotion: RM 169 for 3