Got to know about Biotherm Homme Absolute Power to Score Party event on Facebook so I decided to join since they're giving out loads of freebies hehehe… But it's very hard to find the location of ChillOut although we know the unit number.
Tried to ask the security but he's totally useless… he only knows the floor I'm at (I also know la =.=") but don't know where's the exact location of the unit number I mentioned! Finally found it after walking for 15 minutes… You need to go out from Parkson and turn right in order to reach there
Biotherm Homme Absolute Power to Score Party
Flags from various countries outside ChillOut
ChillOut entrance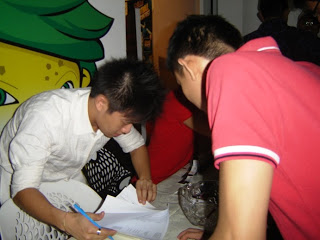 We RSVP-ed in advance but the staff couldn't find our name so we need to re-register
Our goodie bag! Contains 2 magazines (FourFourTwo and August), 4 Biotherm samples, 2 beer coupons and a letter to get free consultation+samples for your skin type
The beautiful bar
Me with my beer and lucky draw ticket
Bf and his beer
Cheers!!!
We exchanged the beer with this minty drink during second round
Yummy Linguini Carbonara (RM 16.90++)
Launching stage
DJ in da house 🙂
Game session!!
Before game session started, some pretty girls came to introduce Biotherm products and help us to monitor our hydration level. We were also served with lots of snacks!
A lot of people left after the lucky draw session but I only left after watching the first half match between Uruguay and South Korea. The atmosphere when watching at home and at ChillOut is very different! You should go try it 🙂