For more than five decades, MAGGI has held a special place in the lives of Malaysians. Since 1969, iconic favorites such as the Chilli Sauce and MAGGI 2-Minute Noodles have seamlessly woven themselves into countless homes, becoming an integral part of significant good-food moments. The deep affection for MAGGI has led the brand to be present in 9 out of 10 households1. This is a testament to how MAGGI has become the favorite brand to express love and that special touch through cooking – 'Air tangan', that personal touch infused in every meal.
MAGGI Air Tangan Campaign
In a celebratory event today, MAGGI brought to life the very essence of 'cita rasa' Malaysia through the 'air tangan' of Malaysians. Four passionate foodies proudly showcased their 'air tangan' through delicious creations using a wide variety of MAGGI products. Among the highlights are the classic duo, Ayam Masak Merah with Nasi Tomato creatively prepared with a healthy twist; as well as the transformation of a humble packet of MAGGI Asam Laksa Noodles into an authentic Sabahan dish by incorporating a local ingredient, jeruk tuhau.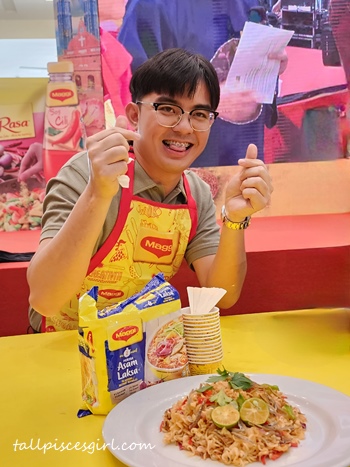 'Air tangan' is more than just the language of love in cooking; it is also the care and dedication of Malaysians who work tirelessly behind each MAGGI product. MAGGI is truly made by Malaysians, with two manufacturing facilities located in Selangor and Sarawak, dedicated to bringing the local taste to Malaysian homes.
"We are so proud of all the many generations of Malaysians that have built MAGGI. From the dedicated Nestlé Chili Club farmers in the East Coast region, to our talented chefs, hardworking colleagues in factories, sales representatives, merchandisers, and the entire commercial team, who represent the best of this 'cita rasa' Malaysia which we hold so dear to our hearts. This is how we are able to consistently deliver products that meet the high expectations of Malaysians with trust and love," said Mr. Juan Aranols, CEO of Nestlé (Malaysia) Berhad.
In the spirit of celebration, MAGGI recognized a number of highly dedicated colleagues who have worked tirelessly behind the brand. This includes chili farmers like Noraini binti Ismail, who for the past 23 years has constantly upskilled herself with new farming techniques to ensure that the soil is fertile and yields top-quality chilies for MAGGI Chilli Sauce. The Factory Quality Assurance Manager, Mohd Khusaini Bin Awang, who for 27 years has ensured the highest quality and taste consistency of the MAGGI 2-Minute Kari Noodles that Malaysians love, and many other inspiring stories.
"We are truly humbled to be a household name in Malaysia. MAGGI has created many warm and memorable moments for Malaysians across all walks of life, through products that deliver the distinctive taste we love. This very taste is the pride of the MAGGI brand as it is crafted by the 'air tangan' of Malaysians. They are the ones who lovingly prepare meals with their own personal touch, for which we deeply appreciate. Be it a simple MAGGI Kari telur pecah for a loved one or a festive Nasi Briyani Ayam that brings the family together, all while creating cherished memories. This is what makes MAGGI a truly Malaysian brand, made by Malaysians, for Malaysians," added Ms. Ivy Tan, Business Executive Officer of MAGGI, Nestlé (Malaysia) Berhad.
Throughout this period of celebration, MAGGI calls all Malaysians to share their own 'Air Tangan' stories with the hashtag #MAGGIAirTanganKita and tag @maggi.malaysia. This can be in the form of a picture or video post featuring a cherished recipe or a significant moment in their lives involving any of the MAGGI products.
For more information about the MAGGI® SAH Malaysia campaign, please visit their official website.
1 Data from Kantar Worldpanel brand footprint study