Embrace the spirit of Ramadan and create memorable moments with our loved ones while experiencing the best dining and stay experiences at The Pearl Kuala Lumpur! This year, the iconic hotel has planned a variety of exciting activities and dining promotions to help guests experience the true essence of Ramadan.⁣⁣
The Pearl Kuala Lumpur Ramadan Buffet 2023
From 24th March to 20th April 2023, the The Pearl Kuala Lumpur Ramadan Buffet 2023 will feature "Sajian Warisan Nusantara", a celebration of childhood dishes that are passed down from generation to generation. The buffet features a wide range of over 100 tempting local cuisines, as well as dedicated live cooking stations where guests are able to witness their favorite dishes being prepared through an interactive experience by their professional Chefs.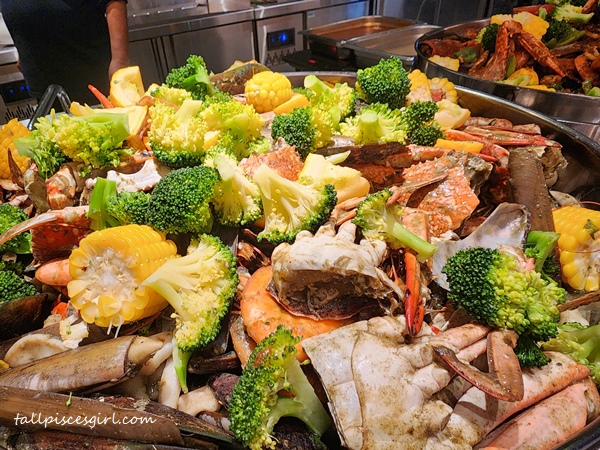 The highlight of The Pearl Kuala Lumpur Ramadan Buffet 2023 is definitely their tender, juicy and well-marinated Roasted Whole Lamb. Apart from that, the buffet spread also feature authentic delicacies such as Nasi Briyani Kambing, Nasi Briyani Ayam, Kambing Golek, Ayam Golek, Gerai Shell Out, Gerai BBQ, Gulai Kawah Daging, Gulai Daging Bunga Kantan, Lemang Buluh, Satay, Murtabak and not forgetting delightful desserts such as Aneka Pemanis Mulut, Sago Gula Melaka, Assorted kuih-muih and many more.
Each dish is a labor of love to give the diners a sense of Sajian Warisan Nostalgia thru the recipes curated from their Chefs. With a stylish interior, the welcoming ambiance and modern décor of Melo & Deli will give you an exotic experience like no other. Located at Level 5, guests can opt to dine indoor or outdoor while indulging in scrumptious treats. Melo Café & Deli has a seating capacity of up to 300 persons and it is definitely a great buka puasa venue to make memories with your family, friends and loved ones. In addition, you can enjoy a unique experience of live ghazals sung by our talented singers this special evening. This is an opportunity to indulge in beautiful music and poetry.
Guests can also stand a chance to win attractive prizes from the lucky draw!
Grand prize: RM 5000 cash⁣⁣
Second prize: RM 2500 cash⁣⁣
Third prize: RM 1000 cash⁣⁣
10 consolation prizes: Complimentary 2 days 1 night in Deluxe room⁣⁣
The Pearl Kuala Lumpur Ramadan Buffet 2023 Pricing & Availability
SAJIAN WARISAN NUSANTARA (SPECIAL PRICE)
24 Mac 2023 – 31 Mac 2023
Adult: RM98.00+
Children (4 -12 years old): RM58.00+
Senior citizen or OKU: RM78.00+
SAJIAN WARISAN NUSANTARA (NORMAL PRICE)
1 April 2023 – 20 April 2023
Adult: RM128.00+
Children (4-12 years old): RM78.00+
Senior Citizen or OKU: RM98.00+
For reservation:
Ms Afie (016-331 8795) https://wa.link/ns5agy
Ms Su (013-937 0588) https://wa.link/mw1xit
Ms Devi (016-927 4755) https://wa.link/tzudrv
Address:
The Pearl Kuala Lumpur Hotel
Batu 5, Jalan Klang Lama,
58000 Kuala Lumpur

Tel: 603-7983 1111

Website: https://www.pearl.com.my/