My family and I have been a Marrybrown fan for the longest time because they always launch new products. So we constantly go back to try their new creations! If you're a Marrybrown fan, the launch of the Marrybrown app will definitely excite you! If you've never tried Marrybrown before, this is the perfect time to try them because they are offering a lot of their popular items at a discounted price, some up to 40% discount!
Marrybrown App
Marrybrown App is available for download on Android Google Play Store and Apple App Store. You can also click here for direct download: https://mbapp.marrybrown.com/.
Great News! You can redeem 1 FREE MB Crispy Chicken™ when you register as new user. Isn't that awesome? You don't even have to purchase anything!
Apart from that, there are a lot of really worthy deals that you can redeem from the app. Here are some examples:
6-pc potato wedges for RM 2.90 (normal price: RM 5.20)
6-pc onion rings for RM 3 (normal price: RM 3.95)
Mushroom soup for RM 3.90 (normal price: RM 4.20)
6-pc chicken nuggets for RM 5.90 (normal price: RM 8.49)
Bubur ayam combo for RM 6.90 (normal price: RM 8.50)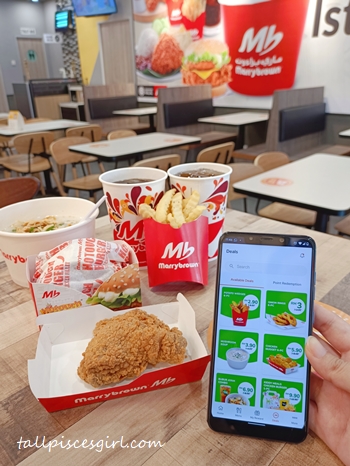 While you spend at Marrybrown, you can also collect points and redeem freebies with your accumulated points. Each RM 1 spent will earn you 1 point.
Features of Marrybrown App
Collect Points & Redeem Freebies
Exclusive in-app deals
Birthday treats
Latest promotional news
Contactless ordering
How to Redeem Deals on Marrybrown App
Click on the Deals Tab on the Navigation Bar at the bottom and select 'Available Deals'.
Select the deal you want and press 'Redeem'.
You will see further description of the deal selected. Press 'Redeem' at the end of the page.
Check out the deals redeemed under 'My Reward'.
Press the redeemed deals and flash the QR code at participating Marrybrown outlets to purchase.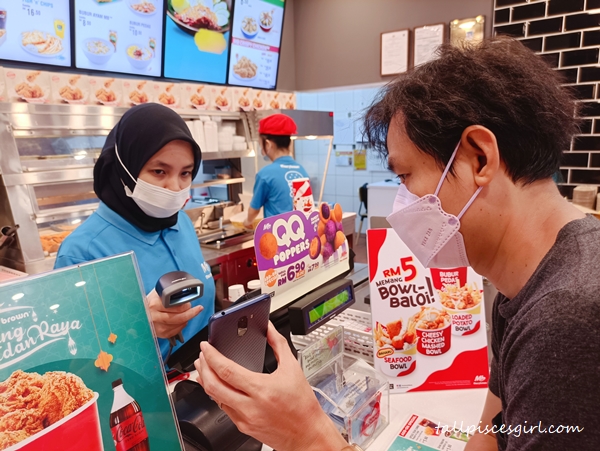 Hurry, download the Marrybrown App now to enjoy all the perks! Check out this list to see the participating outlets: https://mbapp.marrybrown.com/participating-outlets/.