Be bold, grab a tiger by the tail!! You need to hurry up though, this latest offering from SEVENFRIDAY is an OFF series, only limited to 500 pieces each in either Green (T3/04) or Red (T3/05) to celebrate the year of the Tiger.
Now, pay attention! Because this particular series comes with some pretty ground-breaking firsts for SEVENFRIDAY, exciting new offerings that will enhance your SevenFriday ownership like never before!
First Sevenfriday Watch with NFT Certificate & Collectibles
For the very first time, they're taking our NFC authentication a Tiger leap further! When you register your T-Tiger in our proprietary app, SEVENFRIDAY will offer you your very own NFT, a digital certificate, authenticated by a blockchain contract, attesting to your ownership of a genuine SEVENFRIDAY product! But that's not all – For a limited period, you can also elect to receive an NFT collectible, a unique digital image, with which you can start your digital journey, by using it as your profile in the App or even trading it if you so wish! We all know NFTs are new and at times a bit complicated to grasp. That's why their IT wizards have left some instructions in the app and will also indicate some of the cool future digital offerings they will have in store for you and your friends!
But first, you have to pounce on this Tiger!
The first thing you'll notice is its very distinctive dial, something we all have come to expect from the little boffins at SEVENFRIDAY. Founded on a four-layer construction, the dial is made of a red semi-transparent lens material (green for the T3/04) with the underlayer skeletonized to represent a Tiger's head at 9 and an urban jungle habitat at 3. And the whole elegantly surrounded by a brushed galvanic bronze ring.
Made of 316L PVD black steel, the case is ready to deal with any of the challenges the Urban Jungle throws at you! The brushed and polished bezel will shine through it all, and the red lacquer filled crown will urge you along!
Considering this Year we welcome the Water Tiger, we've also made sure that the T-Tiger is waterproof to 3ATM and protected by a K1 mineral glass! And the whole watch will be securely strapped to your wrist by a combination of leather and red canvas strap. And if you're color blind or more environmentally inclined the T3/04 will be available with matching leather and green canvas strap.
So come on be quick and grab this opportunity, and not its tail, to start the Year of the Tiger with a Rrrrroar, in the physical world and the digital one – Who says you can't have the best of both! SEVENFRIDAY watches are available at RED ARMY WATCHES. For more info, please visit redarmywatches.com.my.
SEVENFRIDAY T3/04 GRRRR-EEN
Interface: Four layers construction; Gradient green semi-transparent dial sun lens material with a flash treatment; Relief printing in white and red colors, Skeletonized dial underlayer inspired by Tiger face at 9h and urban jungle environment at 3h; Galvanic bronze circular brushed dial ring with relief printed hour and minute tracks
Rarity: Limited to 500 pieces
Price: RM 4,838
SEVENFRIDAY T3/05 GRRRR-Ed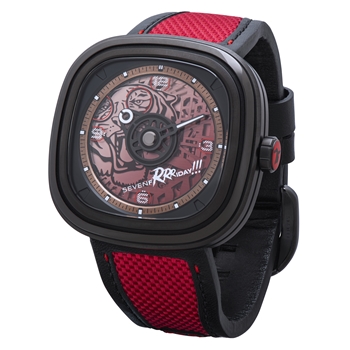 Interface: Four layers construction; Gradient red semi-transparent dial sun lens material with a flash treatment; Relief printing in white and red colors, Skeletonized dial underlayer inspired by Tiger face at 9h and urban jungle environment at 3h; Galvanic bronze circular brushed dial ring with relief printed hour and minute tracks
Rarity: Limited to 500 pieces
Price: RM 4,838
RED ARMY WATCHES Stores: Pavilion KL #P.404.00 | 1 Utama #G136