If you have been a fan of Okonomiyaki, you might have chanced upon Osaka Kitchen which used to be at J's Gate Dining, Lot 10. Little did I know that teppan specialist Chef Takeshi Wada has now relocated to Okonomi by Tokyo Don at Tokyo Street, Pavilion KL! What a coincidence that I was there for the food review of these two places and meeting the same chef.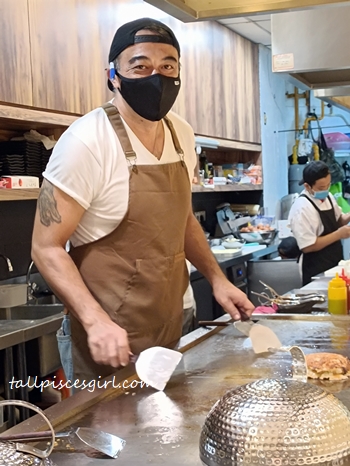 A native of Kagoshima, Japan, he had 19 years of experience under his belt. He has garnered versatile experiences in some of Tokyo's trendiest dining hubs and ran a sought-after yakiniku restaurant in Roppongi, Tokyo.
Okonomi @ Pavilion Kuala Lumpur
At Okonomi, you get to choose whether to dine at the normal dining area or at the counter seats (Kaunta Seki) to socialize with the chef and watch as the buffed chef prepares your meal skillfully. In front of the counter seats is a teppan (iron griddle) counter where the chef uses to grill, broil and pan-fry.
A quick video on the food we had at Okonomi:
We started our meal with a refreshing plate of salad. The mix of fresh, young salad greens were absolutely crunchy. I'm not a salad person usually but there's a hint of sweetness in the sauce that made the salad tastes less sour.
The Avocado with Cheese is definitely a must-order item. I love how buttery and creamy both the avocado and melted cheese taste in my mouth – it's just heavenly and a great pairing filled with umami!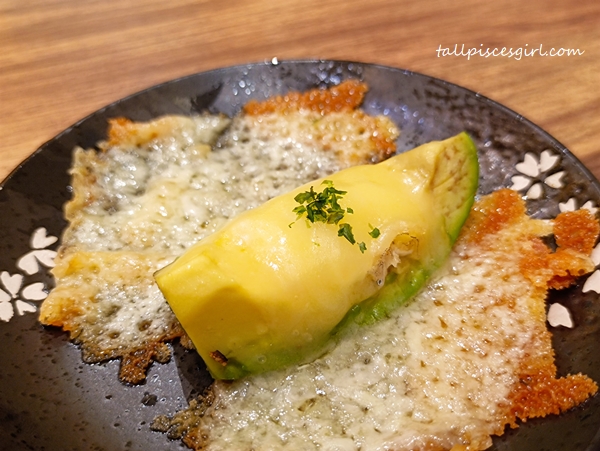 Next up, we had Pork Belly Omelet. Drizzled with sweet sauce and mayonnaise, the omelette with pork belly wrapped inside was cooked just right as the texture was fluffy and tender. Its fragrance ignited my hunger. I'm in for more Japanese goodness!
Now, here's the highlight of Okonomi and Chef Takeshi Wada's specialty – Okonomiyaki. The name "Okonomiyaki" was derived by the word "Okonomi" which means 'as you like' and "yaki" which means cooked. Hence, this means that there's no one set of ingredients used, it can be flexible as long as the tastes were paired well.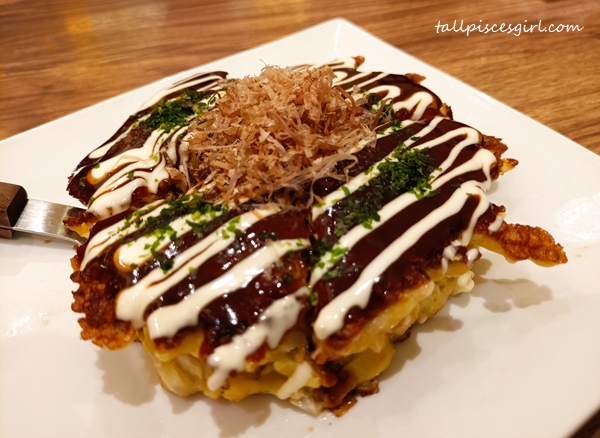 I have previously tasted Chef Takeshi's Okonomiyaki and his version has became my benchmark. I can say that he makes the best Okonomiyaki in KL! Kudos to him for being able to keep his standards all these years. The secret to Chef Takeshi's Okonomiyaki is the use of imported Yamato imo (Japanese mountain yam). You will also taste shredded cabbage and crispy pork belly that adds a satisfying texture in this savory pancake. Served with Okonomiyaki sweet sauce, mayonnaise, bonito flakes and dried seaweed flakes, it makes this a sensationally delicious and nutritious meal!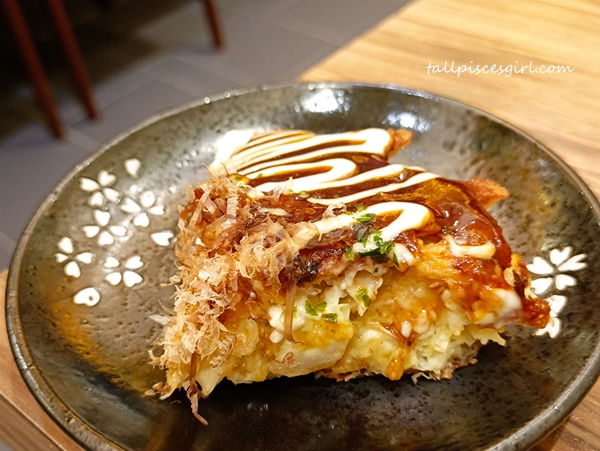 Okonomiyaki Varieties at Okonomi:
Pork – RM 24
Pork, Squid – RM 29
Pork, Oyster – RM 37
Pork, Squid, Prawn – RM 33
Pork, Squid, Prawn, Beef – RM 40
Pork, Double Cheese – RM 30
Pork, Yakisoba – RM 38
Sesame Tofu is another signature creation from Chef Takeshi, so I'd highly recommend ordering this dish. It's jiggly and has the texture of a custard pudding; bouncy yet firm. It was truly a unique dish!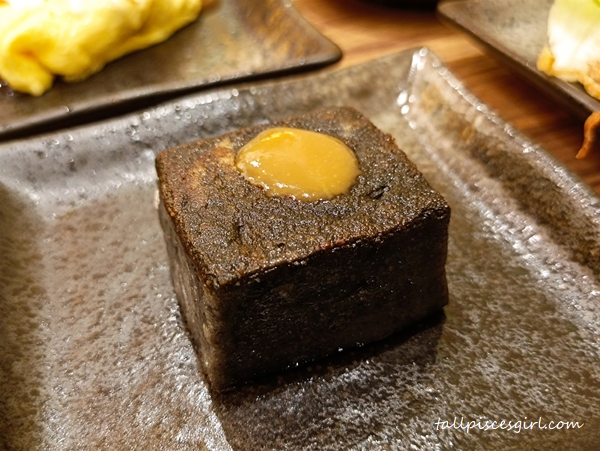 For main course, we were lucky to try their best-seller, Australian Wagyu Sirloin. Equipped with his skill and experience, the chef perfectly grilled this amazing cut on the teppan until lightly charred on the outside while maintaining medium rare on the inside. The beef is soul-satisfying good with its tender, juicy meat and melt-in-your-mouth fatty parts on the side.
3 dipping sauces were provided at the side – Apple, Ponzu and Shoyu. I think it's a great idea to try both with and without sauces. Without the sauce, you'll be able to taste the flavorful essence of the beef itself. With the sauce (I like the Apple one most), you'll be able to experience how the sauce enhances the taste of the beef.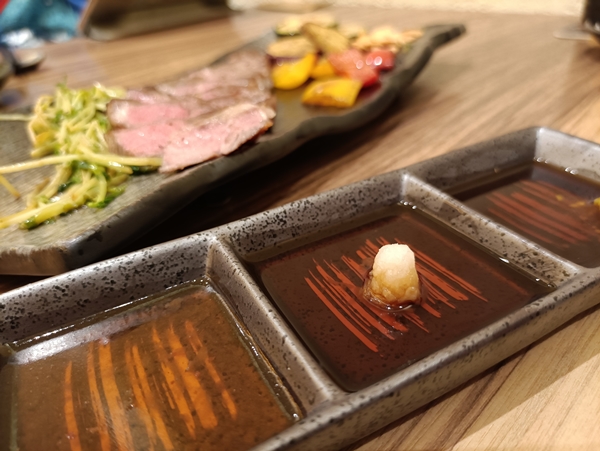 Okonomi also takes pride in the pork that they serve – the RAL d'Avinyó Pig. It is a unique and premium pork which resulted from crossbreeding two rustic pig breeds, an English Berkshire male and a Duroc (now an extinct breed) female. In order to get good color, fat infiltration marbling and great tasting meat, they adopt a traditional diet of cereals (barley, rye and wheat) and are taken with great care in a stress-free environment.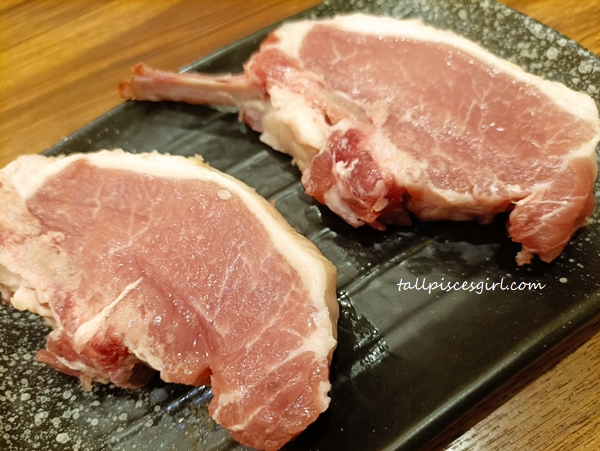 Under such pristine rearing condition, the Ral d' Avinyo Pork Chop turned out tender with natural sweetness and juiciness that's luscious enough to be enjoyed on its own.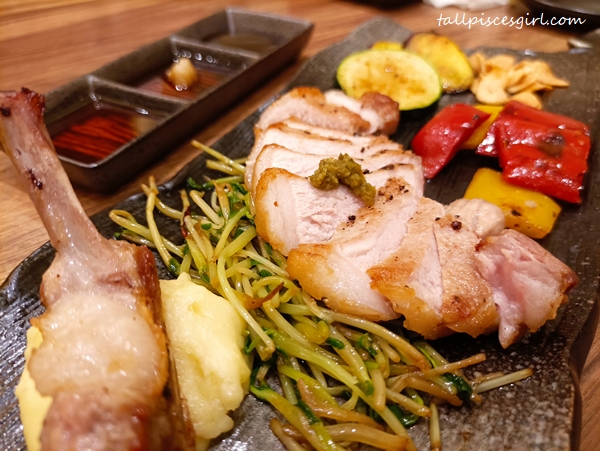 Both Ral d' Avinyo Pork Chop and Australian Wagyu Sirloin were served with grilled red pepper, yellow pepper, zucchini, pea sprouts, crispy garlic chips and smooth mashed potato. I have to say that the garlic chips were pretty addictive! Wished they were available for sale so we can eat this as CNY snack haha!
To end the lovely meal on a sweet note, we get to choose between Panna Cotta, Matcha ice cream and Yuzu ice cream. I chose Panna Cotta and I didn't regret it. I totally love the smooth texture of it. If you're a Matcha lover, you won't be disappointed by it too. For a refreshing ending, Yuzu ice cream is also an excellent choice as it has also won my friend's heart.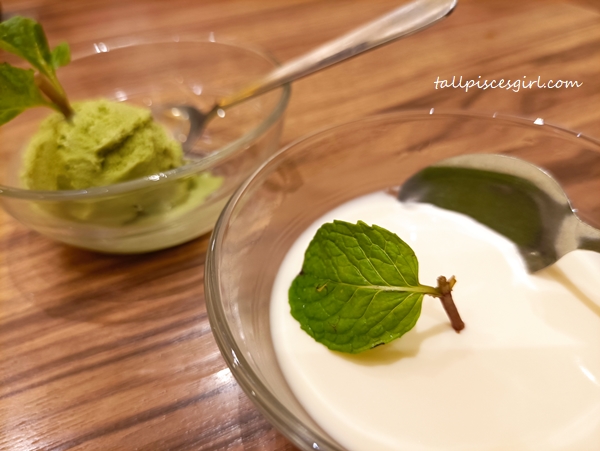 My gastronomic journey at Okonomi has been a wonderful sensorial experience – from watching the chef in action, listen to the sizzling sound as my meals were being prepared, to smelling the appetizing aroma of freshly prepared food. Check out Okonomi Pavilion KL menu and prices below: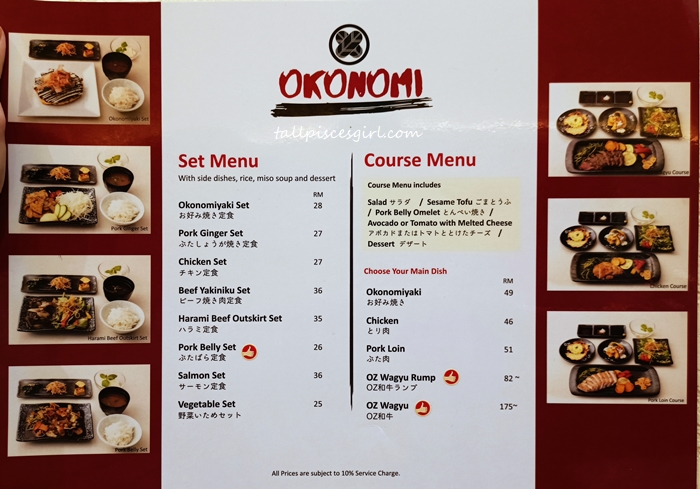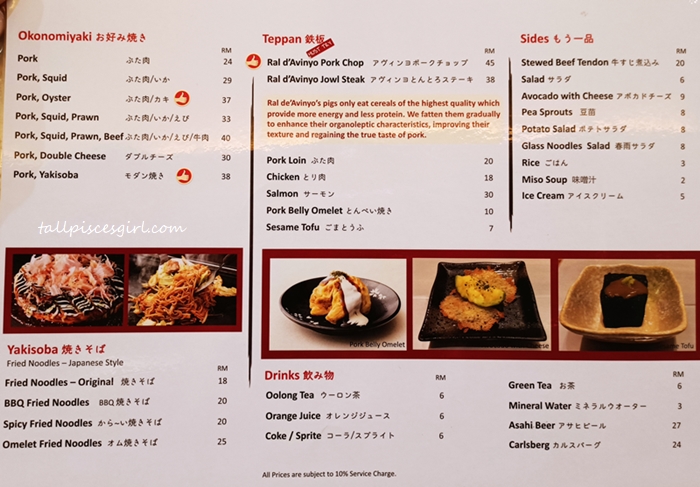 Okonomi by Tokyo Don
Address: Lot 6.24.1C, Tokyo Street, Level 6, Pavilion Kuala Lumpur

Tel: +603-2141 4617

Operating hours: Daily 10am to 10pm

Facebook Page: https://www.facebook.com/Okonomi.pavilion