I'm always an avid fan of skincare because I believe that if we have good skin, we won't have to spend so much time and effort on putting makeup. As a beauty junkie, I have heard so much about FOREO, the Swedish high-end beauty tech company which is famed for their innovative LUNA facial cleansing device and UFO, FOREO's smart mask treatment/device with UFO-activated face masks.
After hearing so much about this award-winning brand, I jumped at the opportunity to review the UFO by FOREO!
What does FOREO UFO do?
First things first – What is UFO and how does it work? FOREO UFO is a revolutionary smart mask treatment/device that delivers LED light Therapy (red, green, and blue) with Hyper-Infusion Technology for targeted photofacial to reinvigorate the skin.
What is Hyper-Infusion Technology?
Hyper-Infusion Technology combines Thermo-Therapy (heating), Cryo-Therapy (cooling) and T-Sonic Pulsations to boost the effectiveness of FOREO masks.
Thermo-Therapy helps to prep the skin and boost the absorption of key ingredients from FOREO UFO Power Activated Masks
Cryo-Therapy calms, firms the skin, shrink the appearance of pores and reduces puffiness instantly T-Sonic Pulsations encourage microcirculation in the blood and increase product absorption rate to stimulate collagen production
First Impression of FOREO UFO
UFO by FOREO comes in 3 beautiful colors: Fuchsia, Mint, and Pearl Pink. Trust me, all of them looked so pretty. I had a hard time deciding which color to get! I almost went with Pearl Pink because pink is my favorite color but I chose Fuchsia in the end as it caught my attention the most.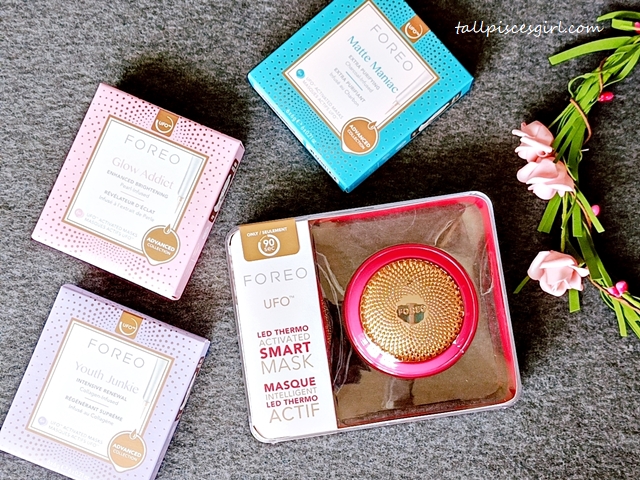 The delivery was really speedy! It took only 5 days to arrive in Malaysia! I love how sophisticated UFO looks like, encased in a sturdy acrylic plastic casing. I can't stop admiring the gold details on the UFO.
What Comes with the FOREO UFO?
I'm sure you're be curious as to what you'll be getting once you've ordered UFO by FOREO, so here you go: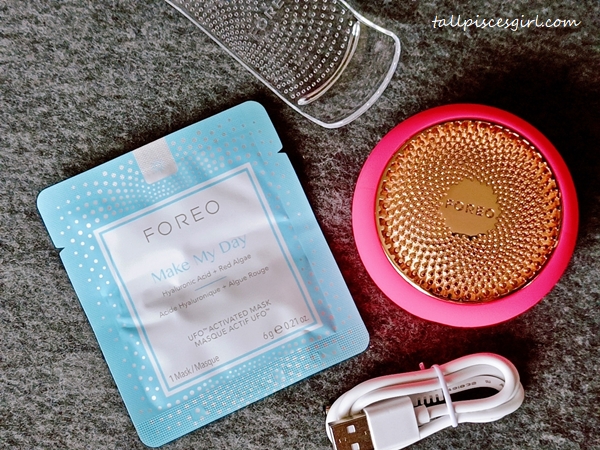 FOREO UFO smart mask device
1 pcs Make My Day UFO-Activated mask
USB charging cable
UFO stand for you to proudly display your stylish smart device and to help it dry faster
FOREO UFO Review Malaysia
I believe a lot of us are using sheet mask either everyday or once a week to maintain our skin. But don't you feel that 20 minutes is a bit too long? To be honest, I got turned off by the waiting time and this is why I'm lazy to use a facial mask sometimes.
When I learned more about UFO by FOREO and discovered that I can experience the result of a spa-like facial with glowing skin in just 90 seconds, I was sold! Initially, I thought I read it wrong. Was it 90 minutes? No, it's really 90 seconds, which is only 1.5 minutes!
How to use FOREO UFO
I was a bit worried that a new high-tech device would be difficult to use and has a steep learning curve. Luckily that wasn't the case!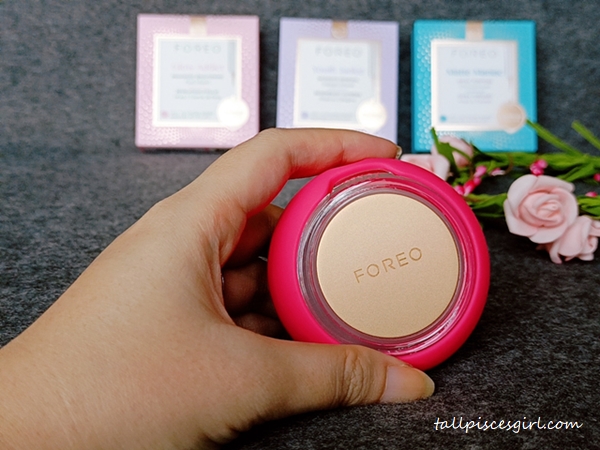 Here's a step-by-step guide on how to use the UFO and the mask using the new FOREO app:
Download the FOREO app (FOREO For You) from Google Play Store or Apple App Store
Press the universal power button to turn the UFO on
Connect your phone with your UFO device via Bluetooth
Remove the attachment ring from your UFO
Choose a UFO Activated Mask which is suitable for your current needs
Take out the UFO Activated Mask from the sachet and place it on the UFO
Clip the attachment ring back in place (with FOREO logo facing up) to secure the mask
Tap on treatment, select the chosen mask, press "Start Treatment" and follow the instructions
If you want, you can repeat the treatment again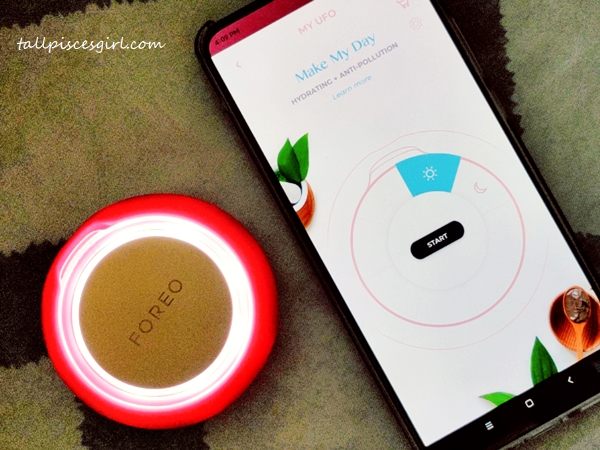 My personal experience with FOREO UFO has been very positive. It's easy to use, ultimate time saver and I noticed that most of the serum has been absorbed into my skin within a short period of time! Definitely an instant remedy for glowing skin. Unlike conventional sheet masks which create air pockets that cause some parts of our face missing the great ingredients, UFO is able to evenly distribute mask ingredients across every area of the face.
This smart device has made a huge difference to my skin condition ever since I've started using it, two times a week. My skin feels firmer, more radiant and glowing now. It delivers long-lasting moisture as I noticed my skin is still glowing overnight! The best thing about the UFO is, it is suitable for all skin types. You just gotta choose the mask that is most suitable for you. Aside from that, it lets me have a short break to pamper myself with a soothing facial massage and destress. I definitely don't have the time to drive out and have a 2-hour facial session right now. Plus, thanks to Covid-19, I prefer to stay home and take care of my skin from the comfort of my own home.
FOREO Masks Review
If you've been wondering what is this mask that I've been mentioning, let's dive down to know more. We all know that natural Korean skincare is all the hype now. Just looking at their porcelain flawless skin makes me envious! This is the sole reason why FOREO had their masks developed with Korean formula, the center of the modern beauty world.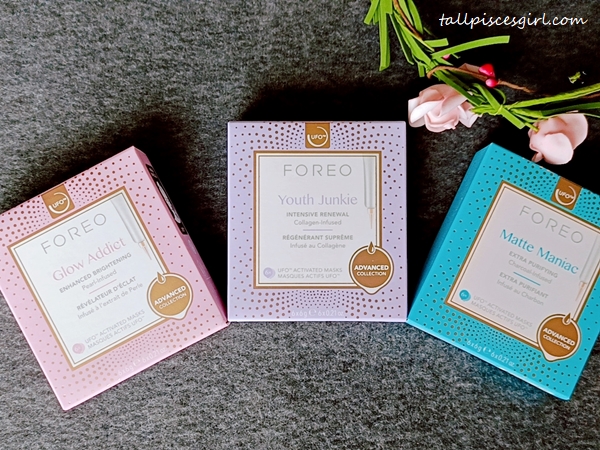 These UFO-Activated Masks are formulated with the purest, highest-quality plant and fruit extracts. To be kind to our skin, FOREO also makes sure that they are formulated without Paraben, Phenoxyethanol, Silicone, Disodium EDTA and Mineral Oil.
Each box of FOREO UFO smart mask contains 6 sachets x 6g of serum on an ultra-microfiber material. The amount of serum is actually quite a lot! So in order to not waste the serum, I will usually repeat the treatment to get the full benefits. As I glide the device on my skin, I can feel how gentle and smooth the ultra-soft microfiber material is.
There are a wide variety of masks that are compatible with the FOREO UFO. There's a starting set of Daily Duo (Make My Day and Call It A Night) and Advanced Collection, designed to target specific skin concerns.
Advanced Collection Smart Masks include:
Glow Addict Mask (with Pearl Extract to brighten dull skin)
H2Overdose Mask (with Hyaluronic Acid to rehydrate dry skin)
Youth Junkie Mask (with Collagen to reduce fine lines and wrinkles)
Shimmer Freak Mask (with Caffeine to reduce puffy eyes and dark circles)
Matte Maniac Mask (with Charcoal to mattify and purify oily skin)
Below are my top sheet mask recommendations from FOREO and here's my verdict on each:
FOREO Glow Addict Mask
Glow Addict Mask is the first mask I've tried and I'm sold! There's a lot of serum in the sachet (enough for 2 treatments) and I can see the immediate glow on my face after just one treatment. It uses Thermo-therapy, green LED and T-Sonic to achieve that healthy, luminous glow. The glow and radiance didn't just disappear overnight, I'm super satisfied with this one.
FOREO Matte Maniac Mask
The UFO combines Cyro-therapy and blue LED light to deliver the charcoal-infused Matte Maniac Mask into the deepest layers of the skin. My skin always starts to turn oily 2-3 hours after washing it and that over shiny forehead almost always doesn't look good in photos. After trying Matte Maniac, my skin is more manageable. It's still oily as of now, but not that soon. I expect to see more improvements as I continue using it.
FOREO Youth Junkie Mask
Youth Junkie Mask is a milky white mask infused with collagen, shea butter and jojoba oil as its key ingredients. This mask is more suitable for dry and matured skin as it feels richer than the other variants. With the combination of Thermo-therapy, red light and T-Sonic, my skin feels plumper after using it. It is also said to be able to reduce the appearance of fine lines and wrinkles with continued usage.
How do you clean the UFO Foreo?
After using it, rinse it immediately under running water. UFO by FOREO is 100% waterproof, so you don't have to worry about water getting into the device. Air dry at a place with good air circulation.
Should You Use the UFO Everyday?
Yes! It's totally up to you! Since it only takes 1.5 minutes per session, you can use it twice a day, once everyday, once a week, depending on your needs.
Can you use FOREO UFO without the app?
When you first get your UFO, it comes with Make My Day and Call It A Night pre-programmed on the device. One short press to activate the Make My Day Treatment or two short presses to activate the Call It a Night Treatment. These 2 programmes can be used with any smart mask. If you want to get the mask-specific features, you will need to download it by scanning the barcode using FOREO app. After that, the programme will be set into your UFO device so you can use it without the app next time. You just need to make three short presses and so on and so forth according to the sequence of the masks you have scanned. In short, YES, you can use FOREO UFO without the app!
Price of FOREO UFO in Malaysia
FOREO UFO is retailing at the price of USD 199 (approximately RM 812) on their official website: https://www.foreo.com. You can also get original FOREO products from Lazada Malaysia, Sephora Malaysia and Zalora Malaysia.
Final thoughts
As an endnote, the UFO is definitely an intelligent beauty essential where Korean mask experts meet Swedish beauty technology that is worth purchasing. I specifically love how this small device is powerfully packed and lets me get a quick spa at home. It provides me with instant results by reducing dullness and providing instant hydration into the deepest layers of the skin. It is convenient, portable and a must-have for all skincare lovers who don't mind investing in long term skincare.