As the leader of beauty trends, Swissline has launched another 2 latest innovative products into the Cell Shock Age Intelligence range – the Resurfacing Water and the Smart Cream.   Driven by intensive R&D,
Swissline
Cell Shock Age Intelligence is sending loud and present signal that lengthy skincare routine (aka the 10-step skincare routine) is becoming a thing of the past, and the future is all about skipcare!   Swissline Resurfacing Water and Swissline Smart Cream are the smart solution to the skipcare routine. They offer the same benefits as its lengthier counterpart, with less steps taken and products used. This reduces the risk of adverse reactions and inflammatory responses. All you need for your skin is the one that works. Simply stated, beauty minimalism at its best.
Swissline Resurfacing Water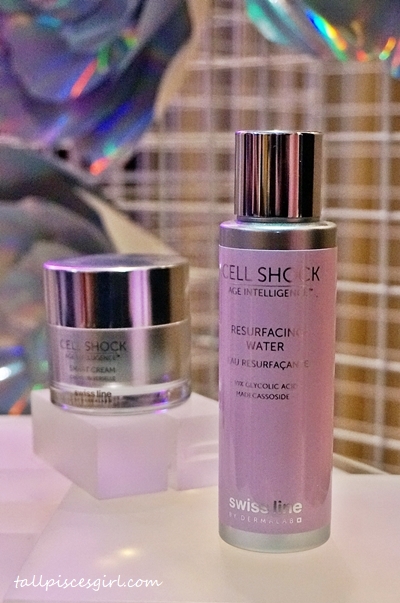 The Resurfacing Water marks the come-back of a well-known star ingredient in the beauty industry, AHAs and particularly glycolic acid is enjoying the renewed acme. The Resurfacing Water refines skin and revives glow by sweeping away dead skin cells which settle in fine lines and block pores. It also helps to even out skin tone, retain moisture and speed up cell turnover. The botanical stem cells and soy proteins in the formula increase the skin's ability to breathe, preserve energy and metabolize more effectively. The highest possible strength of Glycolic acid (at 10%) together with a low pH, plays the role to exfoliate and smoothen skin texture while Madecassoside inhibits skin stress. Swissline Cell Shock Age Age Intelligence Resurfacing Water retails at RM438.
Swissline Smart Cream
Swissline Smart Cream offers continuous moisture, energy and revitalization, while tackling life's daily stressors which can take a toll on your skin. It is intelligently formulated with a unique combination of natural moisturizing factors (NMF) and essential intercellular energy transfer molecule, 2% adenosine triphosphate (ATP). It soothes tired skin with a unique texture which looks like a whipped gel yet feels like a water-cream. The Smart Cream is paraben-free, allergen-free, Phenoxyethanol-free, color-free, cruelty-free and vegan!   The all-time hero ingredient of the Age Intelligence™ Range – MADECASSOSIDE® is the ultra-potent ingredient obtained from the plant Centella Asiatica (tiger herb). Swissline's Madecassoside isn't merely the extract of the plant, but a purified isolated fraction that soothes stress-induced conditions and rebalances the skin. Totally skin friendly, it will delight those who prefer lightness, while also tickling the fancy of those who like to play the new "mixing" game, and mix the cream with one or more than one of the Swissline 5 skin boosting products in the Age Intelligence™ range.
Custodio d'Avo, Swissline International Brand Director quipped "Shouldn't your cream reflect just how smart you are? With Smart Cream, it can! High concentrations of powerful molecules, vitamins, peptides and our signature ingredient, Madecassoside make this possible."   Swissline Cell Shock Intelligence Smart Cream retails at RM568.   The new Swissline products are appealing to the skintellectuals of today, who are knowledgeable about skincare and what is best for their skin. The launch emphasizes Swissline's new mindset where beautifying takes precedence over anti-aging, empowering women and asserting their rights to define their own beauty and age without the constraints of the often-exaggerated industry claims.   Swissline products are available at over 50 Cheerful Beautique member beauty salons nationwide in Malaysia and Energy Day Spa at Great Eastern Mall, Ampang. For the list of Cheerful Beautique member beauty salon locations, kindly visit
www.cheerful.com.my/stores/
. For more information, log on to
https://www.swissline-cosmetics.com/en/
.