Who doesn't like Cashback? Certainly not me! I love anything that gives me cashback because then I'll be able to accumulate more money to buy more stuff. If you're familiar with cashback programmes, you'll be hooked by this concept.
What is Cashback?
Cashback means when you purchase something, you get a percentage of the amount in return as an incentive. This could also mean you're getting a discount off things you purchased. With this money saved, you can purchase more stuff!
What is Octaplus and Why You Should Use It
Octaplus
is a fairly new platform that I recently discovered but I'm sure you'll like it too once you know how it works.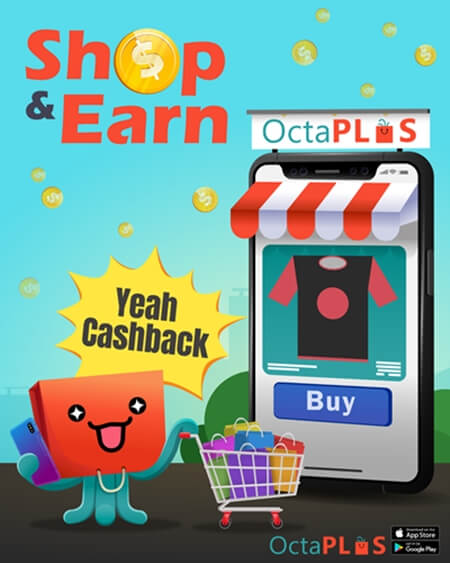 Octaplus is a platform that lets us earn cashback when we shop online from their
list of more than 100 merchants
! Among the popular merchants include Shopee, Lazada, Nike, JD, Watsons, AliExpress, ezbuy, AirAsia, Klook and many more. All these brands mentioned here are those that I normally support. I can already imagine how much I'll be using Octaplus to earn cashback while I shop!
How to Earn Cashback with Octaplus
First, you need to register for an account with Octaplus. I'm glad they didn't ask too much detail, only those that are really necessary.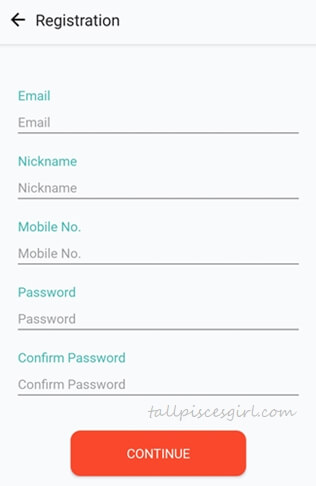 Next, don't forget to check your e-mail inbox and verify it. This ensures that they will be able to reach you for updates when you receive your cashback. Earning cashback is pretty simple as it only requires 3 steps:
Open Octaplus app / website at http://octaplus.io
You will receive an email if it is successful. Typically, it takes 2-7 days for your purchase to be tracked by the system and cashback is redeemable in 120 days. To ensure your Cashback is successful, remember to use only promo codes featured on Octaplus. Different categories will also render a different percentage of cashback earned so make sure to take note ya! Here's a video to show you how you can earn cashback: Another way to earn cashback while being a smart consumer is using their deal feature to compare prices and get the best deal. Lately, I've been looking for some make up brushes. So I just use the search function and the listings from all their merchants will be displayed out for me to choose.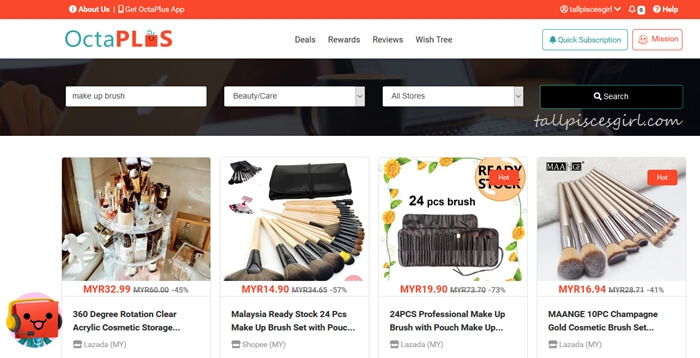 To earn cashback, all I have to do is click into the product page and click "Get Cashback" button on the bottom right on website or "Get this deal" on the app. I appreciate this function because I get to discover a lot of great products and deals from their merchants.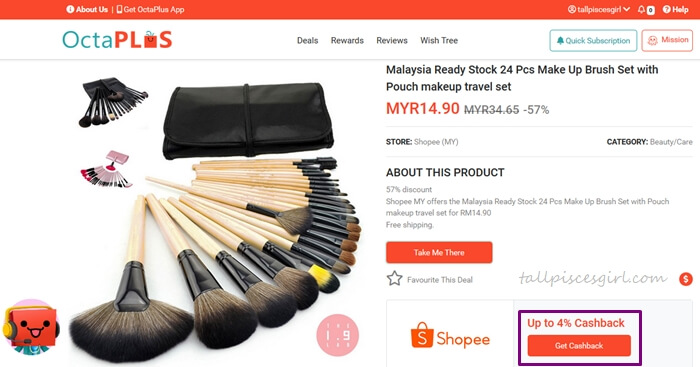 Isn't that super easy? Aside from earning cashback, there are also some other unique features on Octaplus.
Other features on Octaplus
Rewards – You get rewarded with points when you refer a friend or check in daily and redeem gifts with them

Get rewarded

Reviews – This is the place where users like you share their opinions and experiences on products and services

Review products and services

Wish Tree – Collect OctaSeeds when you refer a new friend or look out for the dancing little Octopus in the Deals tab that appears randomly. You can use these OctaSeeds to make a wish and get the item that you want at 50% off! Wow!!
What are you waiting for? Come and
download Octaplus app
via this link for an instant shopping experience:
http://bit.ly/2H3nQXU
. You can use my referral code and
get 600 points
right away:
22LU2BSF
Happy Shopping and Happy Earning!