The third Malaysia Coffee Fest (
Malaysia Coffee Fest 2019
) is happening at 1 Utama Shopping Centre (New Wing) Concourse Area from 25-28 July 2019. The four-day caffeine-fuelled festival features more than 100 local and international brands from 35 exhibitors.
I was there on the first day, and oh boy, there were so many people! Apparently, ARISSTO's real Italian coffee and innovative tea art, Teapresso attracted a pretty huge crowd to their booth.
Apart from the aroma of the fascinating Italian coffee and the highly sought-after
RM1 coffee machine rental program
, the addition of ARISSTO Teapresso, an innovative tea art also received a great response from the public. The ARISSTO booth attracted a huge crowd and emerged as the focus of Malaysia Coffee Fest 2019.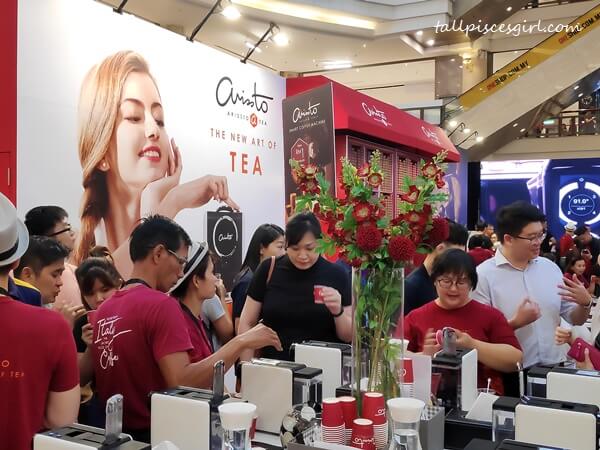 ARISSTO Teapresso
ARISSTO took this perfect opportunity to introduce ARISSTO Tea, which was newly launched in early July this year, This is its first debut at the Malaysia Coffee Festival. Inspired by the high-pressure steam brewing technology of Italian Espresso, ARISSTO combined the advanced Capsule technology to develop an innovative tea art called Teapresso. It perfectly solves the problem of tea soaking for too long, causing bitterness and turning complex tea art into a simple one. The result is much better than the traditional boiling water tea way.
With ARISSTO Teapresso, everyone can be an outstanding tea artist. Each ARISSTO Tea Capsule contain the best quality tea and is sealed tightly to ensure freshness. We only need to put in the ARISSTO Tea Capsule into ARISSTO high-pressure steam brewing machine. With just a press a button, the steam pressure went up to 19 bar and within 30 seconds, the essence of the tea inside the capsule was released perfectly. A cup of fragrant tea that is both rich and not bitter – ARISSTO Tea is presented in front of you. During the exhibition, thousands of people have personally experienced the innovative tea art inspired by Espresso.
ARISSTO Coffee
ARISSTO is a 100% owned subsidiary of NEP Group, which also owns the well-known water purifier brand DIAMOND. ARISSTO has introduced the innovative Italian Capsule coffee from Italy, which is known as the sacred place of coffee and also launched the "RM1 monthly coffee machine rental program" which has disrupted the coffee industry. It has risen to be one of the leading coffee brands in the market.
For more information on
ARISSTO Coffee
, RM1 monthly coffee machine rental plan or the innovative ARISSTO Tea, kindly visit
arissto.com
.