Have you heard of OYO Home before? If you haven't, you can thank me by buying me a cup of coffee later cos I'm going to introduce this awesome platform for you to save more money on accommodation the next time your travel. OYO Home is a place for you to book accommodation in private homes around local neighborhoods that have high-quality amenities. These units are serviced by the OYO team so you can be assured on the consistency of an OYO managed Hotel.
Expressionz Suites @ Jalan Tun Razak with OYO Home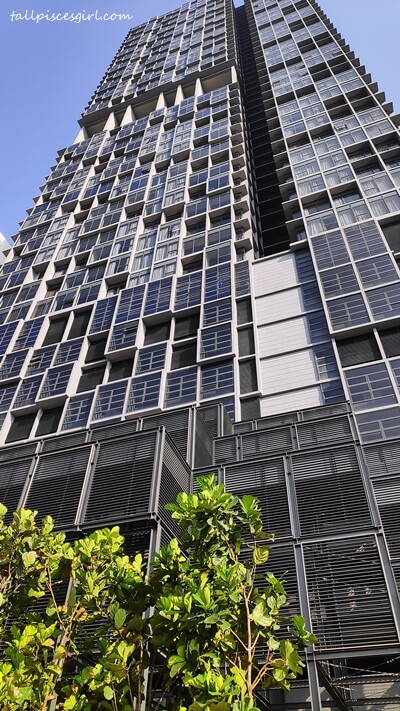 Recently, I had a short staycation at Expressionz Suites (a.k.a. Expressionz Professional Suites) at Jalan Tun Razak, Kuala Lumpur to experience what it's like to stay with OYO Home.
If you're driving a car there, you would need to park it at the lobby first. Then, check-in at the lobby to get your room key and RFID car park device to gain access to the parking. Located strategically at Jalan Tun Razak, it is only 1.6km from The Intermark Mall, 3km from KLCC, and 5km from KL Tower. Those who are planning to seek medical care at Gleneagles Hospital @ Ampang can also stay here as it is only 4km away. Despite the close proximity to the city, it is tucked away from the hustle and bustle from the city, giving you peace and tranquility.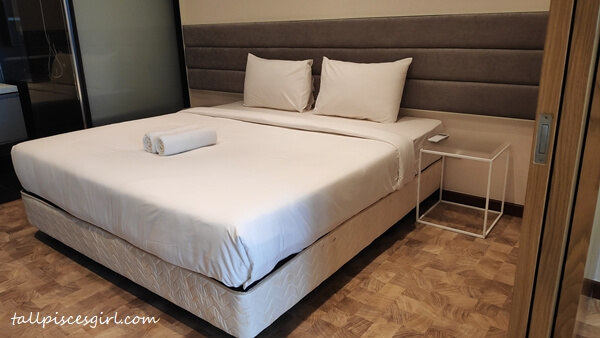 Are you a video person? If yes, check out my room tour and facilities video on YouTube below:
I'm pretty surprised to see our Junior Suite unit! Firstly, it's so spacious! It's a 540 sqft studio unit equipped with a King sized bed, full fledged kitchen, sofa bed, ironing board, TV, washing machine, dining table and en suite bathroom.
All these are better than staying in a hotel. I mean, how often to you get to have a washing machine in your hotel room? Probably never.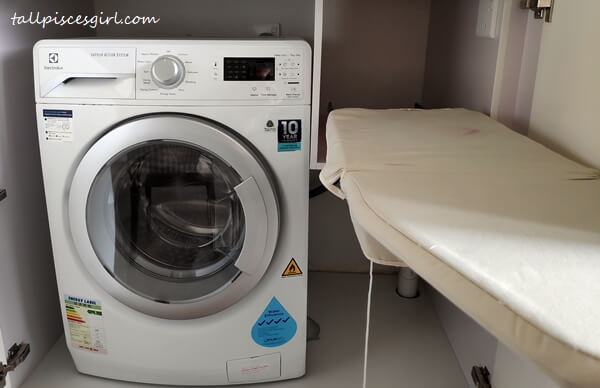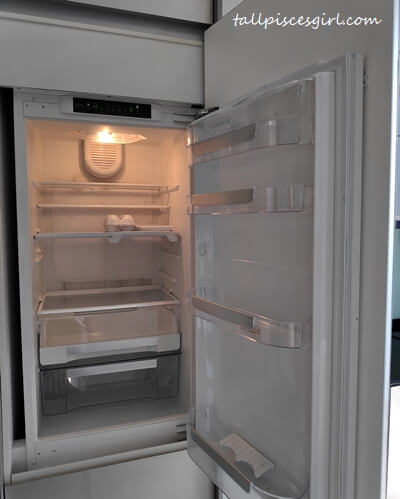 Cleanliness is the most important thing of course, and I'm glad to report that it's tip-top! There's also a lighted wall feature in the suite which can be a good spot for photo taking. That night, I had a really good sleep thanks to the comfortable bed and pillow. I woke up refreshed! There's also a sliding partition between the bedroom area and living room area so you can get your privacy and quality sleep when your spouse is watching the TV or working from the living room.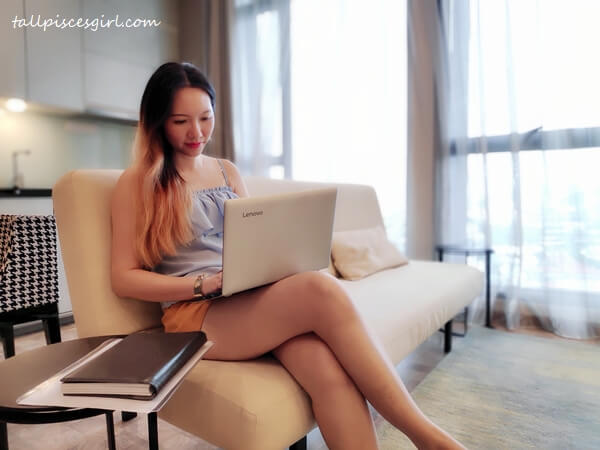 Amenities and facilities are all within the building so there's no need for us to go out. If we need snacks and water, they have a vending machine at the lobby for our convenience.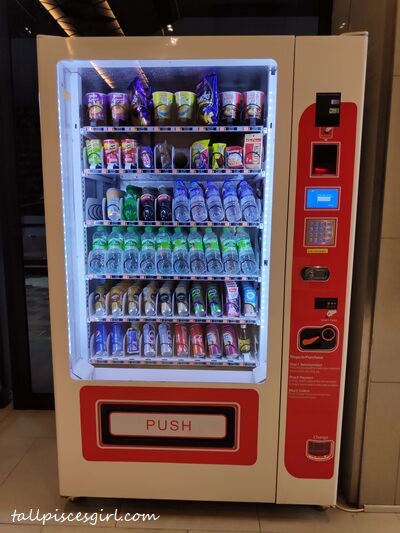 There's also an in-house restaurant where you can have your breakfast at RM 25 per adult.
Among the facilities they provide are Sky Pool (infinity pool), Sky Gymnasium, Relax Areas and Garden Pool.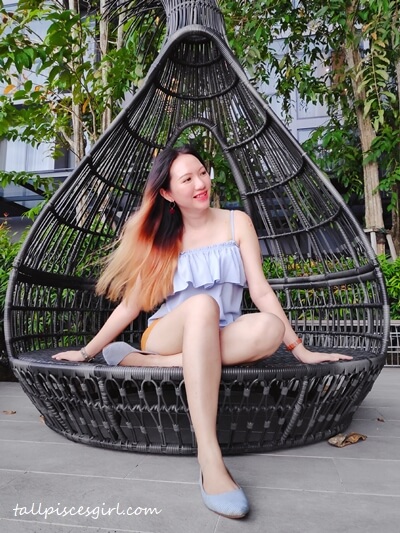 In the evening, I went to the Relax Area to get some fresh air and feast my eyes with the view of my beloved city.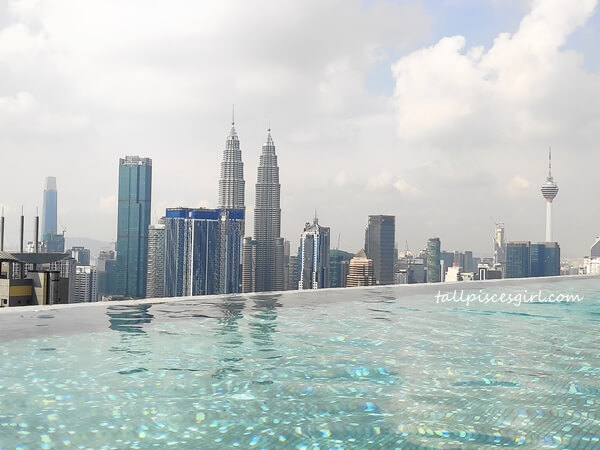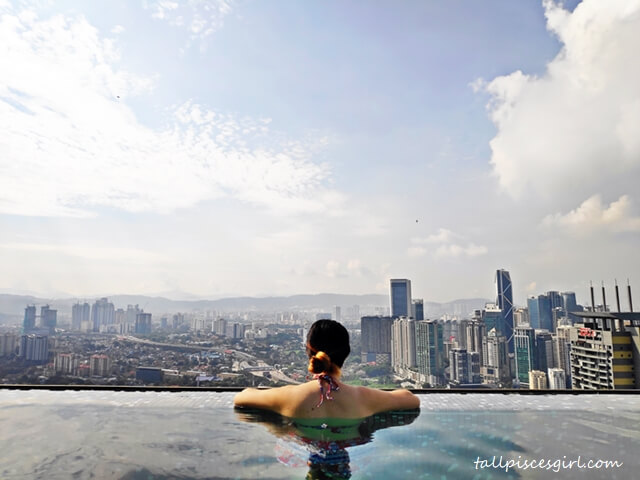 The next morning, I went to check out the cool Sky Pool overlooking KL Tower and KLCC. Don't forget to look down and check out the flowing traffic too. It feels great to have the warm sun shining on my face while my body is cooled by the pool water. Price per night at Expressionz Professional Suites starts from as low as RM 133 (1 pax), RM 145 (2 pax) and RM 193 (3 pax). For more information about OYO Home and reservation, click on the following link:
OYO Home
or download OYO app.