Enjoy a plethora of specialties for an auspicious do at Zuan Yuan Chinese Restaurant this Lunar New Year!
Zuan Yuan Chinese New Year Menu 2019
Zuan Yuan Chinese Restaurant has always been a popular place to catch up and dine together, and it is no exception for Lunar New Year! Having a glorious meal together with family is a must to preserve the blissful tradition and celebration. Usher in the Year of Swine with 3 decadent set menus with dishes signifying everything auspicious from prosperity, good luck, good fortune, good health and longevity. The menus echo Executive Chef, Michael Chew Chee Peng's two-decade culinary prowess and centred on time-honoured Cantonese cuisine signatures. Priced at RM1,798 nett, RM1,988 nett and RM2,288 for a table of ten with a complimentary bottle of wine, the Gathered Elegance promotion is available daily for lunch (12.00 noon to 2.30pm) and dinner (6.30pm to 10.30pm).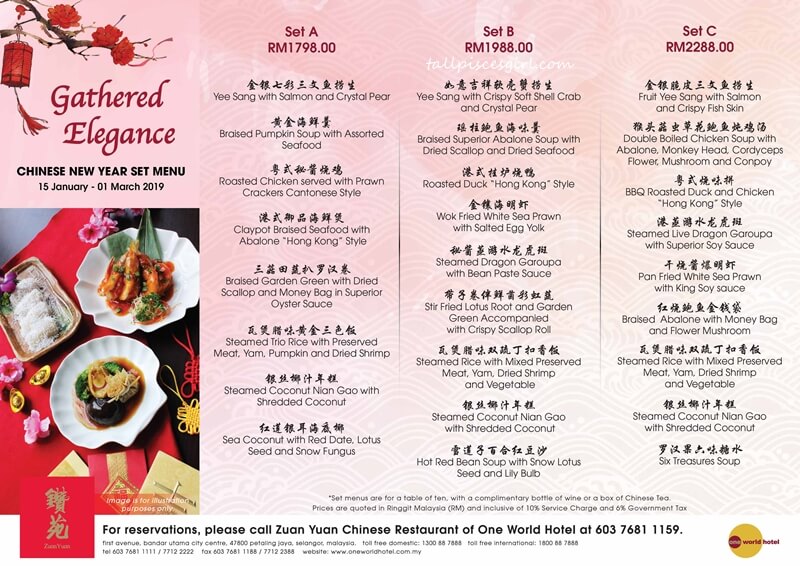 Here's what we had during Zuan Yuan CNY Menu 2019 tasting session:
如意吉祥软壳蟹捞生
Yee Sang with Crispy Soft Shell Crab and Crystal Pear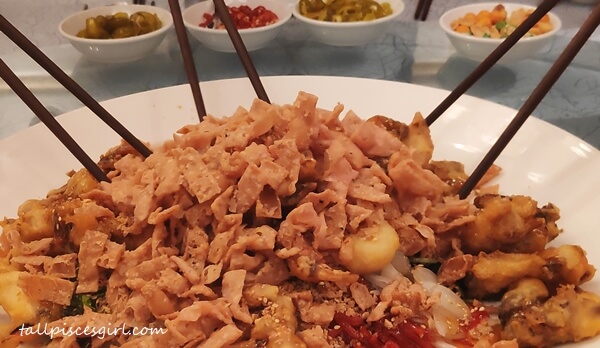 Crispy soft shell crab is love! What's better than to pair it with auspicious Yee Sang and crystal pear. The texture is just nice. Huat ahhh!!!
5 varieties of this popular salad are available for dine-in or take-away from 1 January til 1 March 2019. Priced from RM118.00 nett, the premium selection includes Yee Sang with Salmon Skin and Abalone, Yee Sang with Soft Shell Crab, Yee Sang with Abalone, Yee Sang with Salmon and Fruits Yee Sang with Chef's Signature Sauce. Now toss away and have a Happy Chinese New Year!
瑶柱鲍鱼海味羹
Braised Superior Abalone Soup with Dried Scallop and Dried Seafood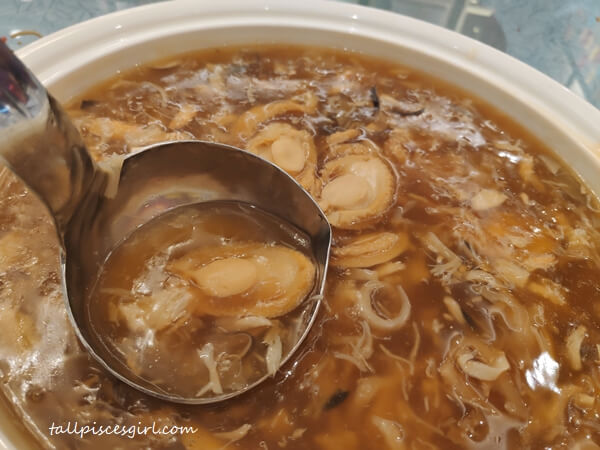 I've always loved braised soup because it makes me feel that my body is absorbing all the good nutrition from the awesome ingredients in the braised soup. It tastes really hearty and warm.
粤式烧味拼
BBQ Roasted Duck and Chicken Hong Kong Style
I've always missed Hong Kong since my last trip there. This BBQ Roasted Duck and Chicken dish really satisfied my cravings. The roasted duck is especially good that the plate has been wiped clean in a jiffy.
金镶海明虾
Wok Fried White Sea Prawn with Salted Egg Yolk
Can't miss out prawn for Chinese New Year because prawn in Cantonese is "Ha", which is the sound we make when we laugh hahaha! Since salted egg yolk is really in trend lately, Chef Tommy Choong incorporated it into Zuan Yuan Chinese New Year Menu this year. Trust me, it's a clever move because nothing can go wrong with salted egg yolk!
港蒸游水龙虎斑
Steamed Live Dragon Garoupa with Superior Soy Sauce
This was among the crowd's favorite dishes. The meat of Dragon Garoupa was so smooth and due to the fact that it is prepared live, we can also taste the freshness of it.
带子卷伴鲜菌彩虹蔬
Stir Fried Lotus Root and Garden Green accompanied with Crispy Scallop Roll
This is a unique dish that you don't get to try in other restaurants. Happy that Zuan Yuan Chinese New Year Menu incorporated more vegetable and greens into their dishes! Love the harmony between lotus root, garden greens and scallop roll. The scallop roll in particular is very outstanding!
红烧鲍鱼金钱袋
Braised Abalone with Money Bag and Flower Mushroom
Abalone is a must-have during Chinese New Year as it resembles gold ingot! The abalone we had was braised perfectly and the money bags that accompanied this dish was full of yummy, crunchy veges.
银丝椰汁年糕
Steamed Coconut Nian Gao with Shredded Coconut
The team of chefs at Zuan Yuan prepared this steamed coconut nian gao from scratch a.k.a. homemade nian gao. They forego the caramel this time and thus it tastes like mochi, a refreshing twist to the traditional nian gao.
罗汉果六味糖水
Six Treasures Soup
We ended the auspicious meal with a cooling and refreshing bowl of Six Treasures Soup! Remember to make reservation in advance to avoid disappointment! For reservations and further enquiries such as discount or promotions, please call or email them below. Click on the following link for
Zuan Yuan Chinese New Year Menu 2020 @ One World Hotel
.
Address
: Zuan Yuan Chinese Restaurant One World Hotel, First Avenue, Bandar Utama, Petaling Jaya
Tel
: 03-7681 1159
E-mail
:
zuanyuan@oneworldhotel.com.my
Business hours:
Monday to Friday: Lunch 12.00 noon to 2.30 pm Dinner 6.30 pm to 10.30 pm Saturday, Sunday and Public Holiday: Lunch 10.00 am to 2.30 pm Dinner 6.30 pm to 10.30 pm