We all know that Old Klang Road has an abundance of eateries; it is synonym to food heaven in KL. At Old Klang Road itself, we discovered one of the best and authentic Japanese restaurant in KL – Ishin Japanese Dining.
Ishin Japanese Dining @ Old Klang Road, KL
As we entered the restaurant, we were greeted by their friendly staff. The restaurant has 2 floors: The first floor has Ishin's oval sushi counter for those who loves to interact with the chefs while witnessing meal preparations and a casual dining area while the second floor has tatami style seating and VIP rooms for those who prefer more privacy.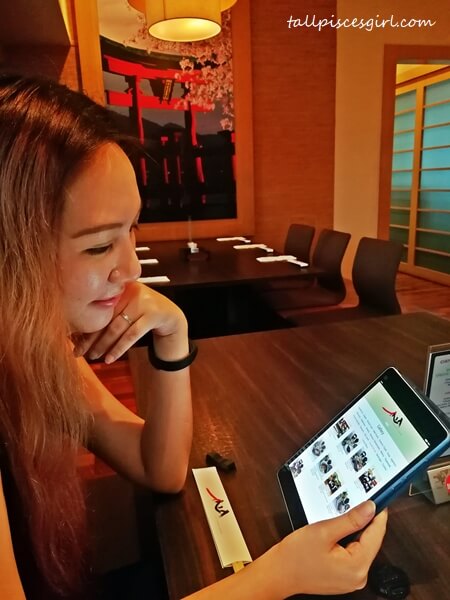 Ishin Japanese Dining uses a tablet as their digital menu. It's a very good move because they can constantly update their dishes and pricing without having the need to reprint the whole menu. Go green! Ishin Japanese Dining menu consists of a vast selection of food ranging from Appetizers, Salads, Temaki Sushi, Maki Sushi, Sashimi Sushi, Soup, Agemono, Yakimono, Nabemono, Shokuji, Nimono / Mushimono, Menrui, Teppanyaki, House Specialty, Dessert, Set Lunch, Side Dishes, Dinner Course Set to Seasonal Menu.
Now, let's see what awesome stuffs we had at Ishin Japanese Dining earlier. TA-DAH!! We were shocked to see this huge
Hokkaido Iwagaki Oyster
.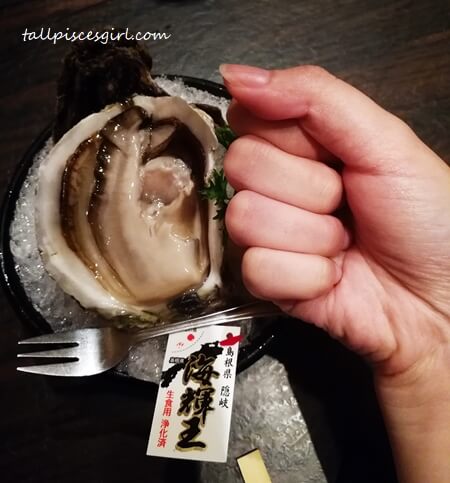 These are wild giant oysters from the deep cold water of the Japan Sea and are seasonal item. The chef will only serve them when they have fresh supply. Check out the size, it's as huge as my fist!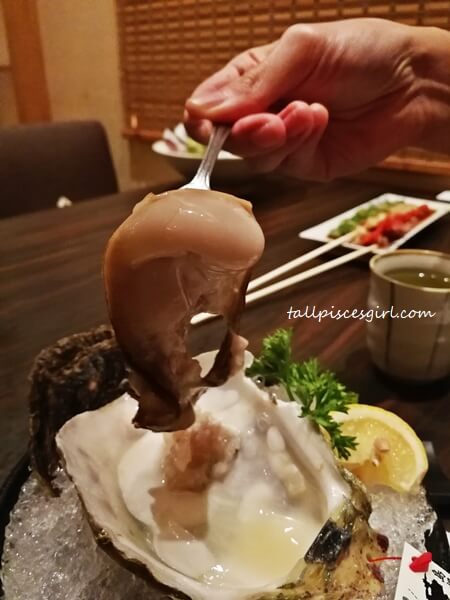 Yummy! The Hokkaido Iwagaki Oyster tastes so so fresh. Although I didn't squeeze the lemon juice onto it, there's no unpleasant taste at all. Definitely worth trying.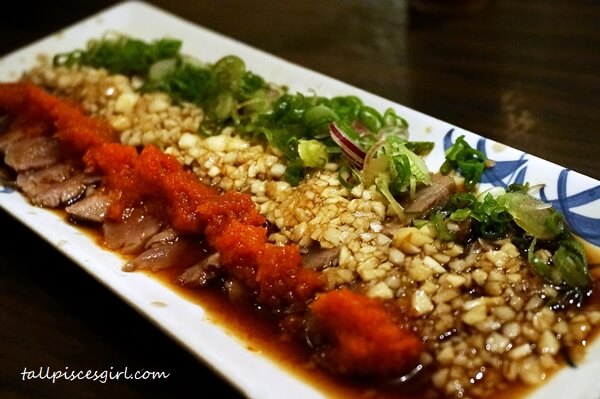 Next up is
Gyuniku Tataki
, whereby the beef were lightly seared so it remains raw on the inside. It is topped with a generous amount of finely chopped spring onion, garlic, and citrus sauce to enhance the gastronomical journey!
The beef is perfectly seared, very juicy and succulent!
When dining in a Japanese restaurant, you can't miss their sashimi to taste how fresh their food are. We chose to have
Sashimi Moriawase
, Chef Selection 5 types of sashimi. Always trust the chef, because he knows which are the freshest cuts in their kitchen 😉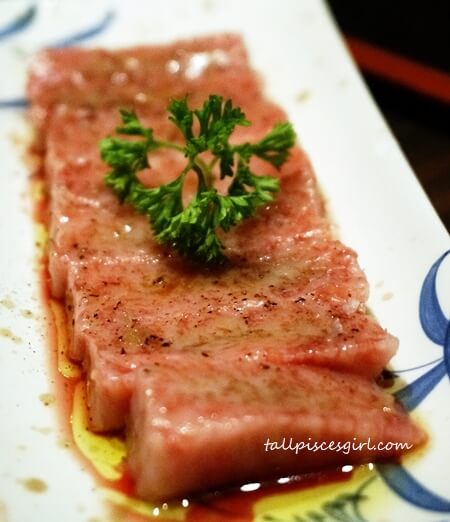 Wagyu Stone Grill is Ishin Japanese Dining's House Specialty. Being the first item in their house specialty list, it certainly didn't disappoint!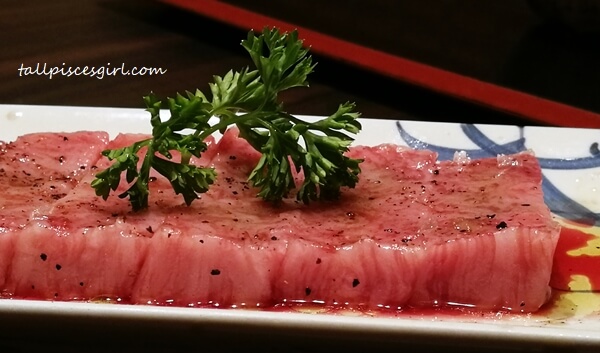 Let's take a moment to admire the 100g of perfectly marbled grade A5 Wagyu beef. Nobody can resist high quality Wagyu beef.
You can choose to grill it your own or ask the staff to do it for you. The texture was amazing – I can feel it melting in my mouth! Price varies according to market price but it is roughly about RM 250.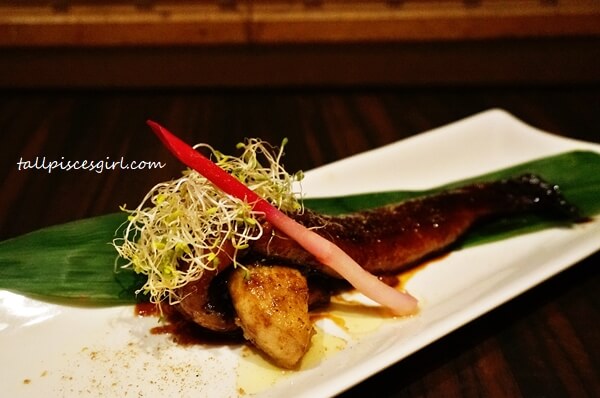 Duck Liver with Unagi
, another House Specialty is an unique yet amazing combination. Pair each bite of sweet, tender unagi with melt in the mouth foie gras (duck liver) to experience foodgasm!
Not getting enough of Unagi? Here's another recommendation for you –
Unagi Avocado Oshizushi
. I'm a big fan of Unagi but unsure how it tastes like with avocado initially. It turned up pretty pleasant 🙂
I think that
Sakana Nitsune
is a pretty great option for those who are health-conscious and prefers a balanced meal. In this dish, you can find perfectly simmered Cod fish with tofu and vegetable in sweet soy sauce.
Last but not least, we had
Surume Ika Teriyaki
. As you can see, the size of the squid is pretty huge, perfect for sharing. Lightly grilled til fragrant, this chewy squid is glazed with sweet teriyaki sauce. This gastronomical journey at Ishin Japanese Dining @ Old Klang Road is definitely an unforgettable one for me. Hope to revisit soon! ^_^
Address
:
Ishin Japanese Dining Restaurant,
No. 202, Persiaran Klang,
Batu 3 3/4, Off Jalan Kelang Lama,
58000 Kuala Lumpur
Tel
: 03 – 7980 8228
Opening Hours
: Daily 12 pm – 3 pm, 6 pm – 1 am
Website
:
www.ishin.my
Facebook Page
:
www.facebook.com/ishinmy