Due to our hectic lifestyle, we always opt for fast food or some quick bites and pizza is always my go-to food whenever I need something to nibble on for a quick bite. Noticing this pattern,
Anchor Food Professionals
collaborated with their F&B partners in their
PizzArt campaign
to come up with some unconventional pizza creations that will certainly bring excitement to our mundane life!
PizzArt by Anchor Food Professionals
Artisanal pizzas such as
Flower Pizzas, Pizza Bombs, Adjaruli Khachapuri, Mini Muffin Pizzas and Pot Pie Pizzas
are available at 24 participating restaurants from now til mid-November 2017. All these yummylicious creations were conceptualized and created by Anchor Food Professionals' Hot Cooking Chefs using the finest ingredients such as 
Anchor Mozzarella Shredded Cheese, Anchor Unsalted Butter, Anchor Colby Cheese, Anchor Cheddar Cheese, and Mainland Edam Cheese.
I'm sure you're wondering where you can find these unique pizza creations, right? FOLLOW ME to a short food trail, ok?
Location 1: Movida @ IOI Boulevard, Puchong
Our first location is Movida @ IOI Boulevard, Puchong. This is the first time I entered Movida during daytime… and we're here for pizzas!
Look what we've got here! These are pizzas disguised as mini muffins hahaha! Aren't they cute? As you can see from the photo, these Mini Muffin Pizzas has a thin crust and topped with generous amount of cheesylicious cheese! When you order Mini Muffin Pizza, it comes in 3 different fillings per platter so you can have more variety. Along with tomato-based sauce and cheesy fillings, these are the variety of flavors you'll get to try:
Smoked Duck and Peach
Chicken Pepperoni and Jalapeno
Turkey Ham and Chives
This is a perfect choice if you want to eat some pizza or satisfy your carb cravings without going overboard.
Location 2: U Pizzeria @ USJ 21, Subang Jaya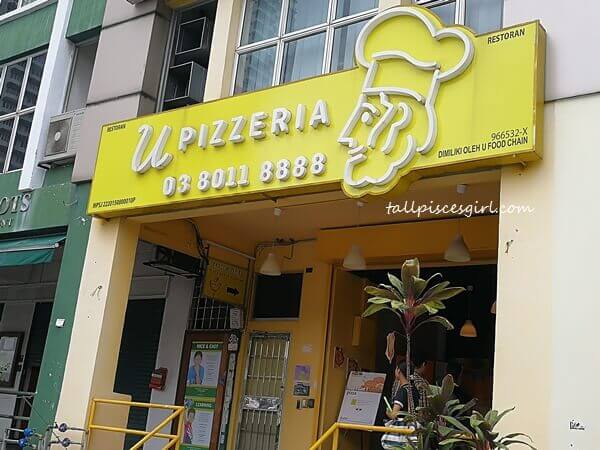 Our next stop was U Pizzeria @ USJ 21, Subang Jaya that specializes in pizza! Here, we got to try Adjaruli Khachapuri and Pot Pie Pizza. At U Pizzeria, Adjaruli Khachapuri is known as U Formaggio Pizza which means "so cheesy" in Latin. Each partner restaurant are welcomed to give their pizzas new names and improvise the recipe given by Anchor Food Professionals to suit their target customers' taste.
Adjaruli Khachapuri is the most well-received pizza in the entire PizzArt range. Want to know why? Scroll down to find out 😉
YESSSS!!! It's the super stretchy cheese dip that got us crazy over it! We were eating it the Malaysian way; with hands of course. First, you tear out a small bit from the crust. Then, dip it into the melted, thick cheese dipping. After twisting it several times, move your hand upwards so the cheese will then stretch all the way up!! The delicious taste of Mozzarella cheese is sooooo satisfying! This is gonna be fun when you're sharing with friends 🙂
I'm sure most of us have tried Pot Pie before, but what about Pot Pie Pizza? If you love pizza with generous amount of flavorful fillings, this is the one for you! On the inside, it is filled with tomato-based sauce, melted cheese, and meat, just like Bolognaise-style pot pie!
Location 3: Movida @ Sunway Giza, Petaling Jaya
Last but not least, we visited Movida @ Sunway Giza, Petaling Jaya. I love the ambiance inside; it feels so cozy!
TA-DAH!! We tried the Pizza Bombs that has been further improvised by Movida's kitchen team. They complemented the Pizza Bombs with Salted Egg dipping sauce. OMG!!
And as you know, anything with salted egg is super awesome
*yum yum*
Make sure you consume it while it's still hot for the best taste. Oh, by the way, here's a bonus for you: You get to take home a cute
Collectible PizzArt Fridge Magnet
with every order form the PizzArt menu! Collect all 6 now!
Consumers can also look forward to participating in some fun contests on
Anchor Dairy's Facebook
to win exciting prizes. The artisanal pizzas will be available from May to mid-November 2017 at these locations:
Klang Valley – Movida and U Pizzeria
Perak – Movida and U Pizzeria
Penang – US Pizza and Lunarich
Kedah – Sky Garden
Melaka & Johor – Movida
Johor – Ejohng Concept
Sabah – The Chub's Grill and Mad Ben
Sarawak – Chillax, Coup De Grill and Bistecca